Good morning. The remains of Hurricane Pamela—a system that moved into Mexico and then Texas from the Pacific Ocean—have brought moderate to heavy rainfall over central Texas. As these storms move toward us, western parts of the Houston region may see shower activity later this morning. Otherwise, we've got two more very warm days before a much-anticipated cold front arrives later on Friday.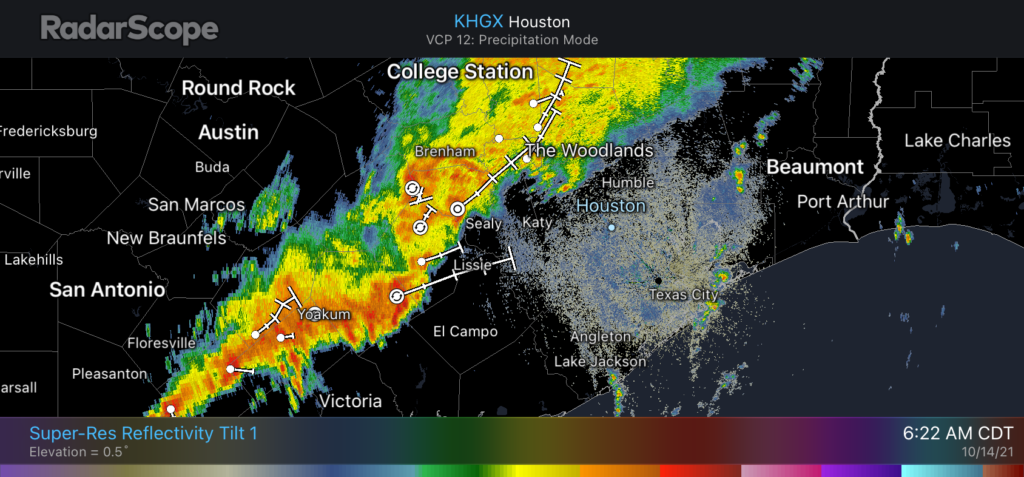 Thursday
Radar this morning is lit up with showers from south central Texas through Brenham and College Station. These storms are moving slowly eastward this morning, and at the same time they're also weakening somewhat. Based on short-term modeling, the biggest threat today for rain accumulations of 1 to 2 inches, or more, are areas such as Sealy and Rosenberg. Some lighter showers may progress into central Houston, but mostly the city will probably just see clouds. Rain chances should end altogether this afternoon. Highs will be in the upper 80s today, with sticky conditions tonight in the mid-70s.
Friday
This is the day a cold front will move into Houston, but before it does we'll see partly sunny skies and a southwesterly flow that will support very warm temperatures. Highs will likely reach the low 90s across Houston, and if I had to guess, I'd say this probably will be the last 90-degree day of 2021. The front itself should push through during the late afternoon or early evening hours, and it's possible a broken line of storms will accompany the frontal passage. Colder and drier air moves in behind the front, with lows dropping into the upper 50s on Friday night for all but the coast.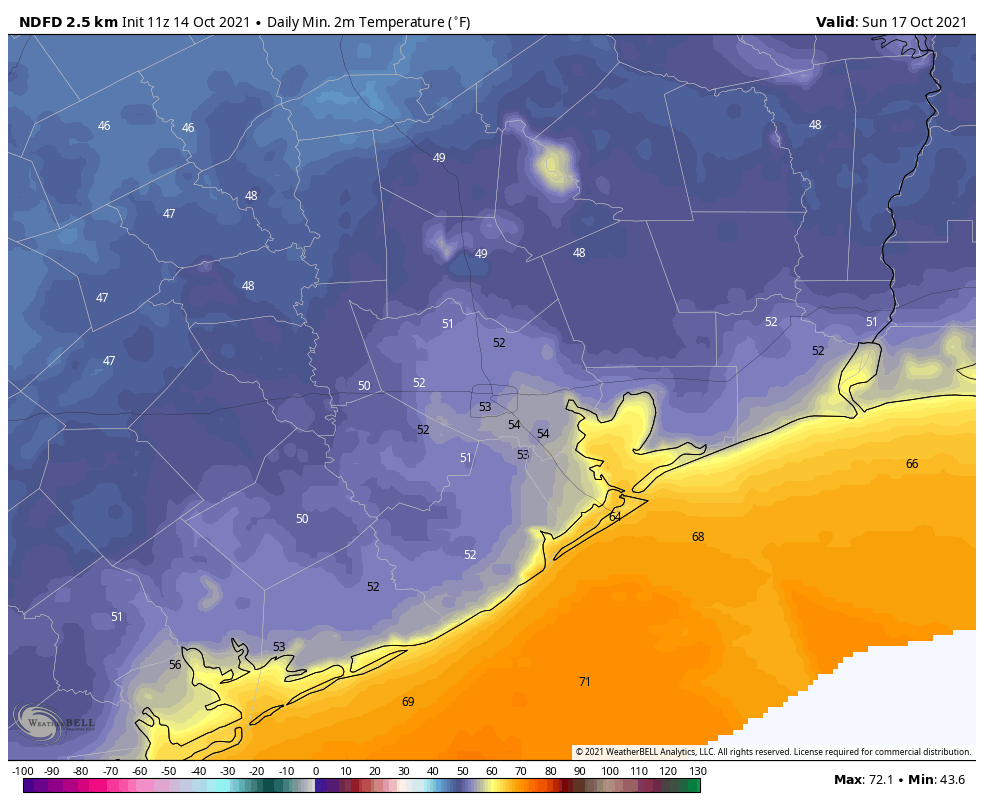 Saturday and Sunday
The weekend outlook remains grand, with highs in the 70s, lows in the 50s and ample sunshine. Saturday night should be the coldest of the week with inland temperatures dropping to the upper 40s for some, with 50s for the rest of the area except Galveston. Sunny skies abound.
Next week
We'll see a gradual warming trend next week, with highs likely reaching the mid-80s by Wednesday or Thursday, and overnight lows in the 60s. The next front will probably push through around Thursday, or so, and may bring some modest rain chances with it. We'll see.
Winter Outlook
Matt and I are working on an outlook for winter conditions in our region, and plan to release it next Wednesday.