Houston remains in a wetter, slightly cooler pattern that will see up-and-down rain chances through the Labor Day weekend. As we near the heart of hurricane season we're continuing to expect activity to ramp up in the tropics, including possibly the Gulf of Mexico, but see no specific threats at this time. We'll discuss that a bit more below.
Wednesday
Lower pressure draped over the region today, combined with moisture from the Gulf of Mexico, should induce some pretty healthy rain chances for Houston (probably around 50 percent), especially during the afternoon hours. Because of some unstable air, where thunderstorms form, they could become severe, bringing the threat of strong wind gusts and lots of lightning. Some slow moving thunderstorms could quickly dump and inch of rain, or so. Highs will depend upon localized conditions, and should vary from the upper-80s to mid-90s.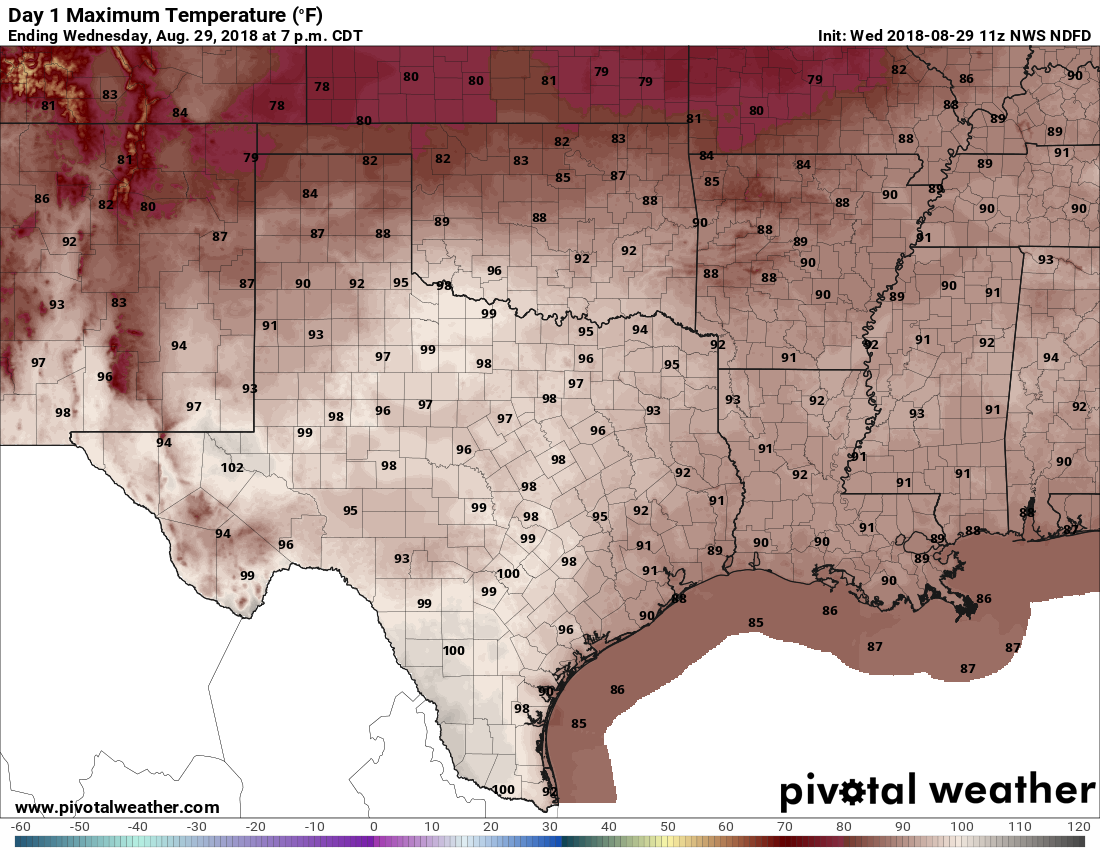 Thursday and Friday
Rain chances fall back a bit, especially for inland areas. I still think coastal counties and the southern half of Harris County will see 40 or 50 percent rain chances, but they will be lower for other areas. Partly sunny skies should allow high temperatures for most areas to push into the mid-90s.

Labor Day Weekend, and early next week
The pendulum swings back toward scattered to widespread showers over the Labor Day Weekend holiday, and first half of next week. These days will be partly sunny, but also see building clouds during the afternoon and evening hours that will bring intermittent showers and thunderstorms through the region. We don't have any significant flooding concerns right now, but each day carries about a 50 percent chance of rain. So if you're at the beach or having a backyard BBQ, make sure and have a contingency plan to duck inside during any lightning or downpours. Highs will likely stay in the low 90s.
The tropics
Matt and I have been tracking the tropics closely, and the global models continue to indicate the possibility of "something" tropical developing in the Gulf of Mexico next week. There's probably about a 50-50 chance of that. Most likely, whatever develops, will be some kind of rain-making swirl of tropical moisture, although we certainly can't rule out a tropical storm or hurricane at this time of year. Expect other, more powerful storms to develop far out in the Atlantic over the next 10 days, likely with less of an impact on the Gulf of Mexico.
As soon as we can say something more educated about the tropics, we will. As ever, during August and most of September, we must remain watchful.