Good morning. We have a complicated forecast for Thursday night in Houston, so that's what most of this post focuses on.
Wednesday
It's a mild morning across the Houston region, and we'll see a warm and partly sunny day with highs in the mid- to upper-70s. Some isolated to scattered showers will be possible this afternoon as a cold front nears. A more organized line of storms will probably form along the front itself, reaching areas such as The Woodlands and Katy between 6 and 9 pm CT, central Houston an hour or two later, and the coast by or before midnight. These storms may briefly bring strong wind gusts and the chance of some hail as they blow through. Accumulations will range from 0 to 0.5 inches for most locations, with higher amounts possible near the coast. Following the front, winds will be brisk out of the north, gusting up to about 25 mph. Temperatures will plummet.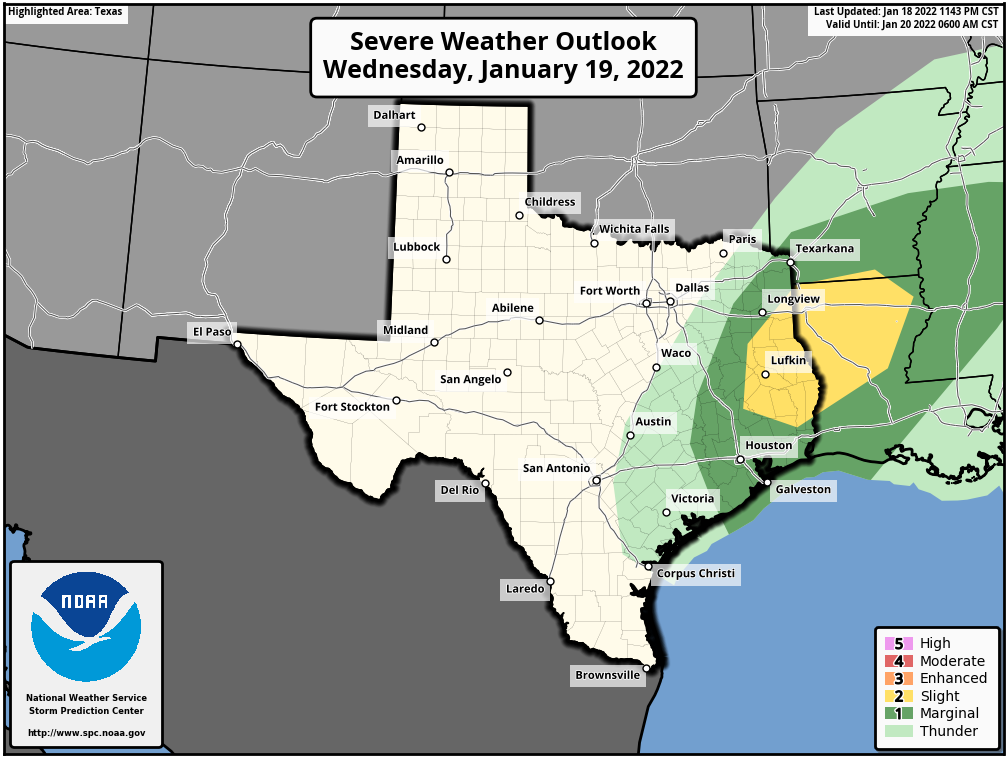 Thursday
By Thursday morning, temperatures outside will be in the upper 30s for inland areas, and low 40s for the urban core of Houston and closer to the coast. This will be a mostly cloudy day, and with the winds it will definitely feel cold outside. Some spotty rain showers may linger during the daytime as there will be a slug of more moist air aloft. The big question is what happens on Thursday evening and the overnight hours as a disturbance approaches our region, which combined with falling temperatures and this atmospheric moisture, may produce some kind of winter precipitation.
If I can be blunt for a moment, I will say that forecasting snow, sleet, freezing rain or other winter precipitation in the Houston region is like living on a knife's edge. Very small differences in temperature, at different levels in the atmosphere, determine whether sleet, snow, or rain falls. Because we are so close to the relatively warm Gulf of Mexico, it is difficult get a really cold atmosphere from the surface all the way to the stratosphere, which is required for snow. So our overall confidence in this forecast is low.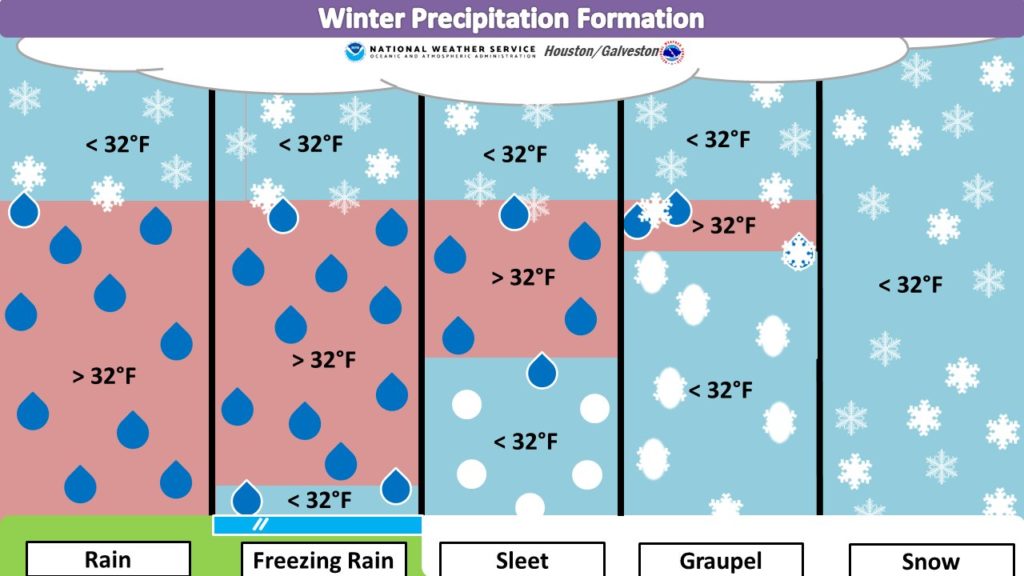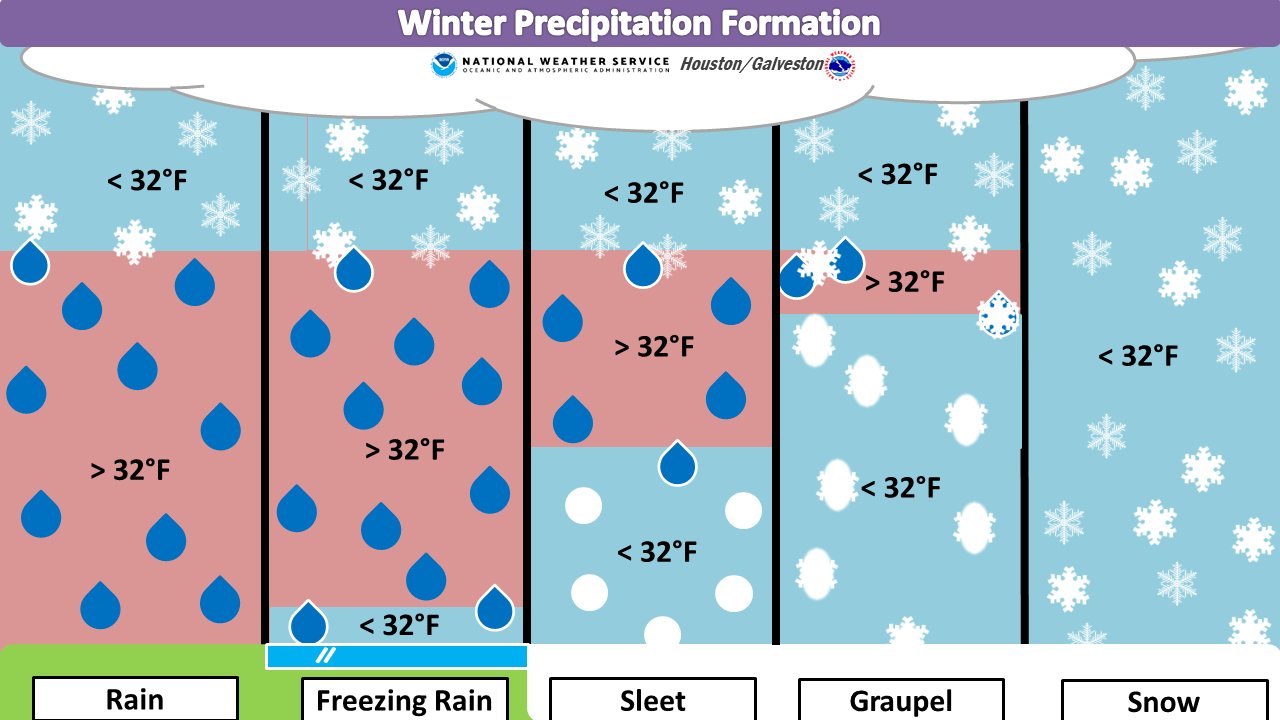 With that said, as temperatures fall on Thursday evening there will be a chance for light rain to transition to some kind of winter precipitation. For the Houston metro area, we probably won't see snow, as there will be pockets of warmer air aloft that will melt any snow and re-freeze it into sleet. The good news is that any rain transitioning to sleet or ice on Thursday night should not produce significant accumulations, and at this time roads and bridges should be warm enough to mitigate against any serious effects.
The bottom line: Thursday will be cold, and there is a window during Thursday night where light precipitation could fall. This may mean we see a few ice pellets or, less likely, a few snow flurries. But for now we don't see serious effects on Houston's roadways by Friday morning. We will of course continue to track this closely and have a comprehensive update on Thursday morning.
Friday
In any event, temperatures will warm into the 40s on Friday, with clearing skies. Winds will start to die down as well, and this will set up ideal conditions for cold weather Friday night into Saturday morning, with a light (dry) freeze likely across much of the metro area.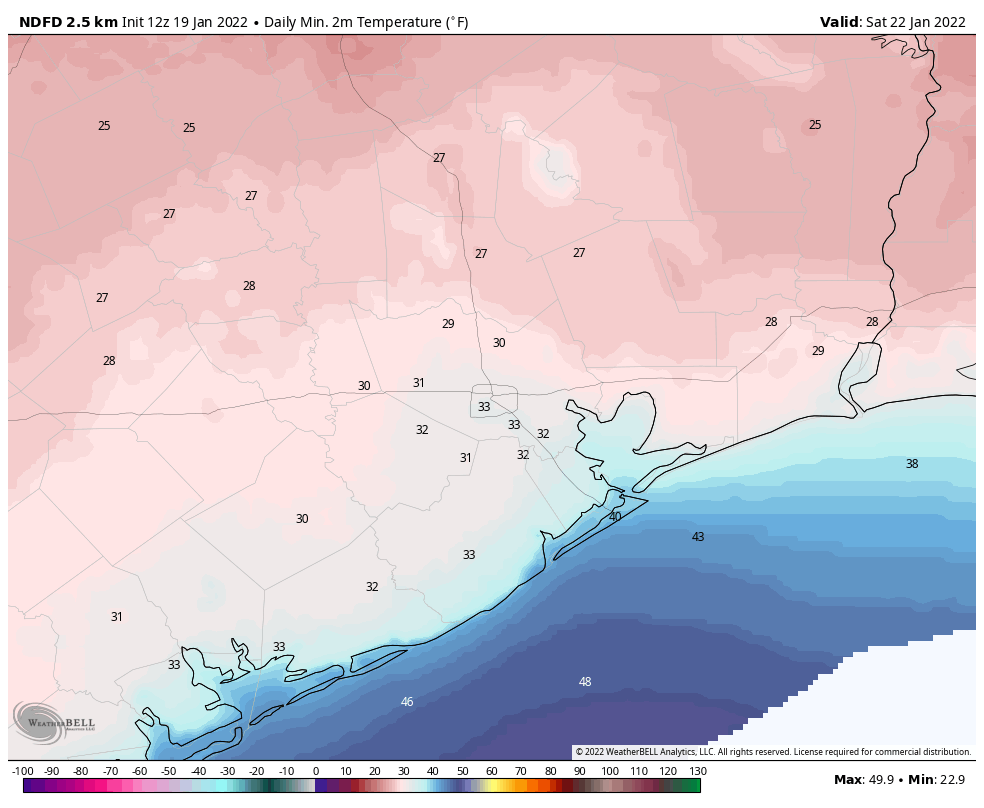 Saturday, Sunday, and beyond
The weekend looks partly to mostly sunny, with temperatures in the low to mid-50s. Lows Saturday and Sunday night should drop to around 40 degrees, give or take. Some slight rain chances return on Sunday, with better ones by Monday as low pressure moves into the region. Highs may get to around 60 degrees by Tuesday before the next front arrives to keep our weather on the cooler side. Expect sunnier weather after next Tuesday, with highs perhaps in the 50s, for awhile.