Very strong thunderstorms are moving through Houston this morning, and as of 5:30 a.m. as much as 1 to 6 inches of rain have already fallen. This is producing some street flooding, but so far bayous have largely remained within their banks.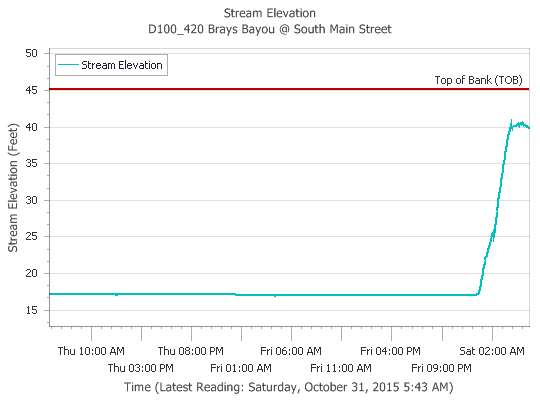 The first round of storms has now largely moved off to the east, but another significant line of showers is coming in from the west. They will likely arrive in western Harris County by about 6:30 a.m.
These thunderstorms are capable of producing rainfall rates of 2 to 4 inches per hour, but the good news is that they are generally progressing. This means the heaviest rain should move through before noon. These storms could test some bayous before then, however.
As I have been saying, outdoor activities on Saturday morning are highly discouraged. Many streets are flooding, there have been multiple tornado warnings in the southeast part of the city, and more storms are on the way. According to Harris County sources, there is extensive damage around Danbury and Friendswood, and possible injuries at a mobile home park in Brazoria County. There have also been reports of a tornado in Pasadena. Some 25,000 Reliant customers are without power.
We still should see a clearing pattern throughout the day, with rains ending by afternoon or early evening for most areas.
Posted at 5:45 a.m. Saturday