The radar is mostly quiet across Houston this evening with heavy heavy rain remaining far to our northwest and southeast. I expect showers across the city to stay scattered to non-existent until around midnight or so.
Between midnight and Saturday morning there should be intermittent moderate- to heavy- showers across much of Houston, but for widespread heavier rain we may have to wait until after sunrise.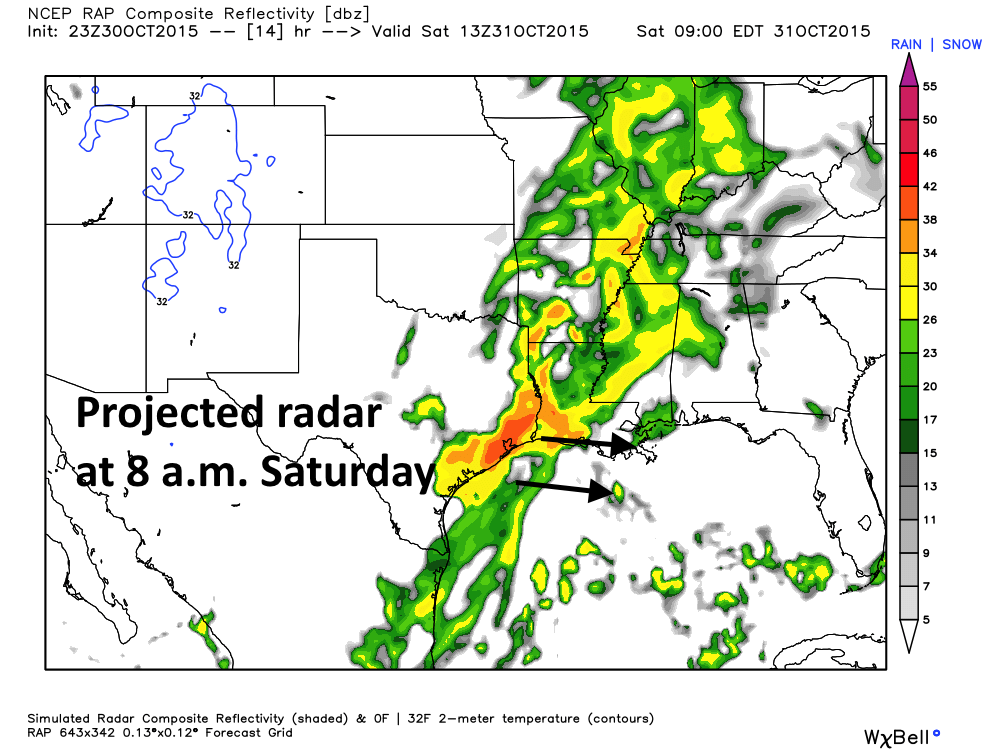 Sometime between sunrise and noon on Saturday most forecast models now show a significant line of thunderstorms moving along with a cold front. The timing of this line of storms is not entirely clear, but it should move through by or before noon. Heavy rains will be likely as this squall line crosses Houston from west to east, perhaps 1 to 3 inches for most areas, higher amounts for isolated areas.
I don't think we'll see enough rain to cause widespread flooding, but as we saw in central Texas on Friday, the atmosphere is very moist so I'm not ready to rule that out. The entire area remains under a flash flood watch through Saturday afternoon. During this time isolated tornadoes and damaging winds will be possible. Check weather conditions before venturing out on Saturday morning.
The region should clear out from west to east during the afternoon and early evening hours. Most of the Houston metro area should be dry for trick-or-treating, or other activities on Halloween night.