Good morning. A strong cold front will sweep across Houston this morning, bringing heavy rainfall and potentially damaging winds as it passes. In the front's wake rains will quickly end, and with dropping dewpoints we'll see drier air and cooler weather. Although Thursday and Friday remain somewhat breezy, our weather should be fair and fall-like through the weekend.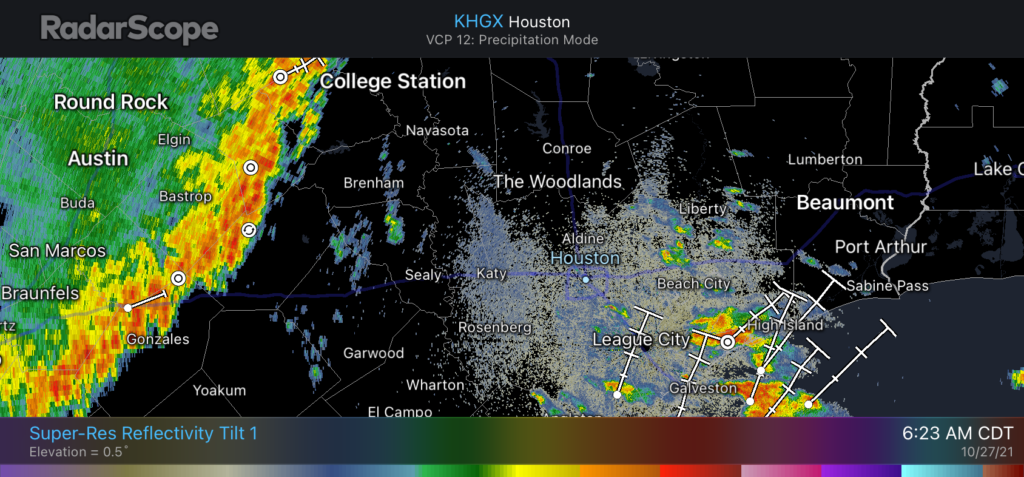 Wednesday
As of 6:20 am the line of storms associated with the front is nearing College Station, and should reach the western edge of Harris County by around 7 to 8 am. It should push through the city of Houston itself from 9 to 10 am and be off the coast by about noon. Most areas will likely see 1 to 2 inches of rain as the front moves through, with a few areas seeing more where storms are strongest. The main hazard is damaging winds, with hail and perhaps a tornado as a lesser threat. These storms may be briefly nasty, so they're best avoided if possible. Dewpoints will drop after the front moves through, and we should see highs this afternoon in the 70s with clearing skies. Winds will blow from the north-northwest at 10 to 20 mph. Overnight lows will drop into the upper 50s for most locations except the coast.
Thursday and Friday
These will be a pair of sunny and cooler days, with highs generally in the low to mid-70s. On both days, but especially Thursday, a tight gradient will lead to breezy conditions. Gusts on Thursday could reach about 30 mph or even slightly higher at some locations, with gusts still in the 20s possible on Friday. Overnight lows will reach their nadir on Friday night and Saturday morning, likely dropping into the upper 40s for areas outside the urban core of Houston, and away from the coast.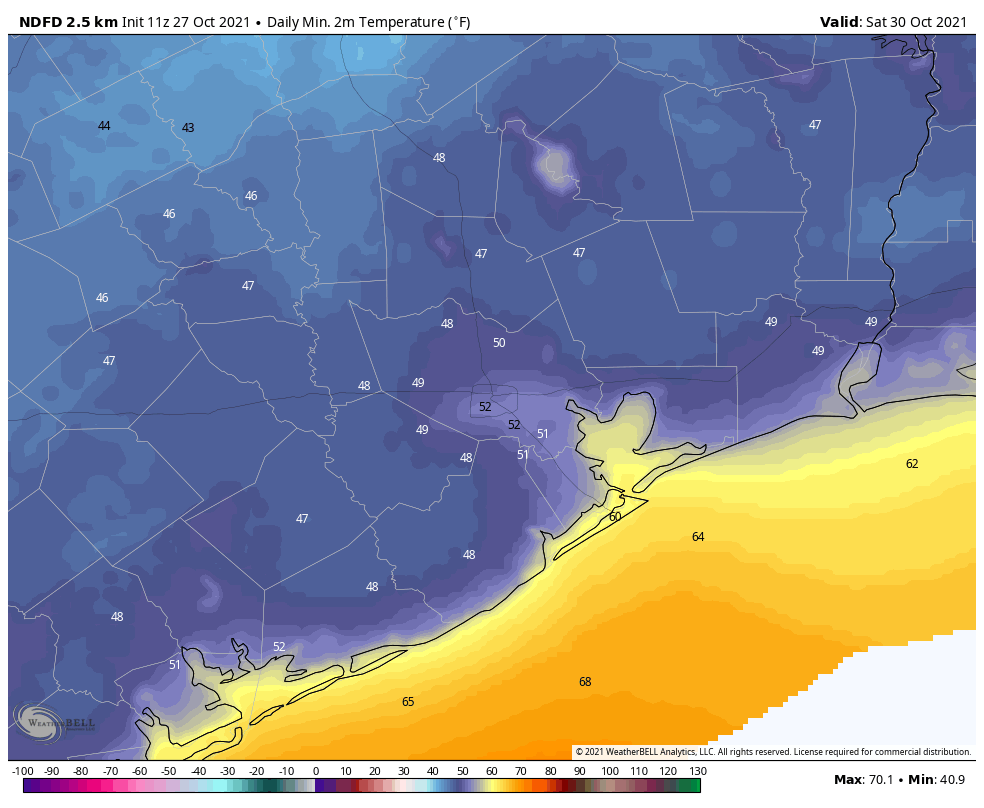 Saturday and Sunday
The weekend looks amazing. Saturday should see sunny skies, highs in the mid-70s, and lighter winds. Overnight lows into Sunday will be a few degrees warmer as winds begin to return from offshore. Halloween looks quite nice as well, with more mostly sunny skies and highs near 80 degrees. Temperatures at the hour of trick-or-treating should be in the upper 70s for most locations, with enough dry air to keep things quite nice.
Next week
Some uncertainty remains, of course, but generally we should see a warming trend of temperatures back into the low 80s next week, although right now humidity levels won't likely get oppressively high. Another front probably comes into the picture by Wednesday or Thursday, potentially setting the stage for another stellar weekend in early November. But that forecast is in pencil for now.