Well, I almost made it with a recent prediction. But alas, Mother Nature is a cruel mistress. Careful readers may recall that, 11 days ago, I wrote:
Today's the last hot day for awhile. High temperatures away from the coast should reach about 90 degrees, and this probably will be the last time this occurs in 2021. (Emphasis on probably). 
This was just before a nice front moved into Houston, and knocked highs down into the 70s. But then we warmed back up, more aggressively than I anticipated. Still, we managed to avoid 90 degrees for awhile. Over the last week Houston hit 88 degrees three times. I started to breathe easy. Then came Monday, which was realistically the last day I could be wrong with the 90-degree prediction. And wouldn't you know it? We hit 91 degrees at Bush Intercontinental Airport.
What I will say now is this: There is a very, very slight chance our region hits 90 degrees today. But if we don't Monday, October 25, was the last 90-degree day of 2021.
Tuesday
Due to very high dewpoints, we're again seeing areas of dense fog across Houston this morning. After the fog clears away we'll see mostly cloudy skies later today. This cloud cover should help to moderate temperatures a bit, keeping them in the upper 80s. Winds will be out of the southeast at around 10 mph. Some (very light) showers are possible later today, but we should just see clouds for the most part. Lows tonight will be sticky, in the low 70s.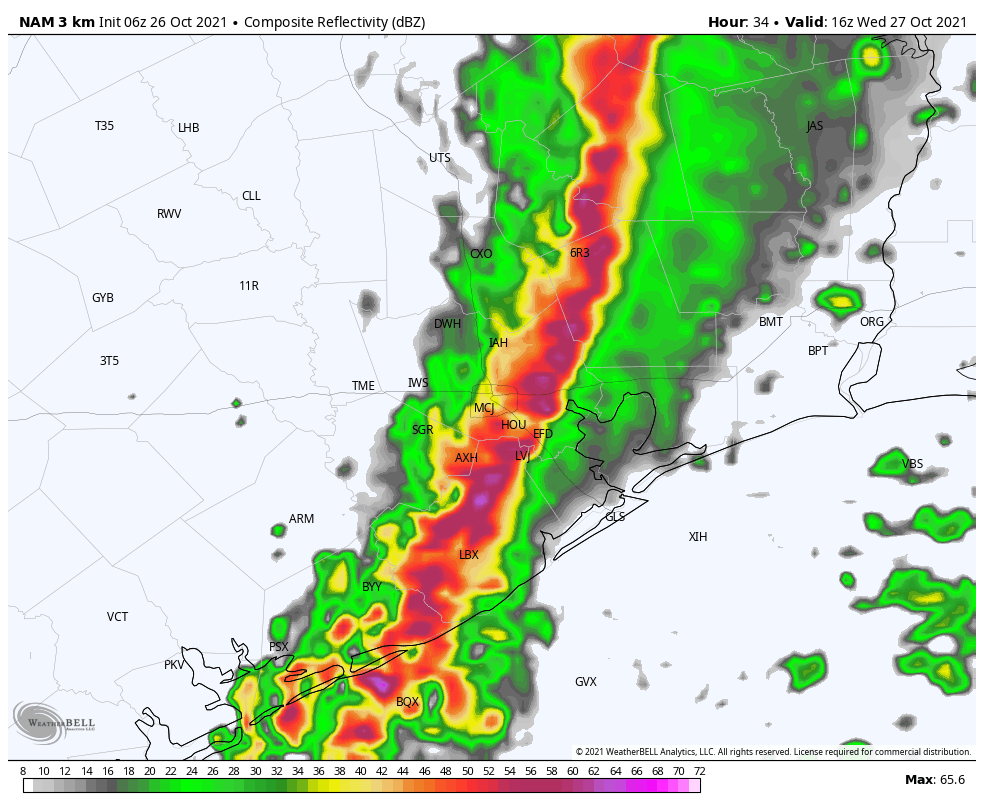 Wednesday
A cold front remains on track for Wednesday, and there will be no doubt as this one blows through Houston. Confidence is increasing that a fairly strong line of storms will accompany the front as it moves from northwest to southeast across the region. Although it will be moving fairly quickly, the front could still drop 1 to 2 inches of rain as it passes, and produce briefly severe winds (now's a good time to secure Halloween decorations). In terms of timing, the front should reach College Station by around sunrise, push into Houston by 9 or 10 am, and move off the coast by around noon or shortly thereafter. Winds will gust from the west at 20 to 25 mph after the front, with overnight temperatures dropping into the 50s.
Thursday and Friday
These will be a pair of breezy, sunny, and cool days. Highs Thursday and Friday should only reach the 70s, and winds may gust as high as 30 mph on Thursday, while remaining brisk on Friday. This will be helping to usher in cooler air, and it now looks like much of the region may drop into the 40s on Friday night, the coolest of the period.
Saturday and Sunday
Saturday looks absolutely splendid, like perhaps the nicest day of fall so far. Winds should be light, with temperatures in the mid- to upper-70s, to go along with plenty of sunshine and dry air. Saturday night should be another cool one, in the 40s and 50s across Houston.
As for Halloween, this forecast is—to borrow a phrase—spooktacular. With sunny skies, highs will reach around 80 degrees. This will set the stage for a pleasant evening, likely in the upper 70s, with enough dry air to keep everyone happy. Rain chances are essentially zero. (This might be a forecast I get right! Almost a week ago, if you recall, I forecast temperatures in the upper-70s for trick-or-treating. You win some, you lose some, in this game).