If Wednesday was a pretty nice autumn day, yesterday was definitely a pretty gloomy autumn day. What will today bring? Read on.
As we head into the weekend, another reminder that our annual fundraiser is ongoing for a limited time! So get in there and get some swag if you desire. Or you can just make a donation. Whatever the case, we are grateful and thankful for your support!
Today
It's always a bit of a roll of the dice in autumn and winter if a low deck of stratus clouds will actually clear. It's tough to tell on satellite exactly how extensive the low clouds are today, but there are a couple things we can note based on that and observations.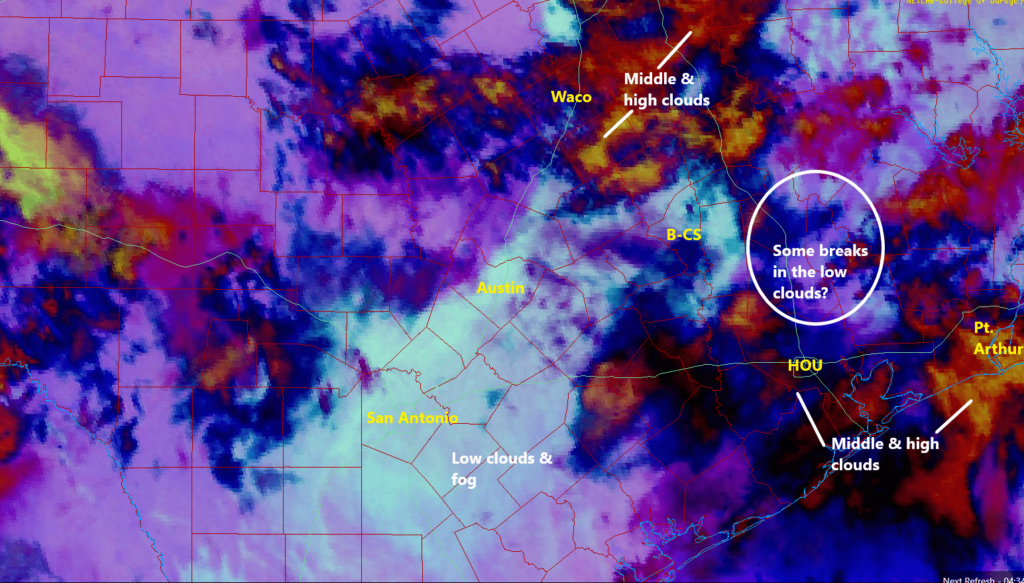 I always love the image above from the College of DuPage because the color scheme accentuates low, middle, and high clouds. In the Houston area, it seems we have a pretty decent batch of middle and upper level clouds moving through that are obscuring the ability to see low clouds on the image (like you can near San Antonio). Those middle and high clouds may have also helped prevent much of the fog and low clouds from expanding near Houston this morning, meaning as the sun comes up, we may see the sun in spots.
Whatever the case, expect increasing sunny breaks today between periods of cloud cover across the area. If you're south, east, or west of Houston and under some fog, that should lift by mid-morning. Highs will be in the low to mid-70s today, perhaps deeper into the mid-70s if the clouds clear enough.
Weekend
Saturday looks like a winner of a weekend day. We're expecting sunshine and highs in the mid-70s after morning lows near 60 degrees. Sunday will be a bit trickier. It should start out great, with lows in the 50s and sunshine. If you're headed to the Texans game, no issues. We'll see clouds increase through the afternoon, with a chance of showers, especially north and west of Houston. Highs will make it into the mid-70s south and east and low to mid-70s north and west, with some far northwest locations possibly a couple degrees cooler.
Monday
The timing of the front for early next week continues to shift a bit, and we're now pushing it out to Monday night. For the most part, Monday looks partly sunny, warm, and humid for November, with a chance of a shower or two.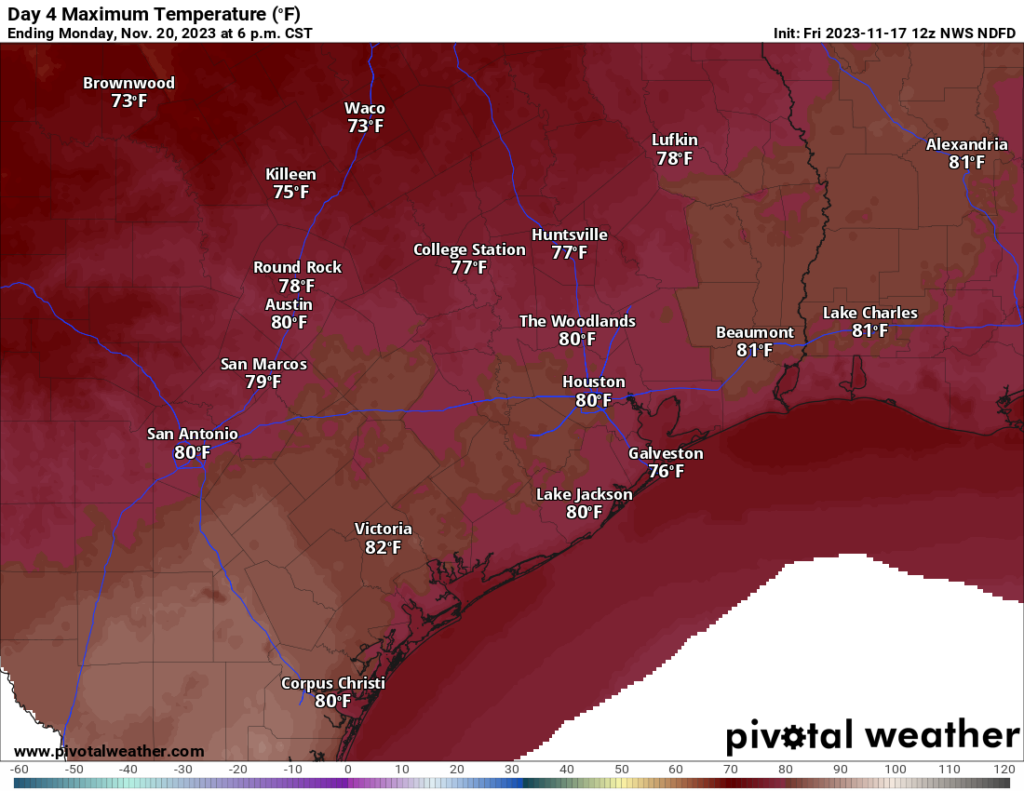 We'll see highs well into the 70s, if not around 80 degrees or so. In fact, there's probably about a 60 to 70 percent chance that we hit 80 degrees or better on Monday, as long as the timing of the front stays where it is.
Tuesday
With the front plowing through Monday night, we will wake up to a different season on Tuesday. It will be breezy and much, much cooler Tuesday, with highs in the 60s and offshore winds probably gusting north of 25 mph. Some lingering clouds will stick around, but any showers or thunderstorms with the front will probably occur in the pre-dawn hours.
Wednesday
We'll have a chilly start to the day Wednesday with lows in the 40s. Daytime highs will only warm into the upper-50s to around 60 degrees. But it looks dry!
For those of you traveling, it looks spectacular basically anywhere within driving distance of Houston. No issues are expected across Texas, Oklahoma, or Louisiana. If you're headed to Colorado, it looks fine. The only trouble spots may be the Northeast, where a departing storm will likely cause air travel delays into the hubs. Winds will probably be the main issue there. Some lake effect snow is possible in the Great Lakes. And the cold front that gets us on Tuesday morning will be crossing Florida with showers and storms on Wednesday afternoon.
Thanksgiving Day
It looks great. Morning lows in the 40s and daytime highs in the mid-60s or better.
Beyond Thanksgiving it looks like we'll warm back to 70 or so by the weekend before our next front attempts to make an appearance late in the holiday weekend.