Before we get to the forecast for the remainder of this week, I want to offer a few words on some of the things I'm most thankful for as we head into the Thanksgiving holiday.
Matt Lanza: the best damn partner one could ever ask for to operate the site
That first fall cold front
My family, who (almost) always understand when I need to "post an update" to the site
Tacos, fajitas, and margaritas
September 24: The date after which we can breathe a little easier about hurricanes
Houston's parks and trees
Astronauts, flight controllers, and the people who build spaceships
Rock and roll, jazz, and Steve Earle
Our long-time sponsor, Reliant
Most importantly: our readers, who always have a kind word and genuine appreciation for our efforts
Alright, let's get to the forecast. We're still looking at a warm Wednesday, followed by a messy Thanksgiving as a fairly strong front blows through the area. Read on for the details.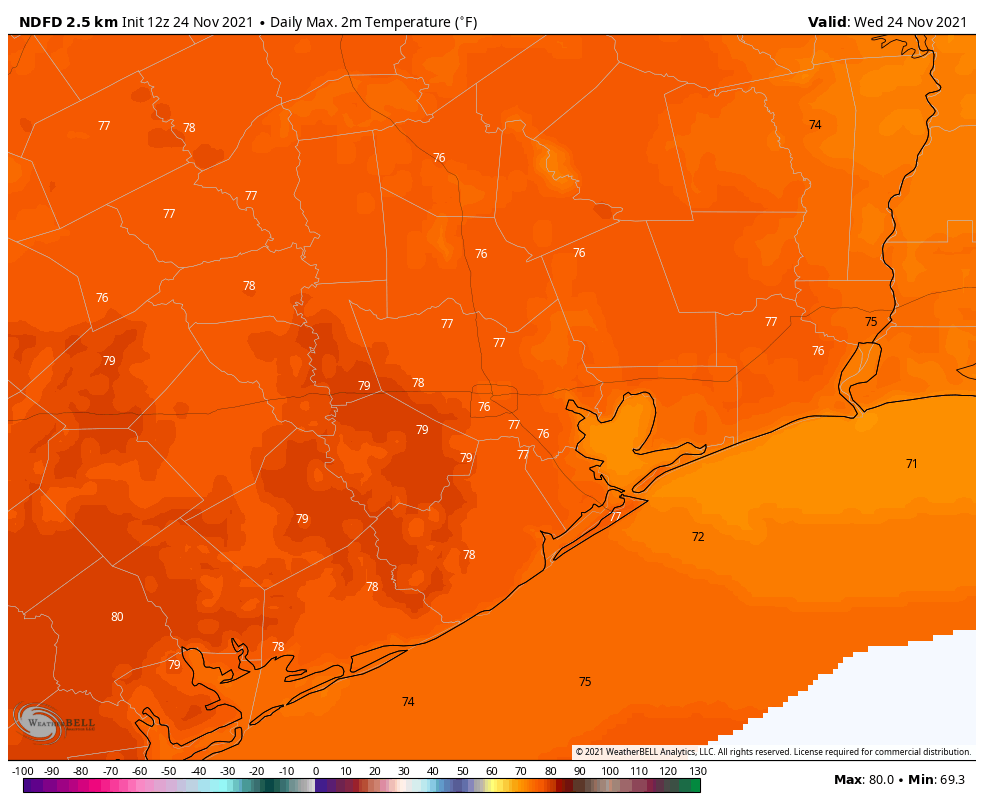 Wednesday
Temperatures are generally in the low 60s this morning, and we're going to rise near 80 degrees this afternoon with a mix of sunshine and clouds. Winds will be noticeable, out of the south, gusting up to 20 mph. This southerly flow will be helping to amp up atmospheric moisture levels, and dewpoints will be on the rise this afternoon and tonight. Temperatures will not fall much below 70 degrees tonight, and some light showers will be possible after midnight, mainly to the west and north of Houston.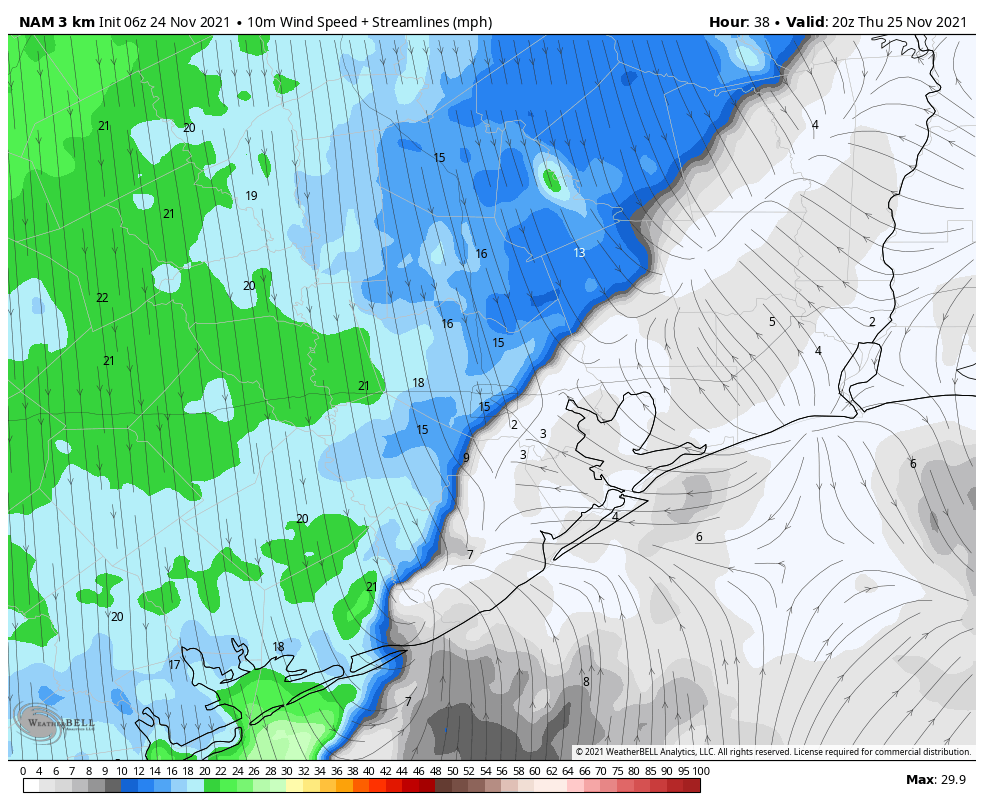 Thursday
As we have been saying for awhile, a robust cold front will move through Houston on Thanksgiving. Rain chances will start to pick up after sunrise on Thursday, and peak with the passage of the front. While the conditions favor showers and thunderstorms, the ingredients do not appear to line up for severe weather, so the main threat should be briefly heavy rainfall. Rains will probably be heaviest just ahead of the front, which should reach north and west areas—such as Katy, Tomball, and The Woodlands — between 10 am and Noon, the downtown area from Noon to 2 pm, and push off the coast during the afternoon hours. Overall rainfall accumulations still look to be 1 to 2 inches of rainfall for most areas, with isolated higher amounts. Rain chances should end shortly after the front's passage.
Temperature wise, it will be a sticky morning in the low 70s, with temperatures dropping in the wake of the front into the 60s, and down to around 50 overnight in Houston. Winds may gust out of the north up to about 20 mph Thursday night. (Despite the holiday we'll have a post tomorrow updating all of this.)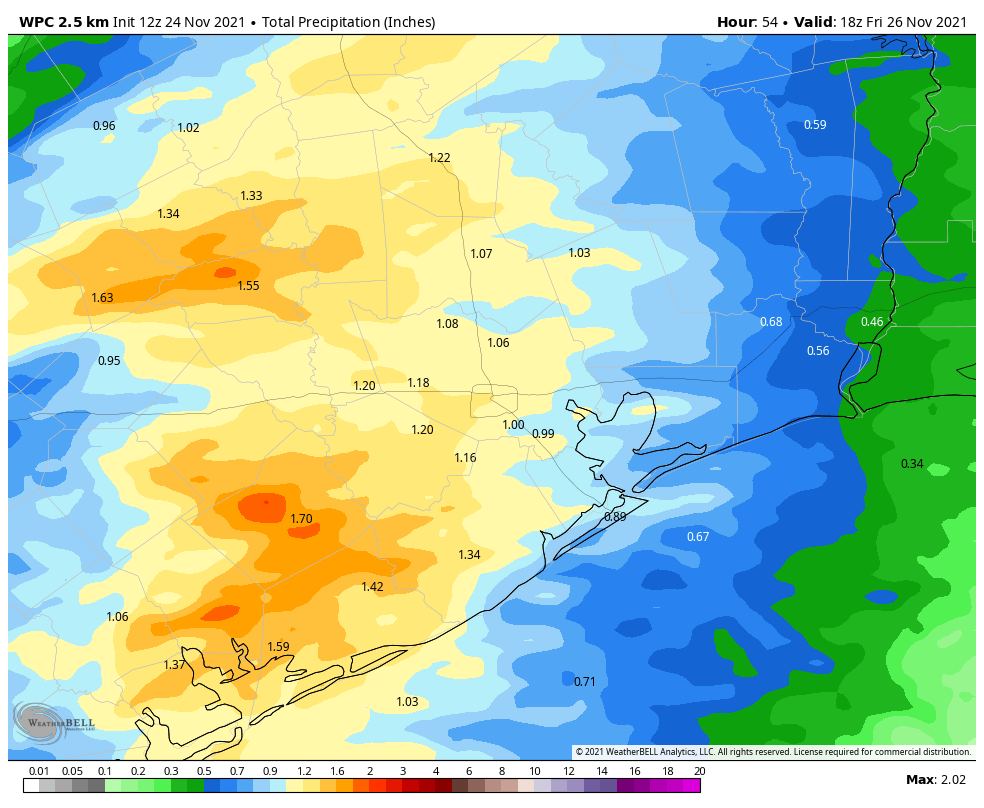 Friday
This day looks clear and cool, with mostly sunny skies and highs around 60 degrees. Friday night should see lows in the upper 40s in Houston, with cooler conditions inland and a bit warmer near the coast.
Saturday and Sunday
Unlike weekends over the last month or so, this one won't be spotless. Saturday should be a cloudy and cool day, with highs of around 60 degrees. Due to a southwesterly flow later on Saturday, we probably will see some rain showers develop on Saturday afternoon or evening, and persist on and off into Sunday morning. Right now accumulations will be probably be on the order of 0.25 to 1 inch for most areas, with the greater likelihood of rain along the coast. Showers should end on Sunday morning and we may see some clearing skies during the afternoon hours. Highs will be in the 60s, with lows dropping into the 40s.
Next week
This fall-like weather will persist at least into the middle of next week, with highs in the 60s and 70s, and lows in the 40s and 50s. We'll see a moderate warming trend before another front, perhaps on Friday or Saturday of next week.
Fundraiser
A few days remain in our annual fundraiser, during which you can purchase merchandise or simply donate to support Space City Weather for 2022. Thank you!