What constitutes summer in Houston? There is no single definition. The summer solstice runs from June 21 to Sept. 23. Meteorological summer encompasses the months of June, July, and August. Neither of these time frames really capture summer in Houston, however, as it gets hot long before June 21, and stays hot well into September.
Speaking for me personally, summer comes when daytime temperatures are in the 90s, and overnight lows correspondingly warm and muggy. I'm afraid we might just be there, folks. We'll have several days this week in which high temperatures might hit 90 degrees, beginning as early as today. And from a historical perspective, Houston is right on schedule—the average date of the first 90-degree day at Bush Intercontinental Airport is May 7.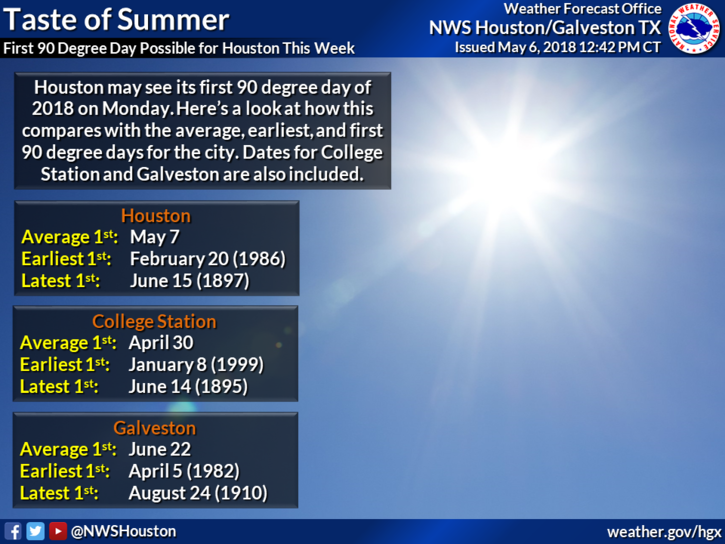 Monday and Tuesday
In the wake of Sunday's weak cool front, Houston will experience lower humidity to start the week. This will allow daytime temperatures to jump up to around 90 degree highs, but also should allow overnight lows to slip just under 70 degrees for most of the city except for the coast. Skies should be mostly sunny. Not much to say other than that the middle of the day will be hot, with more pleasant conditions during the mornings and evenings.

Wednesday, Thursday, Friday, and Saturday
The only real "change" in our weather this week will occur later on Tuesday or Wednesday morning, when the onshore flow kicks into gear, and winds start to pick up from the southeast. The increase in humidity will probably dial back high temperatures a tad, into the upper 80s, and nudge nighttime temperatures into the lower 70s for most of Houston. Still sunny, low to non-existent rain chances
Sunday and beyond
At some point later on Sunday, Monday or Tuesday a cool front will—probably—push through Houston. This will be our next real chance of rain for those of us who missed out on Saturday (raises hand). This front might knock overnight lows back into the 60s for a few nights.