According to the latest US Drought Monitor, no drought has crept into the entirety of the Houston metro area, and only extreme southern Brazoria County is seeing "abnormally dry" conditions. And yet for large chunks of the Houston area, this has been a dry spring. Galveston, for example, has notched a rainfall deficit of about 6 inches just for this calendar year.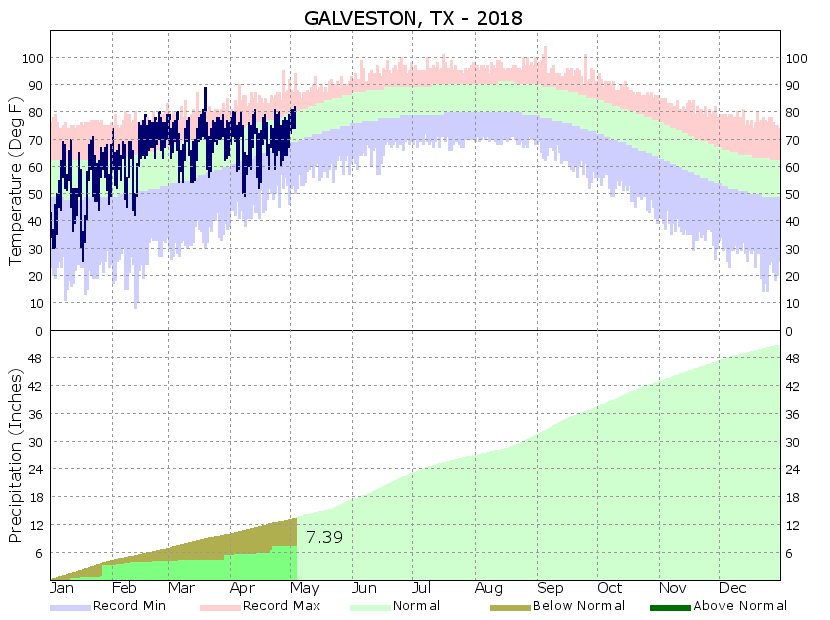 This is true for a lot of coastal parts of the region as well. And because our forecast looks quite dry after Saturday, there's a lot riding on rainfall chances Friday and Saturday. Unfortunately, they're not overwhelmingly great for the Houston area.

Friday
As of Friday morning, a cold front is moving through northern Texas and Oklahoma, and this system will produce some decent showers and thunderstorms along the I-35 corridor from San Antonio to Dallas today. These storms have the potential to bring 3 to 5 inches of rainfall for parts of Texas, but it is highly likely these greater rainfall totals will occur somewhere to the west of the Houston area. A more stable airmass sits over Houston, and therefore these storms seem likely to weaken as they approach.
The bottom line is that we can expect cloudy skies on Friday morning in Houston, with highs moving up to the low 80s during the afternoon. Some scattered showers are possible. Rain chances will likely increase during the evening hours as this front moves slowly into Houston, and pushes off the coast by Saturday morning. My best guess is that the northwestern half of the area gets 0.5 to 1.0 inch of rain (i.e. northwest of Highway 59), and the southeastern half gets 0 to 0.5 inches. The storms have the potential to bring more than that, but again, I think the dynamics for this heavier rainfall will set up far to the west of Houston.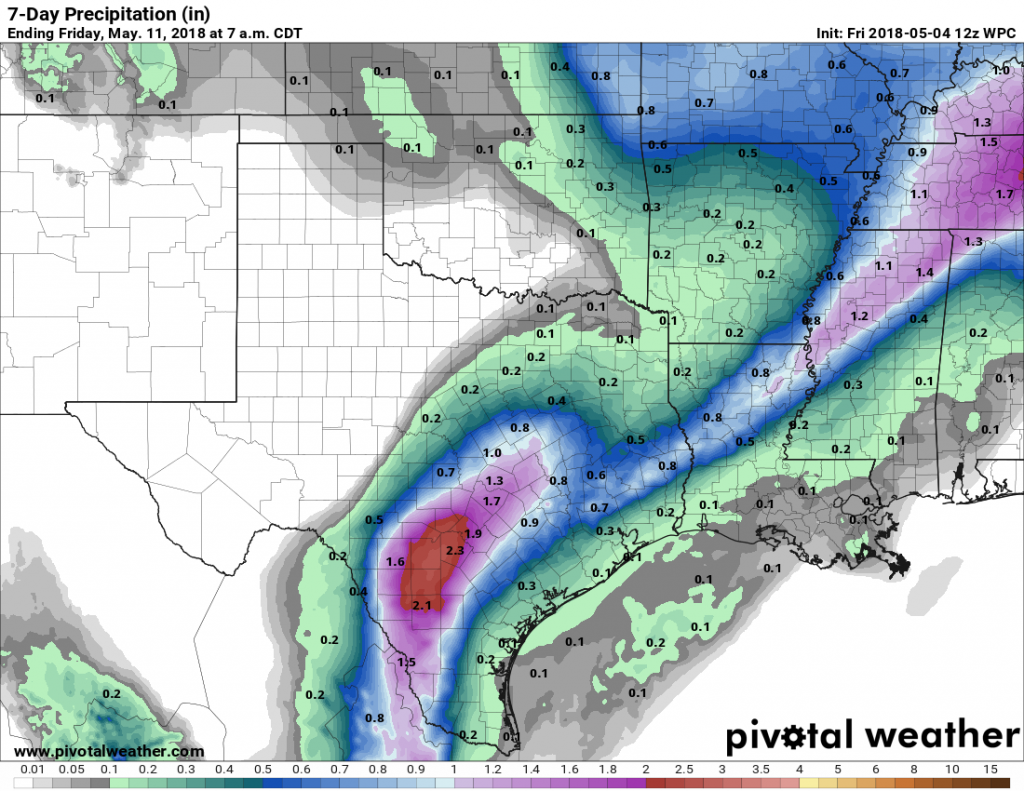 Saturday
After looking for awhile like it would be a pretty lousy day, Saturday may turn out to be quite nice. The morning should be cloudy, with potentially some lingering rain showers, but I think the sun breaks through during the afternoon. With highs in the low 80s and modest humidity, conditions should be quite nice.
Sunday
Warm and sunny, with highs in the upper 80s. It won't be summer hot, and somewhat lower humidity will be nice. All in all, this is probably the last, somewhat spring-like weekend Houston will see until at least September.
Monday and beyond
Warm and sunny, and the region's first 90 degree day of 2018 will probably occur during the coming week. But the humidity still won't be bad until around Wednesday or so, so the mornings and evenings should be pretty nice.