Let's be honest, Houston. This summer has not been that bad. June's average temperature was 0.6 degrees below normal, July was 1.1 degrees below normal, and August has been 0.6 degrees above normal. Although there have been dry spells, there have been no prolonged droughts. And while we've had some heavy rainfall, as summers go, there has been no widespread flooding. And then there's this: The National Weather Service notes the city has not recorded a 100-degree day since August 29, 2020. So we've gone a full 365 days. The last time our region recorded a year without a 100-degree day was 2014.
That is not to say summer is over, but it is winding down. Most notably, days are getting shorter. Today there will be 12 hours, and 46 minutes of daylight, compared to 14 hours and 3 minutes in June. Each new day is now a couple of minutes shorter. The next 10 to 14 days do look fairly warm, to be sure, and there's a chance we'll yet hit 100 degrees this year. But after that I think we're safe. I'd say there's even about a 25 percent chance we see our first cold front in about 12 to 14 days. Finally there's the threat of hurricanes. Fortunately we don't see any immediate threats to the Texas coast.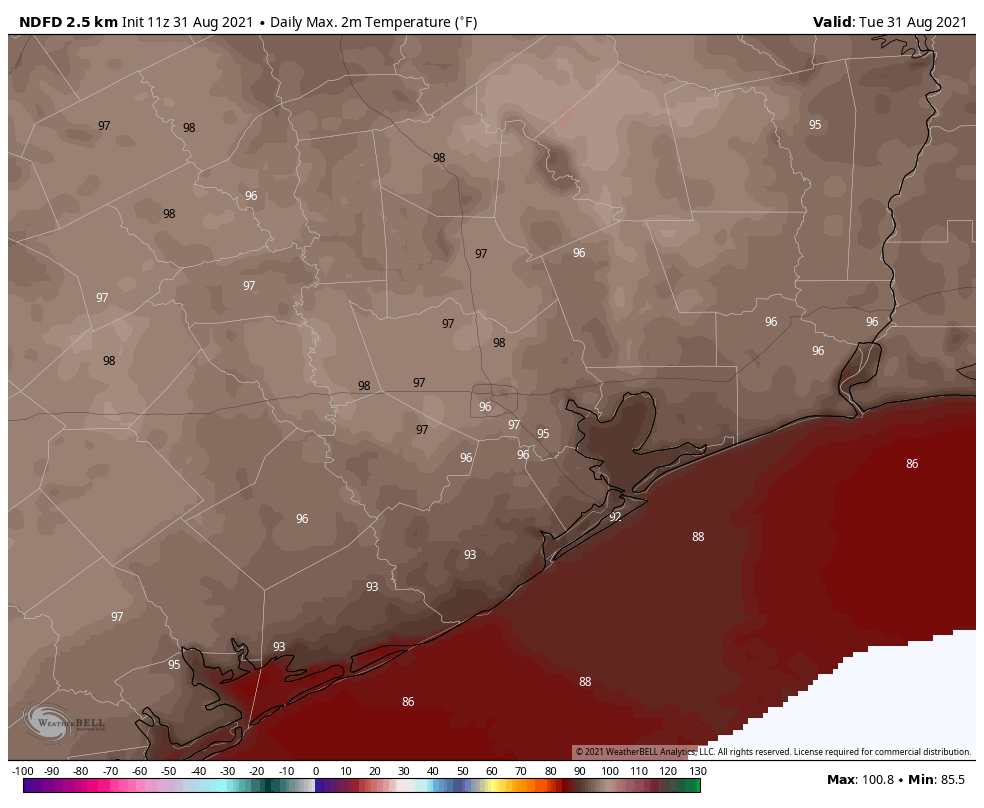 Tuesday
Today will be similar to Monday, with mostly sunny skies and highs in the upper 90s. As atmospheric moisture levels increase a little bit later today we could see a few isolated to scattered thunderstorms, but rain chances are probably only about 20 percent. Winds will be light out of the west. Conditions tonight will be warm and muggy.
Wednesday and Thursday
Atmospheric moisture levels should peak mid-week and this will perhaps allow rain chances to rise to 30 or 40 percent. Showers should still be pretty scattered in nature, with partly to mostly sunny skies. Highs will be in the mid- to upper 90s.
Friday, Saturday, and Sunday
As high pressure builds over the region we should see mostly sunny skies this weekend with low to non-existent rain chances. Look for highs in the mid- to upper 90s with slightly cooler nights in the mid- to upper 70s. Plan your outdoor activities this weekend with confidence.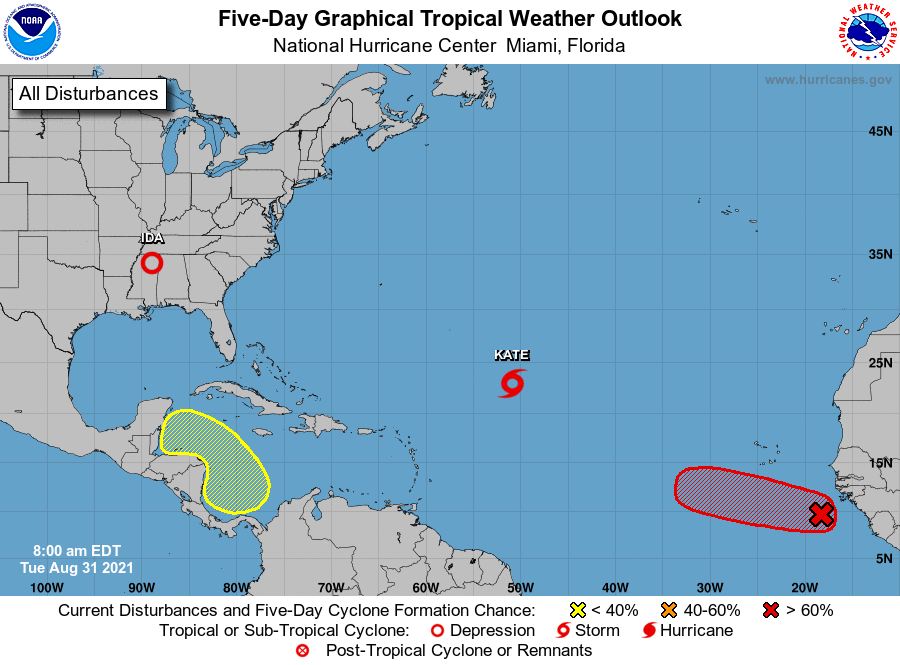 Tropics
The National Hurricane Center still gives an area of low pressure in the Southern Caribbean Sea a 20 percent chance of developing later this week. However, should anything eventually form—and this may well not happen due to the proximity of Central America—high pressure over the northern Gulf of Mexico should keep it bottled up to the south of Texas. For the end of August, things look pretty good across the tropics for the Gulf.