As we prepare to flip the calendar to May, the weather will fast forward a few weeks, as forecast highs near 90 degrees, more commonplace for late May, become a feature in the days ahead.
We'll start today with a drought update. You probably assumed that this week's impressive rains acted to relieve the drought some in our area, and you would be correct. Coverage of drought in the Houston area dropped about 15 percent versus a week ago. We'll need another couple rounds of storms in the next couple weeks to keep that improvement going.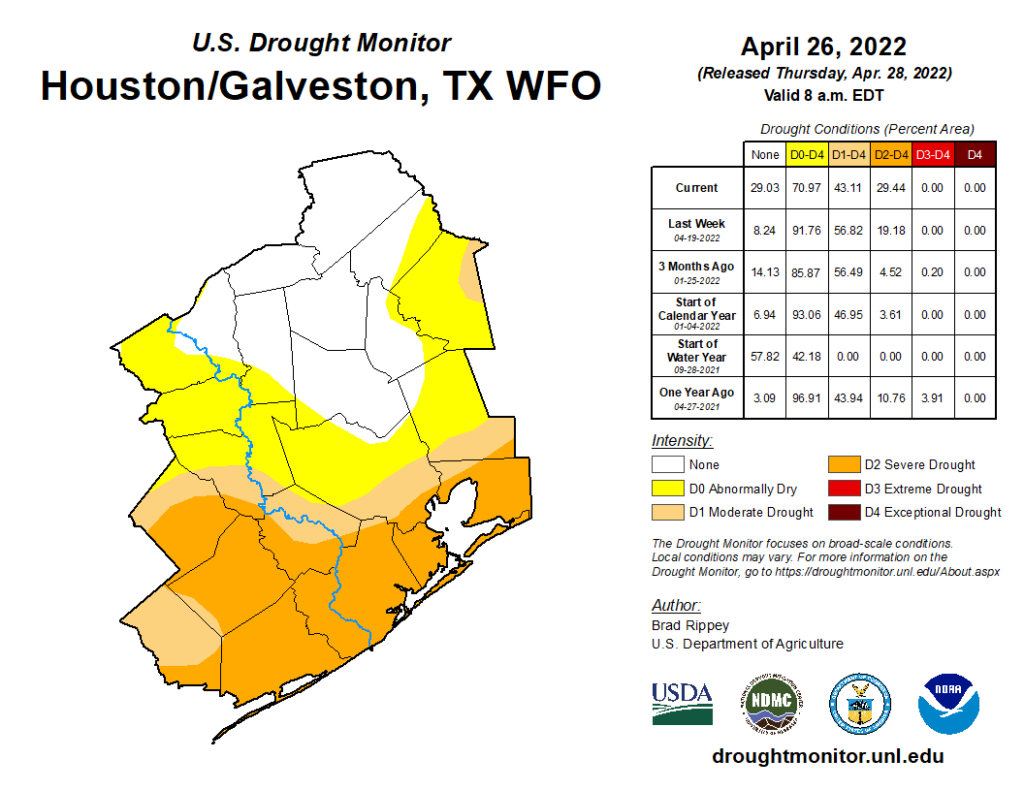 Will we get that? I'm not sure, truthfully. The pattern will support active weather near our region, but it may miss us to the north and east more often than not, so we'll have to see. This could be a situation where things don't change much north of Houston but perhaps they get worse south of Houston. That brings us to the forecast.
Today
Sun and clouds will mix for us today, and we'll see temperatures and humidity both nudge higher versus yesterday. We should do mid to upper-80s for highs this afternoon.
Weekend
This weekend will see a cold front drop south into the extreme northern fringe of our region tomorrow. We expect it will stall out north of Huntsville, but it may come close enough to deliver at least a few showers into the northern third of the Houston area tomorrow afternoon. The best chance would be outside the Beltway to the north; think Conroe, Cleveland, Magnolia.
An additional slight chance of showers would be in play on Sunday as well, again mostly north or perhaps east of the area. We don't believe you'll need to alter any weekend plans, but just be prepared in case a stray shower or downpour passes by.
It will be firmly like mid-May this weekend with lows in the 70s and highs in the mid to upper-80s.
For those of you riding in the MS 150 this weekend, day 1 will feature those hot temperatures but also a south wind. It will be consistent along the length of the ride from Houston through La Grange, sustained around 5 to 10 mph, with periodic gusts closer to 20 mph.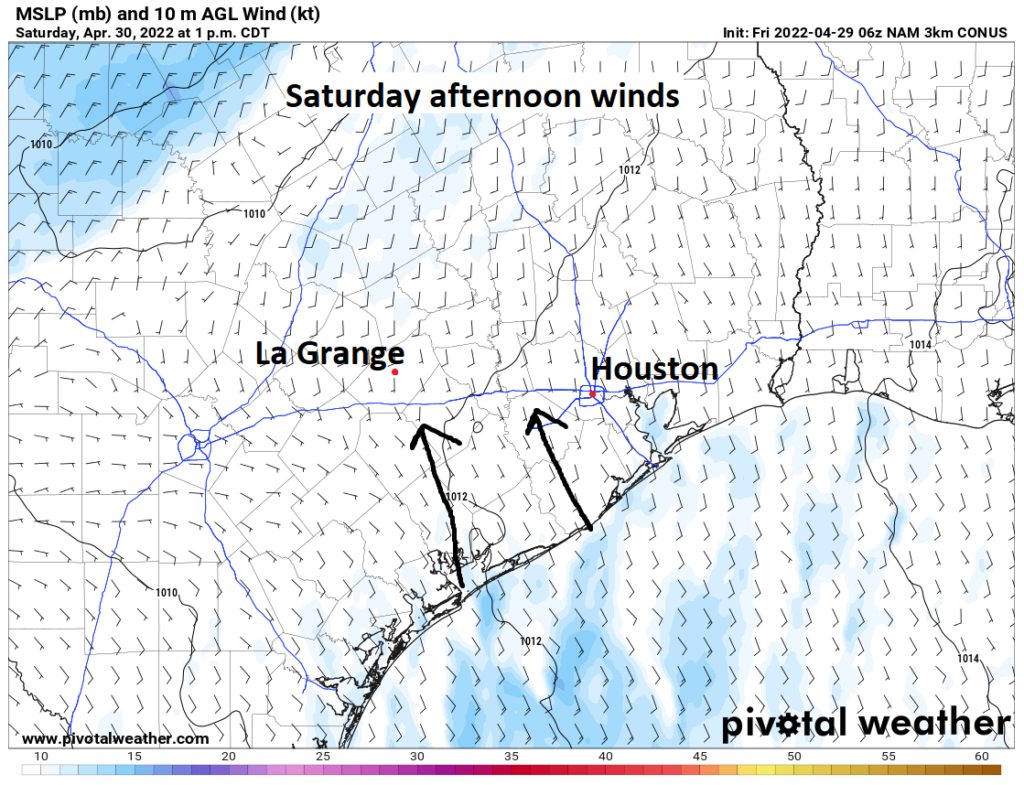 Day 2 will be a little breezier. While temperatures and humidity should be about on par with Saturday, the wind will shift to more of a southeasterly breeze. It will be more like 10 to 15 mph, with more frequent 20 mph gusts.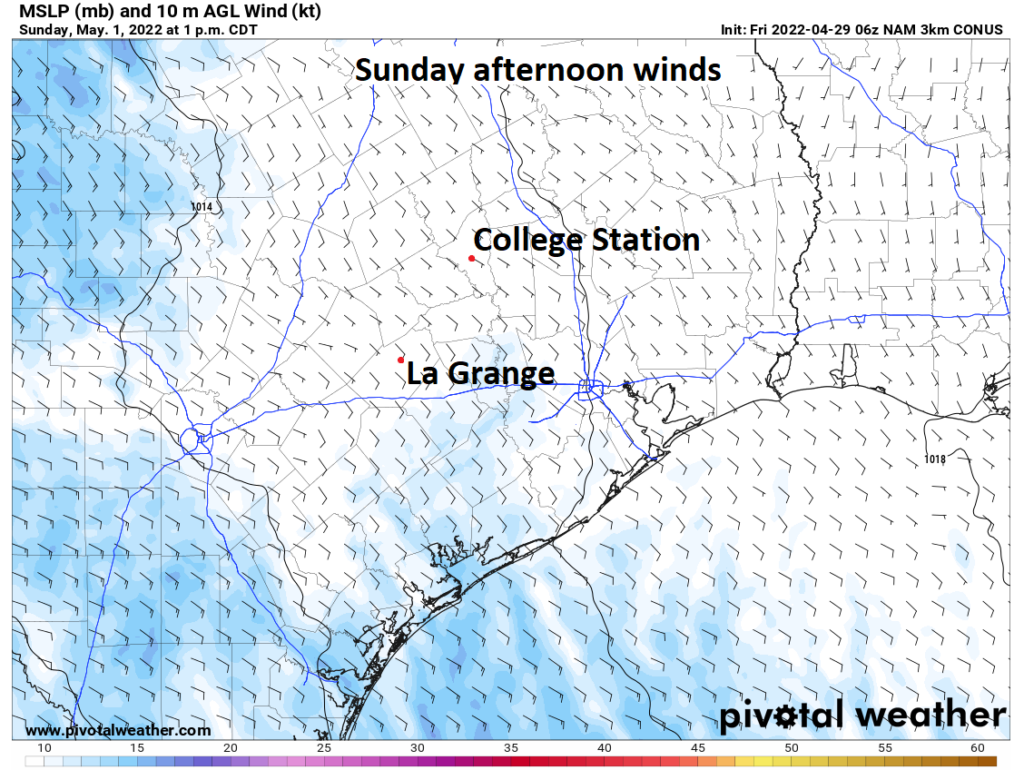 It should never be a headwind, but it may be a bit annoying at times. Keep an eye out for a few showers, especially on day 2, but it should hopefully be nothing that causes any problems. Whatever the case, good luck to all those participating!
Early next week
The first part of next week should be fairly similar to the weekend: Clouds, sun, hot temperatures, high humidity, and a very slight chance of a few showers. Expect lows in the 70s and highs well into the 80s, with an outside shot at 90 degrees in spots, along with a noticeable south or southeast wind, gusting to 20 mph or so.
Later next week
The late week question revolves around whether or not we get a cold front into our area. Right now, that seems to be a low probability thought. The front should probably hold out until the weekend, and even if it gets here, any relief would be brief. Outside of that, we will keep hot temperatures, high humidity, and a low-end rain chance each day heading toward next weekend. We'll refine this more on Monday.