Good Saturday afternoon. With a bonafide winter storm on the way, we'll keep you posted on things this weekend. Most of the morning model data is in, and we can discuss some of what is shown and lay out some thoughts for what might actually happen tomorrow.
First, the housekeeping: A Winter Storm Watch (as of 2 PM CT Saturday, still a watch) is posted to the north and northwest of Houston for the Brazos Valley, Walker, Trinity, and Houston Counties. We expect this to be upgraded to a warning before this evening, and it's possible an advisory or watch is expanded south also.
On satellite, the two features we are most interested in stand out nicely this afternoon. We're looking at the water vapor channel on satellite, which shows us where dry air and moisture are located. Over the Four Corners region, you can see a swirl in the clouds representing low pressure about 20,000 feet up, our upper level storm. Over northern Mexico, you see moisture gathering, which is where low pressure at the surface will begin to develop. The system in Mexico will help deliver moisture and precipitation. The upper low will help deliver cold air behind a front. The combination is why we're talking about winter weather.
We still believe rain will develop tomorrow morning across the entire region. Everyone should begin as rain, as cold enough air for anything else won't arrive til later. Look for snow and sleet to begin mixing in with the rain well northwest of the city tomorrow by early afternoon. Think: College Station, Madisonville, Crockett. The rain/snow or sleet line will continue to nudge south and east tomorrow afternoon and evening, arriving in places like Brenham, Navasota, and Huntsville by late afternoon. From there, how much farther southeast could the rain/snow line get? Ultimately it will depend on the exact track of the storm, but I expect it will get close to places like The Woodlands, Conroe, Hempstead, or Cleveland before all is said and done.
In addition to that, as discussed earlier this week, we could be talking about dynamic cooling (where the rain falls so hard, it pulls down enough cold air to flip over to snow or sleet for a time) driven snow or sleet virtually anywhere north of I-10 late tomorrow afternoon or evening. It wouldn't accumulate much, if at all, but if you see snowflakes falling or hear sleet pinging, don't be shocked.
So the question becomes: How much snow for places north of Houston? For The Woodlands or Conroe, right now we don't expect much. Maybe a slushy coating if things break right (or wrong depending on your viewpoint). However, as you go north of there toward Huntsville west toward College Station or east toward Lufkin, it gets dicey. Here's the current forecast from the National Weather Service as of early afternoon Saturday: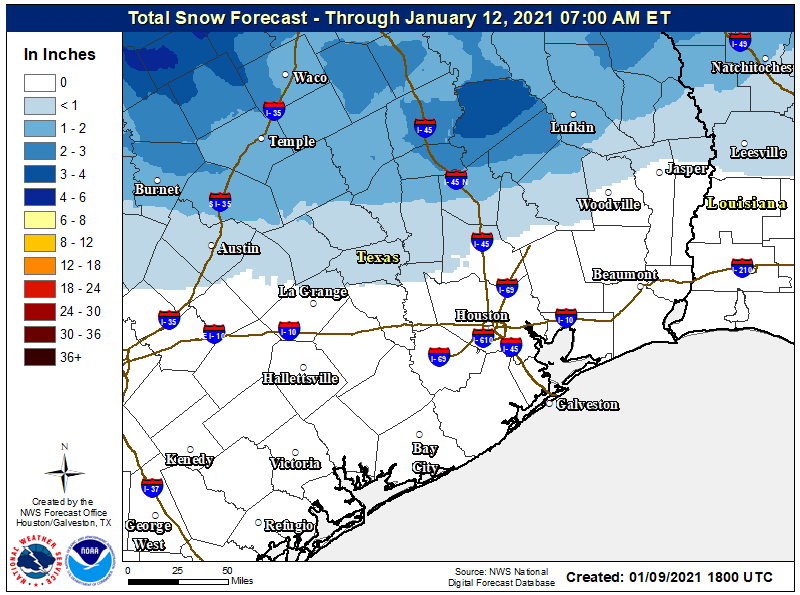 Snow forecast as of early Saturday afternoon for southeast Texas. (NOAA)You can see about 1 to 2 inches for Huntsville, less as you go south, more as you go north. It is notable that there are some weather models that show considerably higher snowfall amounts up that way, up to 4 to 6 inches of snow or even more in spots.
There are two main problems in determining how much snow will fall. One is the storm track, discussed a bit above. The second is something I made a Twitter thread about earlier today: Sleet. Sleet can destroy a snow forecast. I've been burned many times by that. The more the precipitation that is frozen falls as sleet, the less snow accumulation there will be.
Let's look at 7 PM Sunday. Here's the 12km NAM thermal profile for Huntsville. Definitely good for snow with the entire column except the surface below freezing. pic.twitter.com/eqHSdtHUOS

— Matt Lanza (@mattlanza) January 9, 2021
And right now, the temperature profiles north of the Houston region are a mess, with a very, very fine line between a cold rain, sleet, or snow. That could mean the difference between someone seeing a coating or 1 inch or someone seeing closer to 5 inches of snow.
The GFS model at Conroe for that same time shows a very mild temperature profile with above freezing temps from about 7,000' above down to the surface. That's a cold rain. Alternatively, the NAM has a fairly substantial subfreezing layer that allows for sleet instead. pic.twitter.com/Qm0hLlmOid

— Matt Lanza (@mattlanza) January 9, 2021
That's a big, big deal, and it's very difficult to pin down. So forecasting how much snow falls will be challenging, but who sees the snow? That should be a little more straightforward.
If you live in the city of Houston, keep hope alive (if you want snow), but the odds are going to be quite low. If we do see snow in the city, I would target the 9 PM Sunday to 2 AM Monday window to catch a fleeting glimpse.
If you want to see legitimate snow and feel comfortable traveling: Huntsville, Crockett, or College Station are as good a bet as any right now, though not quite a full guarantee. Just keep this in mind if you do plan to "snow chase" tomorrow: You will have to come back at night, with temperatures getting colder. While it should be fine in Harris County and most surrounding counties, there may be difficult, slippery travel up north. So just make sure you exercise wise judgment, are prepared in case it gets bad, and please be safe.
Eric will have more for you tomorrow!