Temperatures have dropped into the low 50s this morning in much of Houston, with colder conditions in outlying areas, in the wake of Tuesday's front. Sunny and pleasant weather will prevail until this weekend, when a slow-moving front will bring widespread rainfall into the region.
Wednesday
As high pressure settles across the region, we'll see mostly sunny weather today with high temperatures pushing up to around 70 degrees. Winds will be fairly light, out of the west or northwest, at 5 to 10 mph. Clear skies and light winds will allow temperatures to drop into the upper 40s tonight, which should be the coldest night of the week in Houston.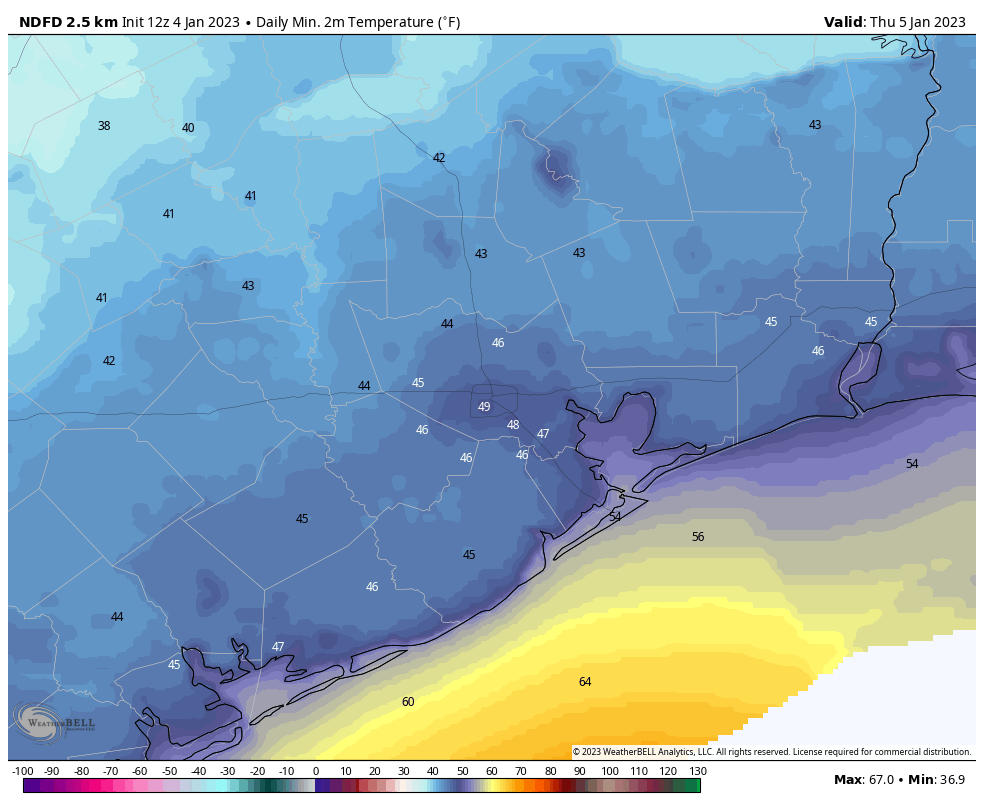 Thursday
This will be a similar day to Wednesday, with sunny skies and highs in the low 70s. The only change will be in wind direction, with winds shifting to come from the southeast later on Thursday or Thursday night, which will presage a warmup heading into the weekend. Lows Thursday night will be a couple of degrees warmer than Wednesday night.
Friday
Another sunny day, but it will be a little warmer with highs in the mid-70s. Humidity will also be on the rise, with a more southerly flow, but overall it will still not feel particularly sticky. Lows Friday night probably will drop to around 60 in Houston. Sea fog may start to become an issue by Friday night or Saturday morning.
Saturday and Sunday
I think Saturday may start out with some sunshine, but with the onshore flow getting cranked up we are going to see increasing clouds and some scattered rain chances by late morning or the early afternoon hours. Highs will reach the upper 70s, or possibly even 80 degrees for areas that see some afternoon sunshine. The likelihood of rain increases Saturday night into Sunday morning as a slow-moving front slogs toward and through Houston, likely bringing 1 to 2 inches to much of the area. Sunday, as a result, will likely see mostly cloudy conditions with highs in the upper 60s, and on-and-off rain showers. Lows on Sunday night will probably drop into the low 50s.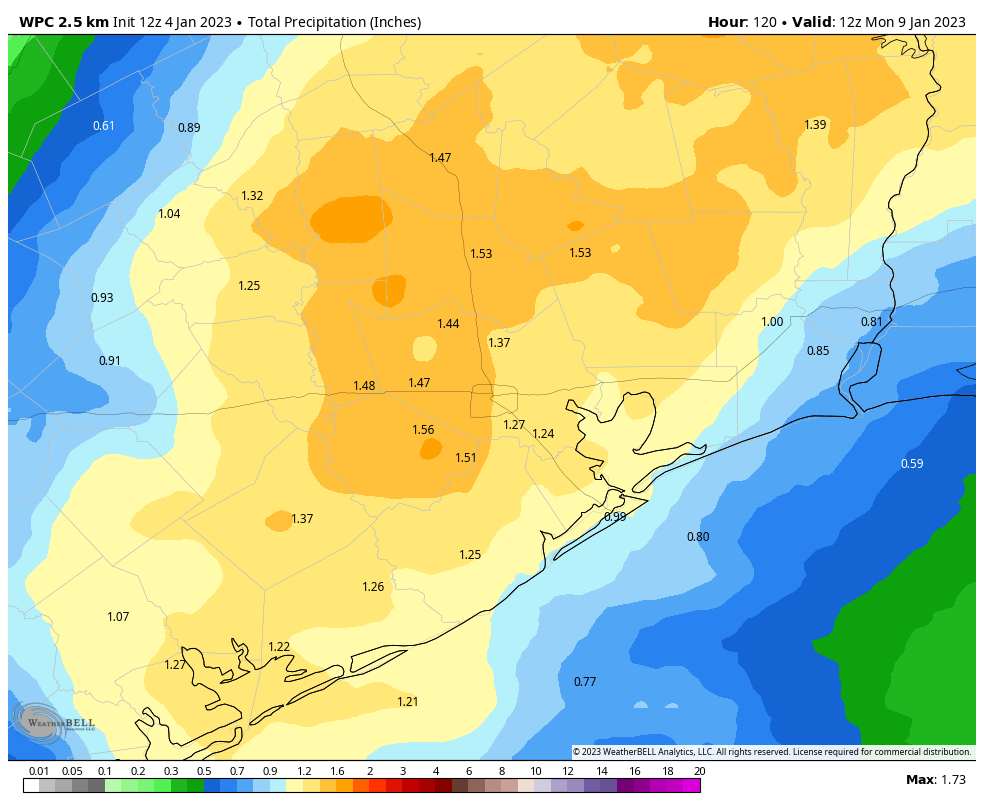 Next week
Rain chances will linger into Monday morning, but after that we should see partly to mostly sunny skies for much of next week. We'll likely be in a pattern where we see highs on the order of 70 degrees, with lows in the 50s. Before next weekend I think we'll see a stronger front move into the area. If you're running the Houston Marathon this year, which is on Sunday January 15th, my guess would be for lows in the 40s, and low chances for precipitation. So that's a hopeful forecast, but one that is far from locked in at this point.