Good morning, and let me wish you a very Happy Thanksgiving. We're writing a short post this morning to update you on the incoming storms and resulting weather through the weekend.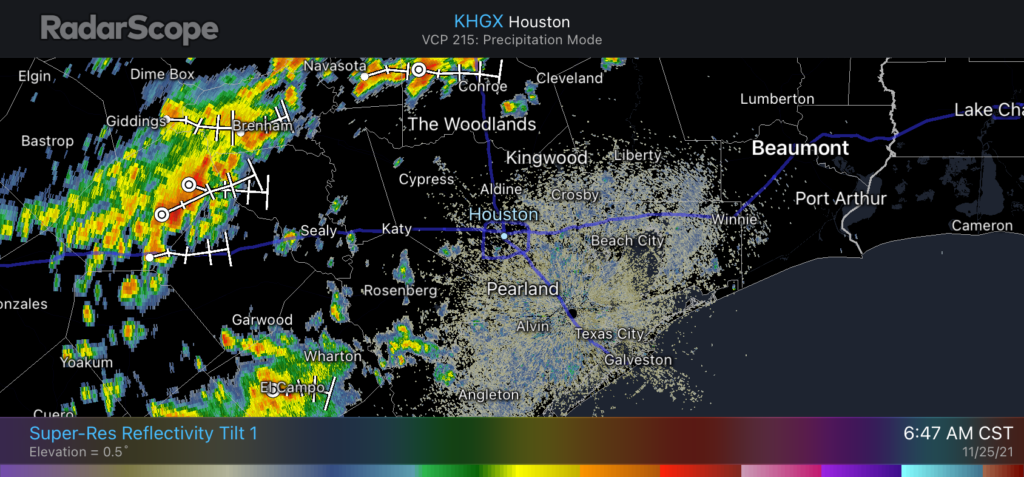 A cold front remains on track to cross the greater Houston region today, with associated storms having already passed through College Station and now approaching The Woodlands. These storms, which are moving from northwest to southeast, will push into the central part of Houston from 9 am to Noon, and should reach the coast just before or during the early afternoon. Most of the region should see 1 to 2 inches of rain, with some higher isolated totals. The heaviest rains will probably come south of Houston, in places such as Matagorda and southern Brazoria County.
After the front
Fortunately, we expect rains to clear out fairly quickly, with storms ending for areas on the inland side of Highway 59/Interstate 69 by around Noon or 1 pm, and coastal areas by mid- to late-afternoon. Northerly winds will follow, blowing out of the north at about 15 mph and gusting to 20 or 25 mph. For many locations, temperatures will have dropped into the 50s by sunset. Overnight lows will bottom out in the 40s in Houston's urban areas, with some 30s possible further inland. Friday should be partly sunny and cool, with highs in the low 60s.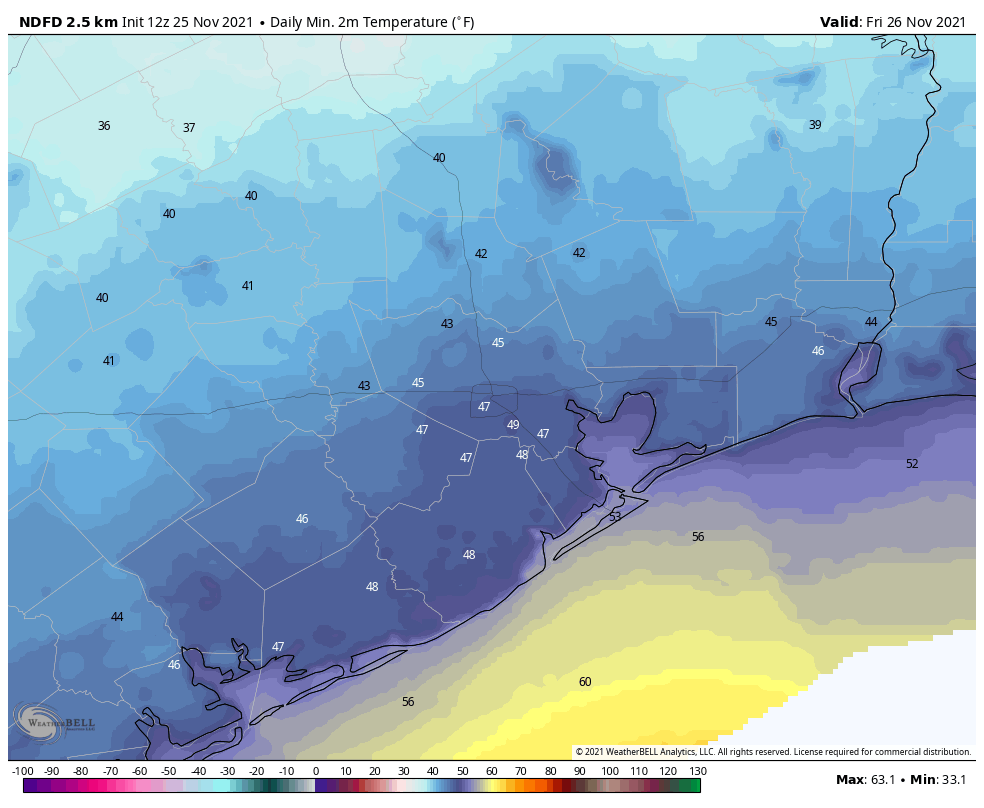 A mixed weekend
After another chilly night Saturday will be mostly cloudy, with temperatures maxing out at around 60 degrees. Rising air due to a low-pressure system will support the development of rain showers on Saturday, likely during the afternoon hours, and this probably will persist with an-and-off light to moderate rain through the overnight hours. Accumulations will be on the order of 1 inch or less for most areas, but it could put a damper on outdoor plans for Saturday and Saturday night.
Another front arrives early on Sunday, and this should end rain chances. This should also bring clearing skies on Sunday, allowing highs to get into the mid-60s. Sunday will be your better day for outdoor activities this weekend. Next week looks clear and cool before a warming trend heading into next weekend.
Enjoy the holiday, everyone!
Fundraiser
Only a few more days left as we sell merchandise and accept donations to support Space City Weather. For those who have already contributed, we're so appreciative.