As occurs each week, the U.S. Drought Monitor updated their drought assessment yesterday. Texas continues to see pretty difficult drought conditions overall, however that's not so much the case locally.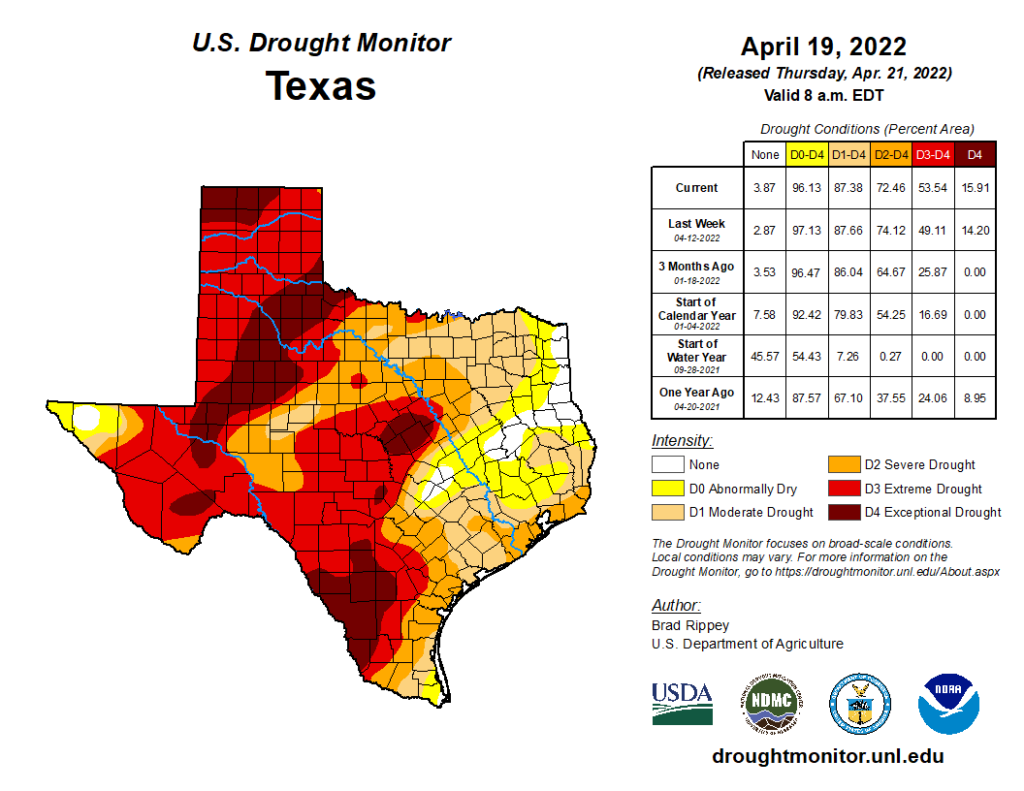 While over 87 percent of the state is classified in drought conditions, only about 57 percent of the Houston area qualifies for drought at this time. Our most recent serious drought occurred in 2011. It may be somewhat comforting to know that during this week in 2011, the entire state was in drought, with much of the Houston area in D4, or "exceptional" drought. At this point, while it may be tempting to compare current conditions to 2011 across Texas, that is not quite an accurate assessment, certainly locally.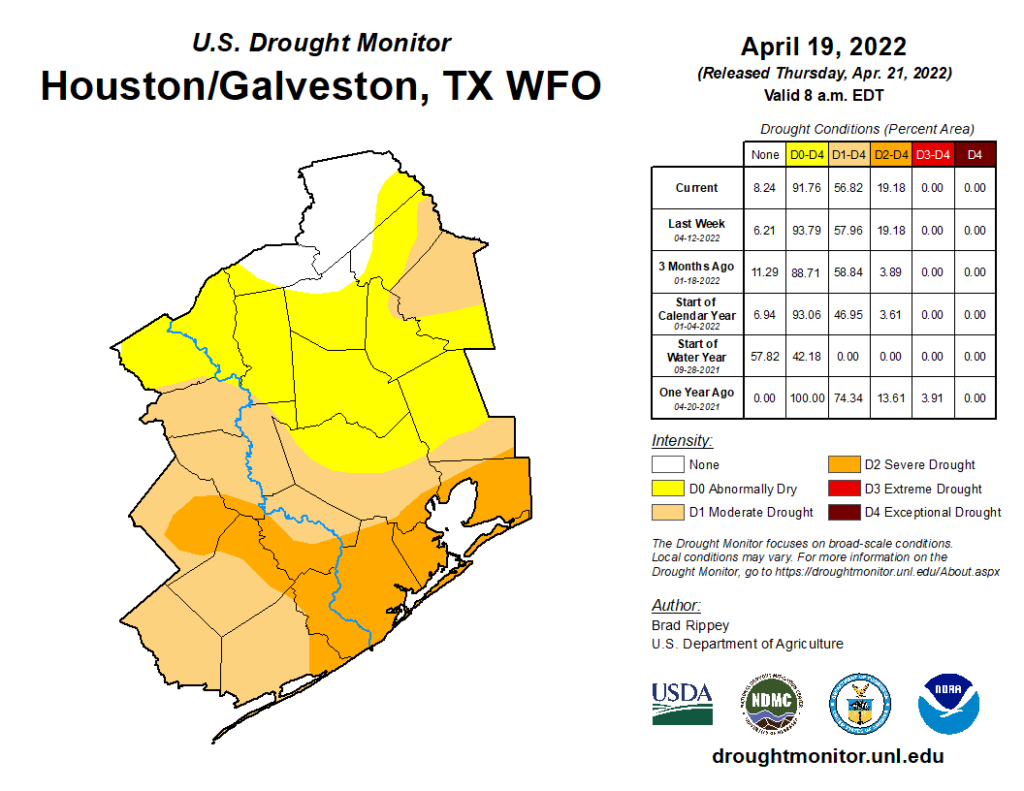 Precipitation over the next few weeks is not going to be absent from Texas, so we'll see if it's enough to start denting this drought before it gets too troublesome. But if your travels do take you to central or western Texas, just be aware that the ground there will be much drier than usual and fire risk higher than usual.
Today
The week will close out with, you guessed it, wind. Look for yet another breezy day, with southeasterly winds of 15 to 25 mph. Any morning clouds should give way to sun, with high temperatures up into the 80s.
Saturday
More wind.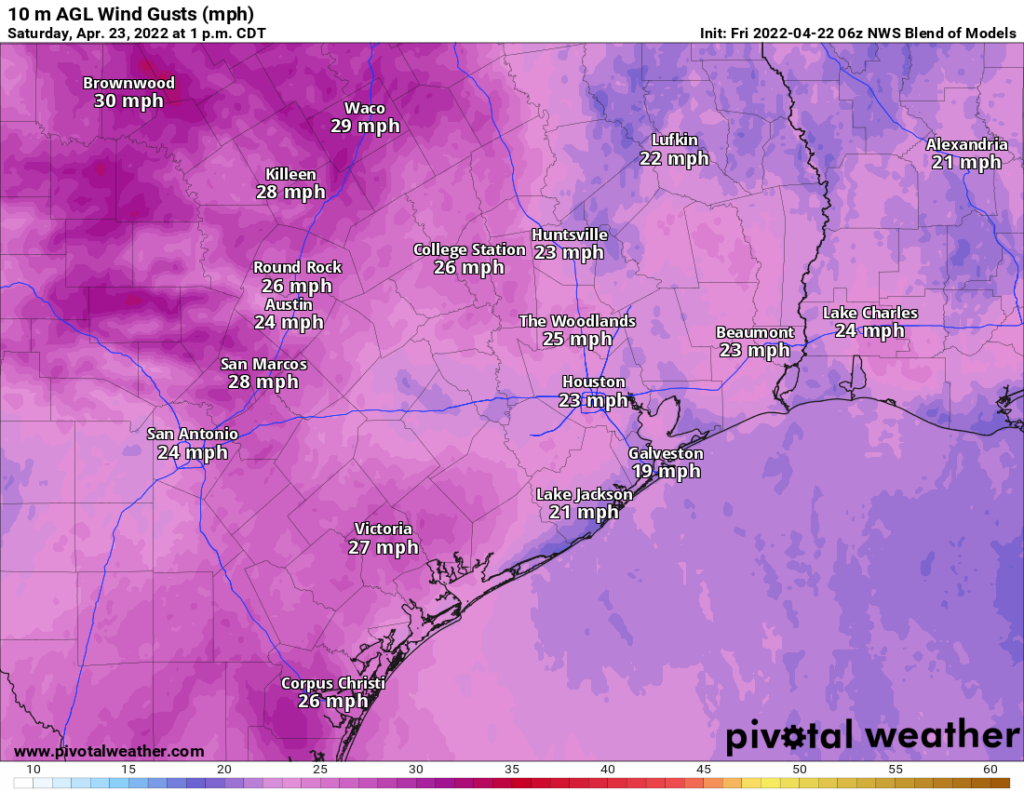 Look for another day of 15 to 25 mph winds, with higher gusts at times over the water. We will see a mix of sun and clouds with temperatures warming from the 70s into the 80s. Humidity will remain high.
Sunday
Look for mostly a rinse and repeat of Saturday, with wind perhaps checking in just a notch under Saturday.
One thing I haven't yet mentioned: Rain. We don't expect anything meaningful or widespread this weekend, but the chance of a passing shower or some patchy drizzle or sprinkles is not zero. So although it probably won't rain on you this weekend, don't be entirely shocked if it does for a short time.
Next week
As we continue our transition toward summer, the cold fronts pack less and less punch in terms of temperatures. The cold front we are expecting later Monday or Tuesday morning should follow that rule as well. Expect scattered showers or a chance of storms, especially north and west of Houston on Monday with morning lows in the 70s warming to highs in the 80s. Those storms should move into the Houston area Monday evening or night, assuming they can survive the trip. There are still some questions as to how much in the way of storms we will see.
Whatever the case, clearing should commence on Tuesday with slightly cooler and less humid weather arriving early. Perhaps we'll see lows in the 60s with highs in the lower 80s. You'll probably notice the more comfortable weather mostly on Tuesday night into Wednesday when some outlying areas drop back into the 50s.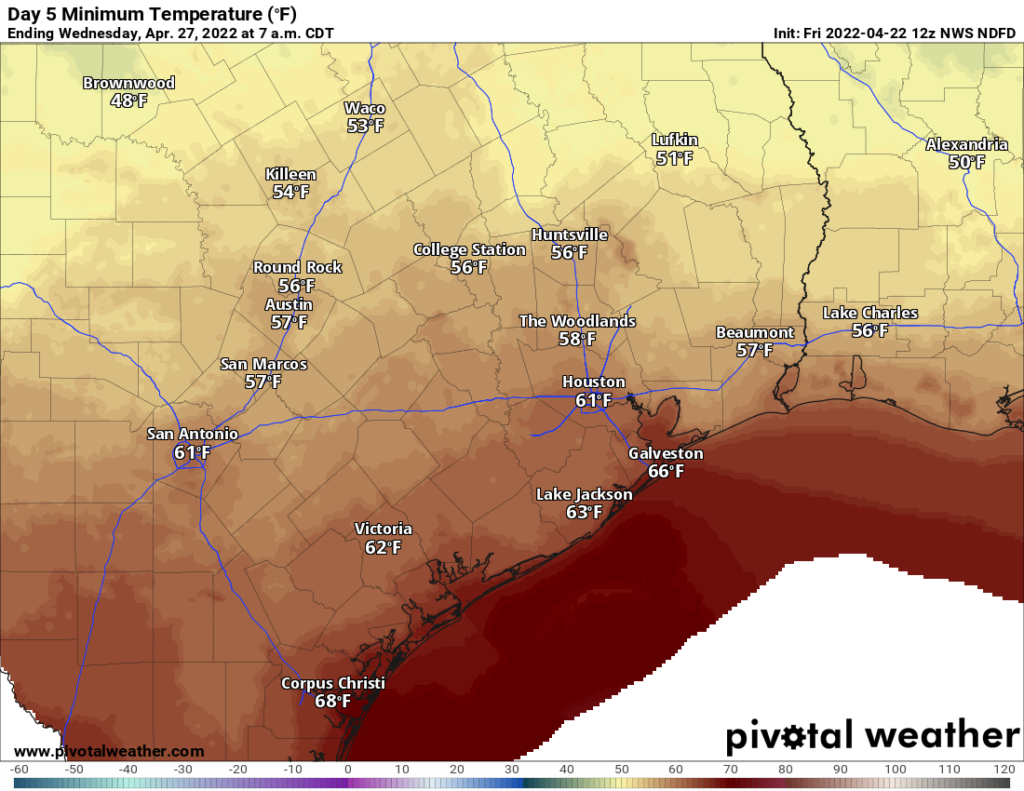 That will be nice, but it will be short-lived. Humidity should come surging back in late next week, restoring our typical mid-spring pattern. For those of you planning to get back out for MS 150 next weekend, it looks as if you'll have very warm, humid weather, along with southerly winds. For day 1, it won't be a true tailwind per se (certainly if you're starting from Austin), but it will definitely be coming off the Gulf as it stands right now. The day 2 trek from La Grange to Kyle Field should have a pretty stout tailwind. More on this next week!