Before jumping into the updated forecast, I want to remind new readers of the ways in which they can get notified of our posts on Space City Weather:
Receive all posts by email, using the "Subscribe via email" form on the right side of this page (desktop version) or bottom (mobile version)—we'll never spam you
Read our website translated professionally into Spanish at Tiempo Ciudad Espacial
Ok, now on to the forecast. With this evening's post we are going to give a general sense of the timing for what to expect, and when. We have some answers about the near-term forecast through Monday, but the bigger and perhaps more important question concerns what comes in the middle of the week.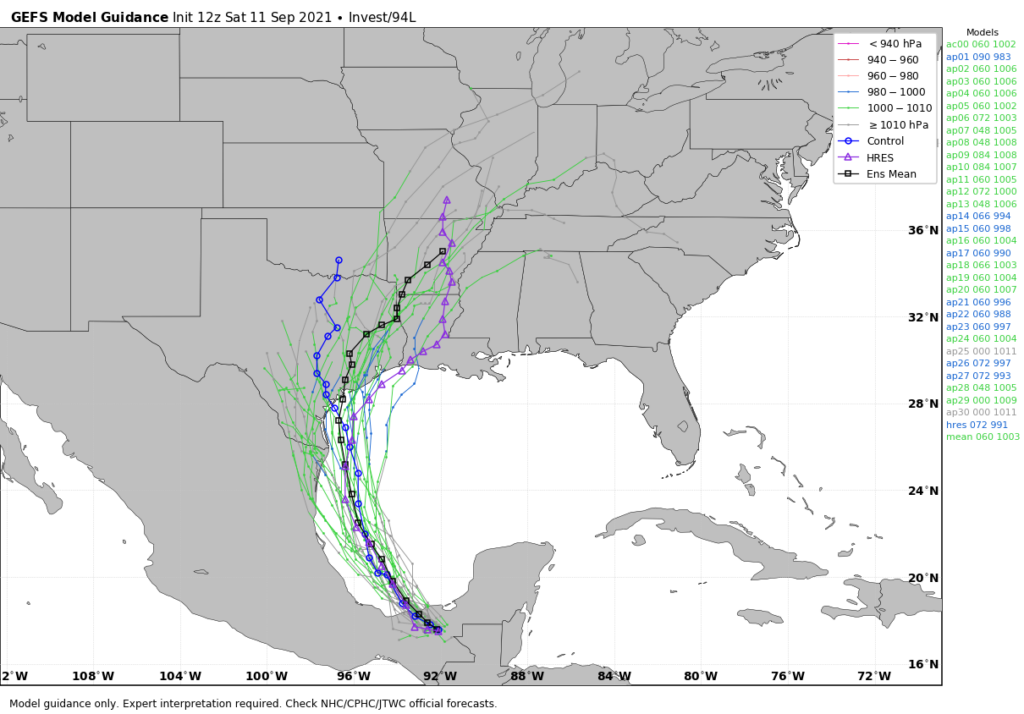 Invest 94L
As of Saturday afternoon, the Gulf storm, or Invest 94L, remains poorly organized (see for yourself). It is difficult to assign a center to the low pressure system, and this lack of definition is one reason why forecast models are struggling a bit. However, the overall picture seems fairly clear. As the system moves northwest across the Bay of Campeche, it is likely to become better organized on Sunday, and should become a depression by Sunday night or Monday. By that time it should be approaching the northern Mexico or southern Texas coast. After this things the forecast becomes murky. By Monday night or so, the system may either move inland near the Rio Grande River, or turn northerly and track up the Texas coast. If it remains offshore, Invest 94L has a chance to become a reasonably strong tropical storm on Tuesday.
Sunday
Skies should remain mostly clear overnight, but clouds will begin to build across the upper Texas coastal region on Sunday. However, for much of the day any showers and thunderstorms we see should be scattered in nature.
Monday and Monday night
By Sunday night or Monday morning we should start to see more organized storms moving in from the southeast, off the Gulf of Mexico. It's important to note these rains will not be directly related to the core of Invest 94L, which will remain far to the south. However, as a slug of moist tropical air moves inland we should see widespread accumulations of 1 to 3 inches for inland areas, and 3 to 5 inches of rain for coastal counties. We can't rule out some bullseyes of 7+ inches. It seems possible that this initial round of storms may wind down on Monday evening or over night.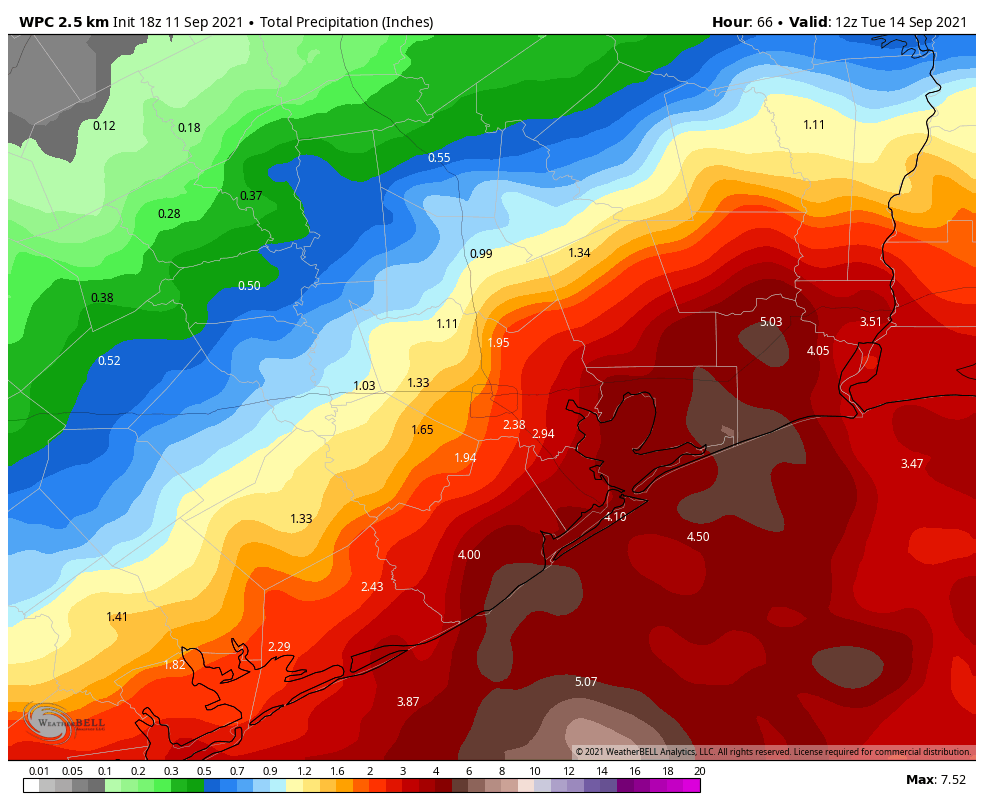 Tuesday and Wednesday
The real question is what comes after this point, and that will be determined by what the center of Invest 94L does. If the storm's core moves up the Texas coast (the "Coast hugger" scenario in this morning's post), our region would probably see manageable rain totals on Tuesday and Wednesday, with the heavier rains offshore or falling over southwestern Louisiana. However if the low moves into Texas and then wanders upward through state—perhaps along the Highway 59 corridor or further inland as in the "Tour of Texas" scenario—we could see a second round of even heavier showers on Tuesday night and Wednesday. For now, it is impossible to say which of these situations will play out, but ultimately this is probably the most important thing to watch in terms of flooding for the greater Houston region. If we're going to get rocked, it probably would come then.
Our confidence is reasonably high that the rainfall event, whatever comes our way, will begin to wind down on Wednesday afternoon or evening.
Matt will have a full update in the morning, and we'll have all-hands-on-deck coverage with myself, Matt, and Maria tomorrow.