Good morning. While we anticipated widespread rainfall on Monday, the intensity of the storms that developed over central Houston—in one area near downtown rainfall rates briefly exceeded a rate of 4 inches per hour—was not expected. Overall it's a good reminder of the potential of heavy rainfall from the kinds of moist air we can see during summertime along the Gulf Coast. The potential for heavy rainfall will continue through Thursday, after which it should slacken some due to the arrival of Saharan dust.
Tuesday
We have all of the ingredients needed for heavy rainfall today, but we think storms will develop a little bit later in the day than on Monday. The first thing we're watching is a complex of thunderstorms currently near the I-35 corridor that will move east into the Houston region later today. We expect this to weaken. Later this morning, showers should develop offshore, and move inland. And finally, tonight, a weak front will sag into Houston. Sadly this won't bring any cooling, but it will serve as a focus for additional storm development.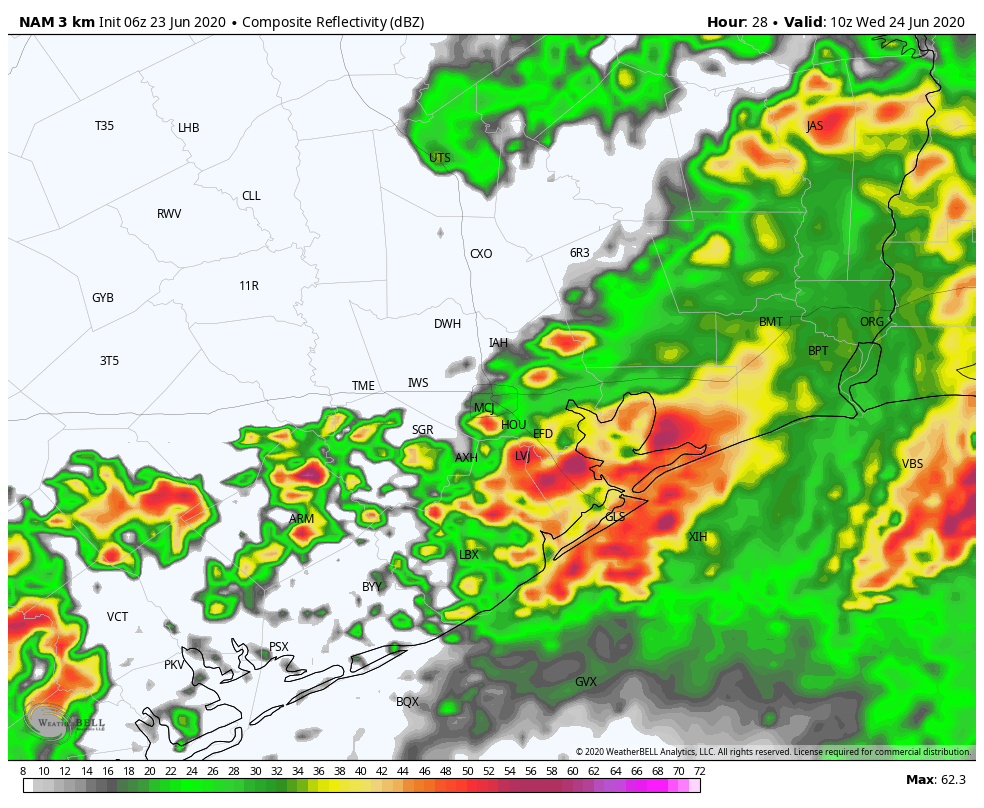 Some models show this front moving slowly, and then hanging up along the coast. This could lead to a scenario where coastal counties pick up a fair amount of rain tonight and into Wednesday morning. Widespread rain totals for today and tonight will probably be about 1 to 3 inches for most of the area, but some isolated areas—most likely between Interstate 69 and the coast—may pick up as much as 5 additional inches of rain.
Wednesday
After whatever mess of storms that develops overnight weakens or moves off by around sunrise on Wednesday, it is possible that any new development later in the day will be more scattered in nature due to a worked-over atmosphere. Mostly cloudy skies should continue to keep temperatures in the upper 80s.

Thursday
Unfortunately, our atmosphere will remain quite unstable into Thursday, along with continuing high moisture levels. Depending upon the extent of rainfall on Tuesday and Wednesday, by Thursday we could start to see some flooding concerns but confidence is low on where that might occur.
Friday, Saturday, and Sunday
The weather for the weekend remains complicated. On one hand, yet another upper-level system will create favorable conditions for rising air, and there will be plenty of moisture in the atmosphere to work with. At the same time, however, a vast plume of African dust will begin to work its way into the Texas coast from the Gulf of Mexico.
The amount of Saharan dust in this system is higher than we've experienced in the recent past, so it will be interesting to see what happens when an atmosphere so favorable for storms collides with an influx of dusty, dry air at a mile or two above the surface. In the tropics, this acts to choke off development of tropical systems. But over Texas this weekend? I'd bet on dust over drench, but that is merely a hunch. For now we'll predict rain chances of 30 percent. Our confidence is low.
Next week
By early next week the dust should be fading, and some semblance of high pressure building over the region. This will probably help to quell any lingering storm activity for a bit.