The Arctic front has pushed all the way off the coast and temperatures this morning are in the 30s and 40s. Welcome to your new reality, Houston. It's possible the region won't see temperatures in the 60s again for a week to 10 days, and there will be plenty of freezing weather in between. Our biggest concerns remain focused on next Monday—when roads could turn icy across much of the region—and Tuesday morning when lows could drop into the teens.
Thursday
Today will be rather grim, in terms of weather, with widespread showers and highs only reaching into the mid-40s. Most areas will likely see on the order of 0.5 to 1.0 inch of rain or so today and tonight, with higher amounts definitely possible underneath heavier showers. Lows tonight will get into the upper 30s, but stay above freezing and therefore keep roadways wet rather than slick in the metro area.
Friday
I think we'll continue to see the potential for light rain on Friday, although the showers will not be as widespread as on Thursday. When it's not raining, skies will be gray, and temperatures should again peak in the low 40s.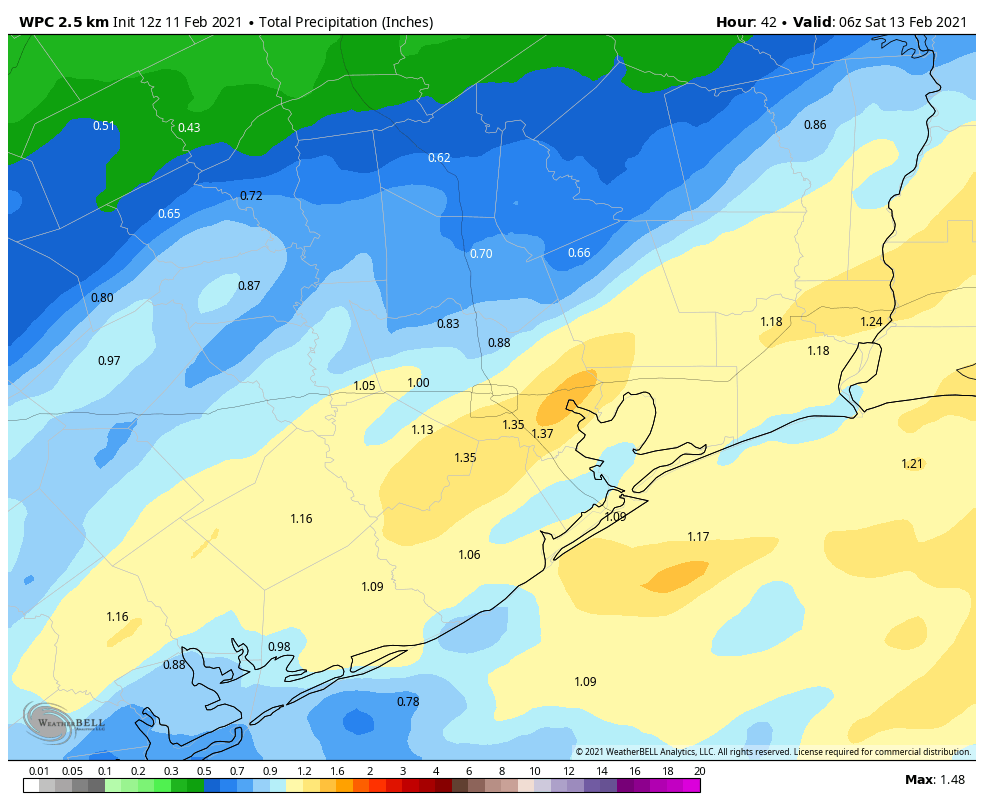 Saturday
The region should see a break in precipitation from Friday night into Saturday. Perhaps we'll even get a peek at the Sun? Anyway, it won't matter much as highs should remain confined to the mid- to upper 40s. Some slight rain chances may return later in the day or during the evening as an upper-level system approaches from the west. For now, low temperatures Saturday night will probably remain just above freezing in most of Houston, but inland areas may well see their first (of several) freezes during the coming stretch.
Sunday
Sunday will be another cold, gray day for the region. The models seem a little more bullish on some light rain falling, so lets call it 30 percent during the daytime. (It's possible that some areas north of Conroe may see this falling as snow or freezing rain). Highs will be in the 40s, and as additional cold air starts moving into the region temperatures on Sunday night should drop into the 20s—mid- to upper-20s, maybe?—in the city of Houston, with colder conditions inland. The immediate coast may still avoid a freeze. We'll see.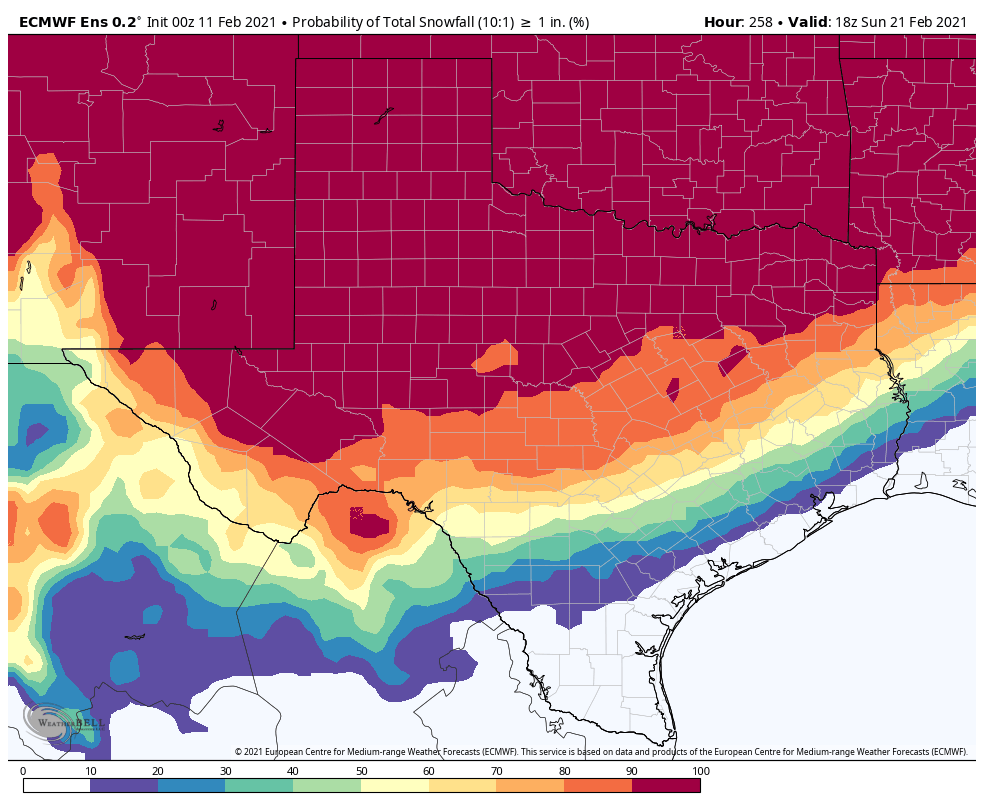 Monday
The outlook for Monday, which surely will change further so please bear that in mind, now looks to bring widespread, mostly light precipitation into the region from around sunrise to sunset. Because temperatures will be in the vicinity of freezing for much of the day, this raises the important question of whether this falls as cold rain, freezing rain, sleet, snow, or all of the above. At this point I'm reasonably confident that areas north of Interstate 10 will be cold enough on Monday, during the day time, to see some sort of wintry precipitation. I think the jury is still out on areas closer to the coast. But again, this day has the potential to be a real mess for traveling through the region, so be preparing for that possibility now.
Tuesday
We now think the precipitation will end sometime on Monday evening, or so, and this may allow for some clearing skies overnight and into Tuesday morning. (Will this allow roads to dry by Tuesday morning? It's difficult to say). Regardless, the absence of insulating clouds will create ideal conditions for cooling with this very cold air mass. The region is virtually certain to see a hard freeze on Monday night and Tuesday morning, with lows potentially from 10 to 25 degrees in the city of Houston. This will wreak havoc with exposed exterior pipes and vegetation, and animals must not be left unprotected in these kinds of conditions. Check on neighbors to make sure their heat is working. Sunshine should allow temperatures to recover into the mid- to upper-30s on Tuesday. Lows Tuesday night will again flirt with freezing levels.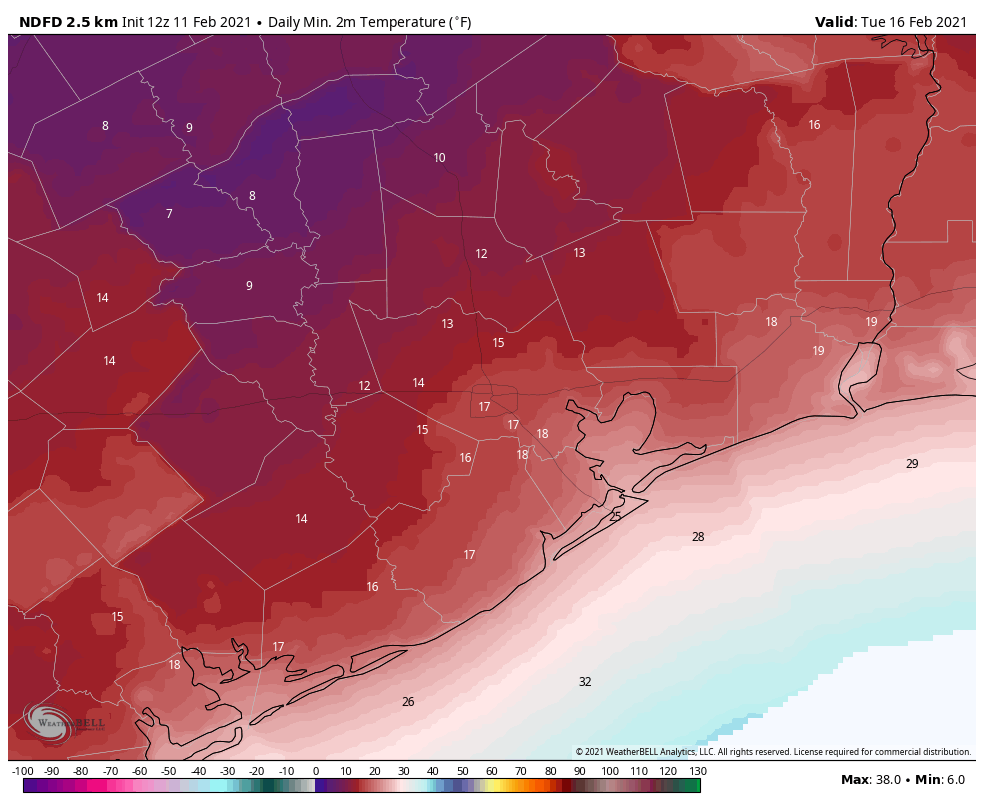 Wednesday and beyond
Forecast models indicate yet another reinforcing front moving into Houston on next Thursday or so that may again lead to a widespread freeze and raises the potential for some more wintry precipitation. I have zero confidence in trying to forecast that period. By next weekend we should finally be headed back toward days in the 60s and nights in the 40s, and this will all behind us. Spring, after all, isn't too far away. But it's not coming today!
Matt and I will, of course, be with you for the duration of this event.