Good morning. Temperatures have generally fallen into the 40s across the region this morning, and this has brought them down near dewpoints. When the air temperature matches the dewpoint temperature water droplets form, and because winds are light they allow fog to form and thicken. Parts of the Houston area, accordingly, are seeing dense fog this morning. For other areas, where the air temperature is a few degrees above the dewpoint, it's simply clear and cool outside. This radiation fog will "burn" off as the sun rises and increases air temperatures this morning. Conditions for early morning fog will persist for much of this week.
Tuesday
Monday was a splendid day, and Tuesday will be rather nice as well with mostly sunny skies and highs in the mid-70s. Winds will generally be light, shifting to come from the southeast, and this will allow for temperatures to be 5 to 10 degrees warmer tonight than Monday night. But there will definitely still be a fall-like chill in the air, as lows drop into the 50s.
Wednesday and Thursday
The middle of the week will bring more sunshine and fine weather, with mostly sunny skies and highs generally in the mid- to possibly upper-70s. Winds will remain light, generally out of the south. Overnight lows will drop to around 60 degrees in Houston, with cooler conditions inland and away from the city, and slightly warmer ones closer to the coast.
Friday
As the high pressure that will dominate our weather this week drifts eastward, our region will become a little more susceptible to atmospheric disturbances. As a result, Friday will be partly sunny, with a slight chance of showers. (In the unlikely event that it does rain, accumulations would be very slight). Highs probably will reach the upper 70s. Lows on Friday night may only drop into the 60s in Houston.
Saturday and Sunday
Confidence in the weekend forecast remains somewhat low, although most likely we will see a mix of clouds and sunshine, with highs in the mid-70s on Saturday. Some light rain showers are possible on Saturday afternoon and evening, but again any accumulations look fairly light, measured in the hundredths of inches most likely.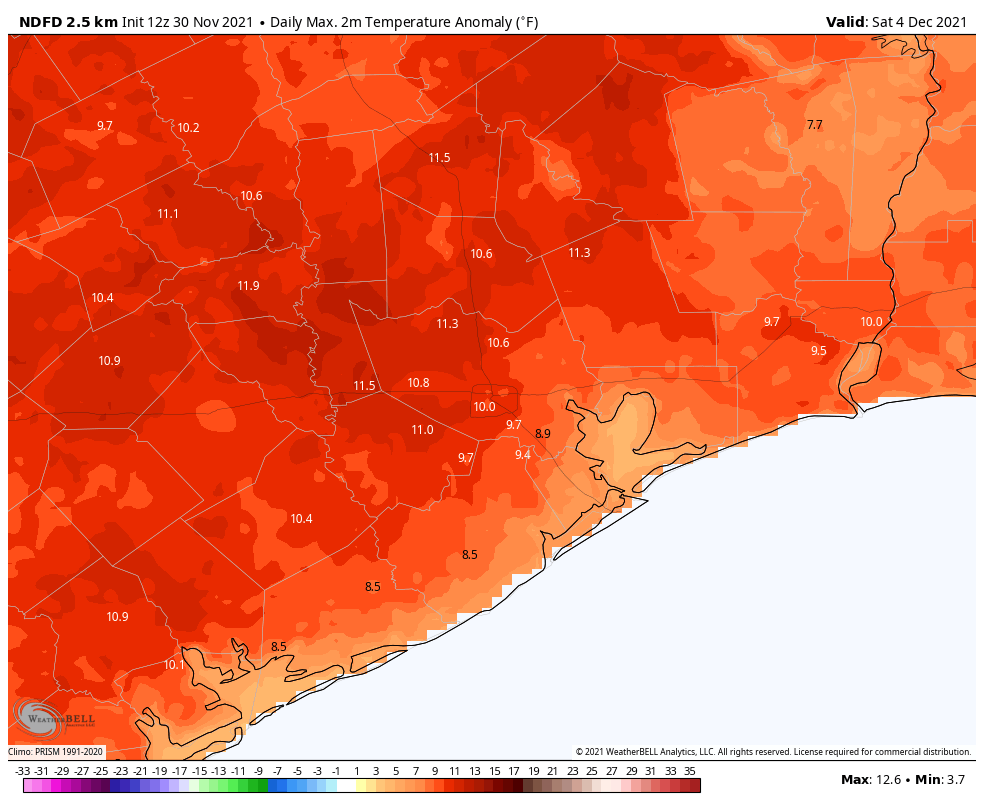 It still appears as though a weak front will come into the region late on Saturday night or some time on Sunday, although the details surrounding this remain fuzzy. For now let's go with partly sunny skies on Sunday with a high in the low 70s. We can't yet rule out rain chances for Sunday, but my sense is that they'll wrap up during the morning hours. Stay tuned!
Later next week
Sunday's front looks to be fairly modest, so I think the first part of next week will be mild, with highs in the 70s and lows in the 50s. Another, probably stronger front, looks to come through around next Wednesday or Thursday, but you should only write that forecast down in pencil, on cheap paper, that you're willing to toss into the waste bin.