Good morning and welcome to the first day of winter. Or is it? Meteorologists define the start of winter as Dec. 1, running through the end of February. Then spring starts on March 1, and so on. But there are no hard-and-fast definitions of winter in the Northern Hemisphere. Some people use the winter solstice, which marks the point at which the Sun is the lowest in the sky. That's reasonable. Still others have more esoteric definitions, as I discovered by reading this fun, unscientific poll recently published by FiveThirtyEight.
I thought we would do something similar here, so I've set up a poll for readers to gauge when you think winter begins. If you have some other method of determining the first day of winter, please write it in the comments below. I'll write a summary post of the results next Monday. I'm genuinely curious what you all think.
One thing is for sure, it won't feel like winter any time soon here. As we enter December, the overall pattern looks quite mild for the next 10 to 15 days. After this morning, many locations in Houston may not see overnight lows below 50 degrees during the first half of December, and high temperatures will generally be in the 70s. A quick look at the 8-14 day outlook for temperatures from NOAA supports the idea of warmer than normal weather ahead for "winter." (If you consider early December winter, that is).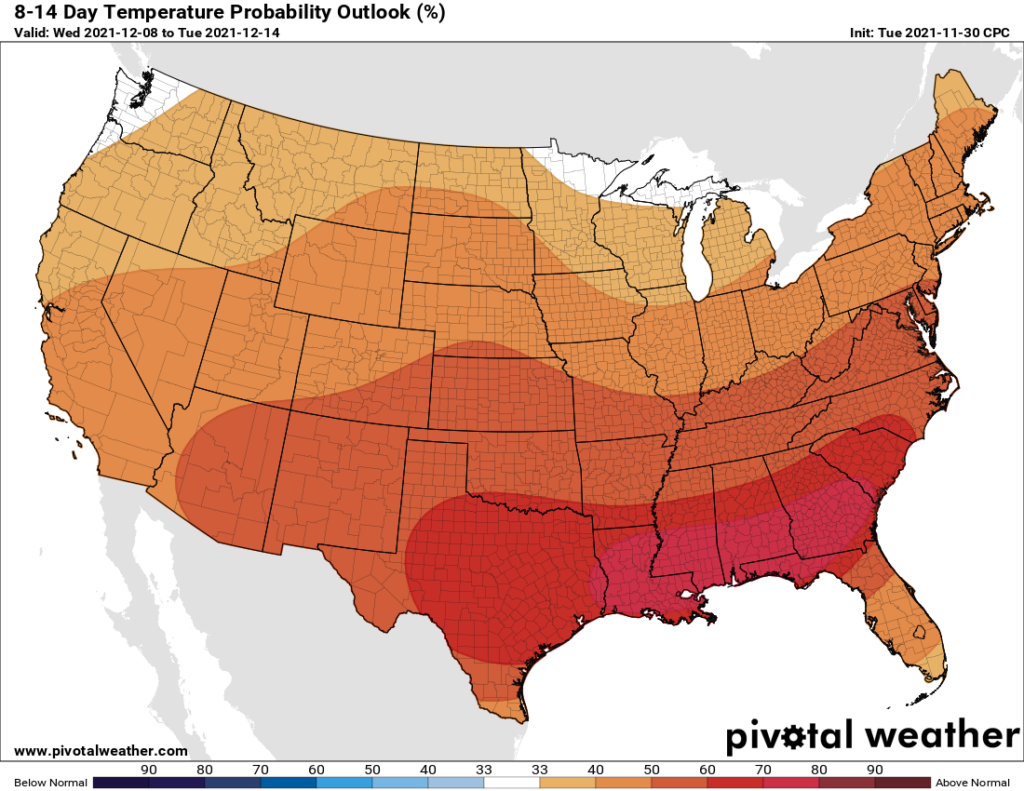 Wednesday
As expected, we're seeing fairly widespread fog this morning, with low temperatures around 50 degrees matching dewpoints. Like we saw on Tuesday, this fog will burn off as the Sun rises and warms the air temperature later this morning. After the fog dissipates we should see mostly sunny skies, with highs generally in the mid- to upper-70s and light southerly winds. Overnight lows will drop into the 50s for Houston.
Thursday and Friday
These will be mild, partly sunny days, with highs in the upper 70s to near 80 degrees, and overnight lows around 60 degrees. Some fog will be possible on both mornings, but otherwise there are no weather concerns.
Saturday and Sunday
The forecast is starting to become a little more clear for the weekend, and generally I think we can expect a mix of sunshine and clouds, with only a slight chance of rain both days. (I'd guess nearly all of the region stays dry, and areas that do see rain will only receive a light mist). Highs will remain in the range of the upper 70s to 80 degrees, with nights around 60 degrees. If you have outdoor plans this weekend, you're probably safe.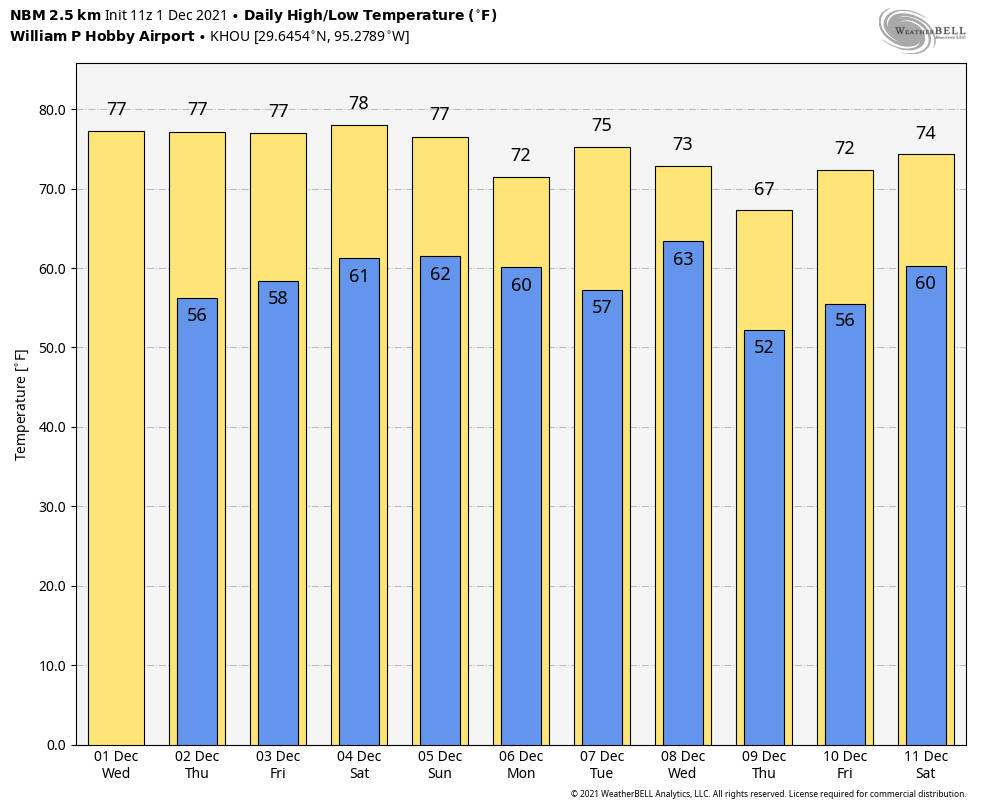 Next week
A weak cool front should arrive on Monday to bring some drier air into the region, and cooler weather. Highs on Monday may peak at about 70 degrees. After a quick warm up, another front appears to be on track for Wednesday. This one may bring a little bit of rain with it, and push nighttime temperatures down into the 50s for a few nights.