Today marks the last day of our 2021 fundraiser, during which we are raising money to support the site next year, further app development, and more. You may either buy merchandise, donate, or both. The response this year has exceeded our expectations, and your support is humbling to both Matt and myself. We would like to offer sincere thank you to everyone, and we do mean everyone, who pitched in for this year's fundraiser. We're in great shape heading into 2022 and promise to be here every step of the way.
Weather-wise, the forecast calls for a slow warming trend this week after a chilly start. One noticeable change will be a transition to more sunny skies. Matt promised you lots of clouds this weekend, and very little sunshine was to be found. But now, the sunshine is back, and we'll see a week of partly to mostly sunny days. Rain chances won't return until toward the end of the week.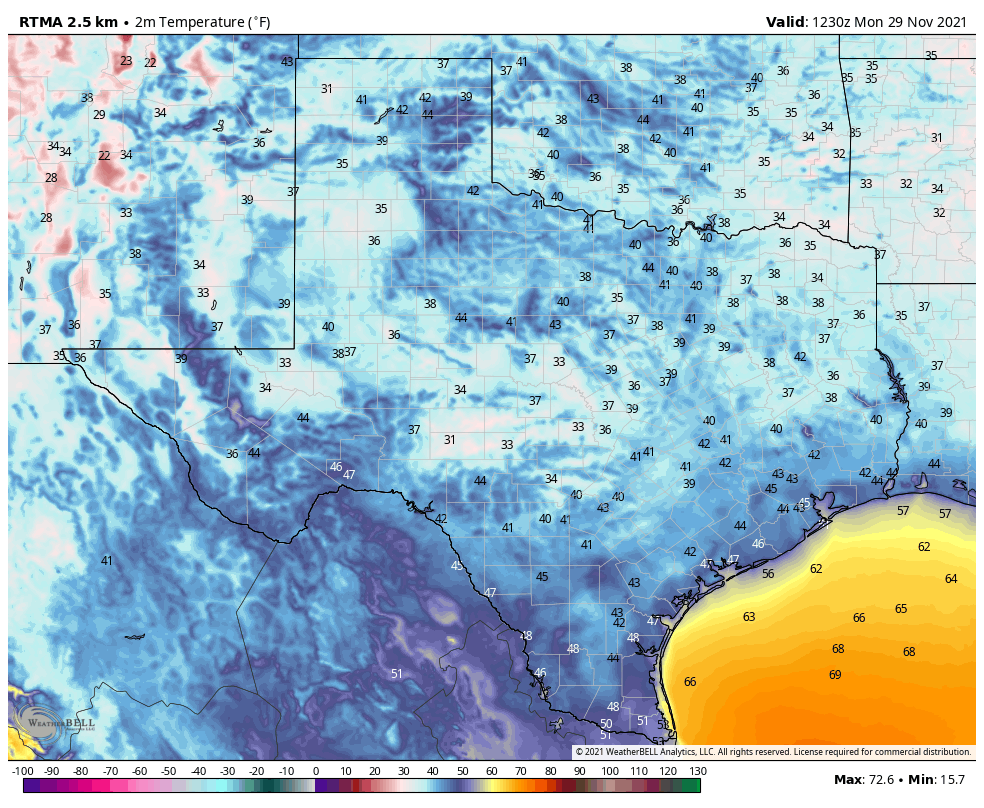 Monday
As temperatures drop into the 40s this morning near dewpoints, some patchy fog has developed in some areas. This will burn off quickly as the sun rises, and temperatures go up. Highs today will reach 70 degrees, with light northerly winds, beneath sunny skies. Lows tonight should once again drop into the 40s for all but coastal areas, with some patchy fog possible again.
Tuesday
This should be another fine fall day, with mostly sunny skies and highs in the low 70s. Winds will shift to come from the southeast on Tuesday, and this will kick off a slow warming trend that probably will last into the weekend. Overnight lows for most areas on Tuesday night should still drop into the 50s.
Wednesday and Thursday
These should be a pair of warmer days, with high temperatures in the mid- to upper-70s across the area and partly to mostly sunny skies. Dewpoints should remain about 60 degrees, so the air will neither feel dry nor overly humid. Overnight temperatures will continue to creep up, with lows on Friday morning probably not dropping below 60 degrees in Houston.
Friday, Saturday, and Sunday
If you have plans for this weekend, I'm afraid you may have to wait a day or two before confidence increases in the forecast. I'm pretty sure that Friday will see a continued warming trend, with partly sunny skies and highs around 80 degrees. By Friday night, or so, with several days of an onshore flow, moisture levels will be high enough to support some kind of rain. But overall chances are probably fairly low.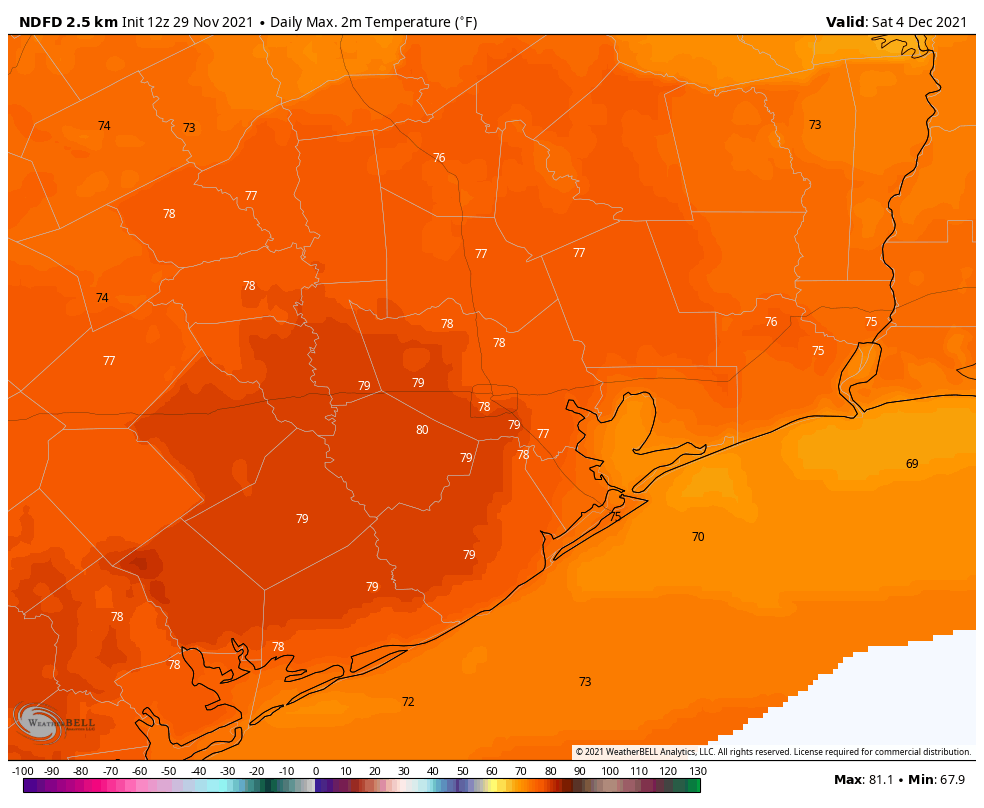 As for the weekend, some kind of mild front—originating from the Pacific Ocean, rather than Canada or to the north—will probably move through. My best guess in terms of timing is Saturday night, but that's just a hunch. So at this point I'd say to expect some slight rain chances on Saturday and perhaps Sunday morning, with the airmass turning somewhat drier by the second half of the weekend. Highs, for the most part, should be in the 70s, with lows in the 50s. We'll try to get some more clarity for you, soon.
Thanksgiving review
This is pretty shameless, I admit. And a good general rule of thumb for forecasters is to never get too confident about this job, because the unpredictability of weather can be pretty darn humbling. But in our very first outlook for Thanksgiving, 10 days before the holiday, here's what we wrote:
So my best guess is that Thanksgiving starts out fairly warm, but may cool down later with a wet frontal passage.
What goes around comes around, of course, so all this really means is that Space City Weather's 10-day outlook for Christmas probably will be about as worthless as a lump of coal in your stocking.