Thursday, 3:30pm CT—I hope everyone is enjoying the pleasant weather. At mid-afternoon the temperature in Houston is 90 degrees, with 45 percent humidity and mostly sunny skies. It is hard to beat this for the end of August. With that said, we wanted to provide a quick look at three tropical systems of interest because there's been some chatter and concerns about them.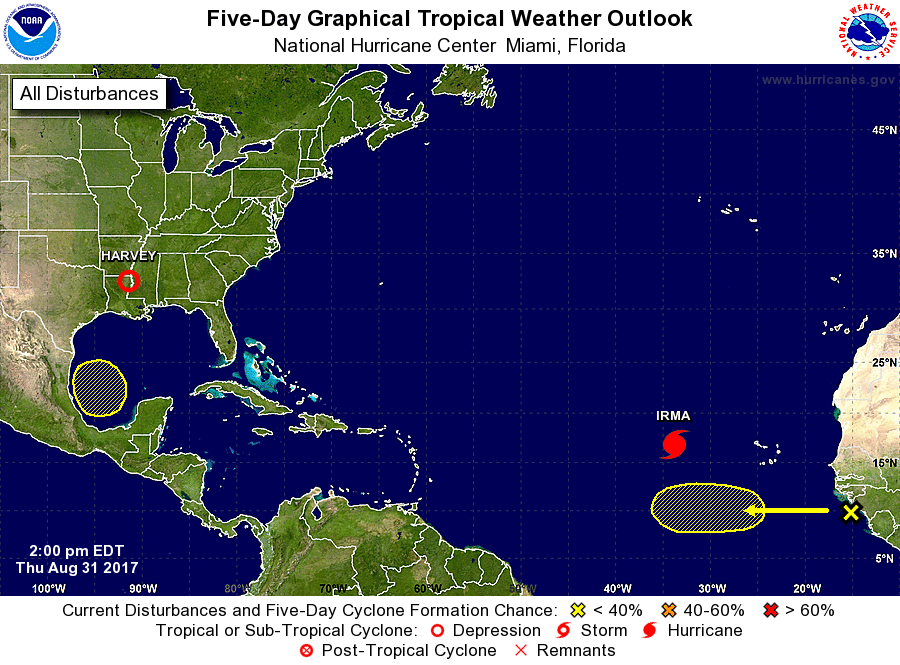 Yellow blob near Texas
When we see low pressure systems in the Gulf at this time of year, normally we're pretty nervous. However a cold front seems likely to move into Texas next week (reaching Houston perhaps by Thursday), and this should keep any tropical mischief south of the upper Texas coast. At this time we do not have major concerns about heavy rainfall next week, although we'll continue to monitor the forecast. What we are doing is starting to get excited about the season's first cold front, arriving about two weeks early (if it does in fact make it through).

Hurricane Irma
As expected, Irma blew up quickly with 100-mph winds, and growing, due to a favorable environment for strengthening. We are going to sound like a broken record here, but while Irma is worth watching as Texans, we are probably going to be on the sidelines for this. The important caveat here is that Irma is 10 days away from the United States, and there is a pretty broad divergence in model tracks after just five or six days. So there is absolutely ton of uncertainty when we try to talk about effects 13 to 16 days down the line (if it were to track westward into the Gulf of Mexico eventually).
But here's what I can say: When we look at the European model and its ensemble tracks (these are about 50 different runs of the European model with slightly different starting conditions), we can get a realistic range of possibilities for the storm. Here, then is a map showing the most likely location of "Irma" in the European model 10 days from now, based upon the ensemble runs, and second-most likely: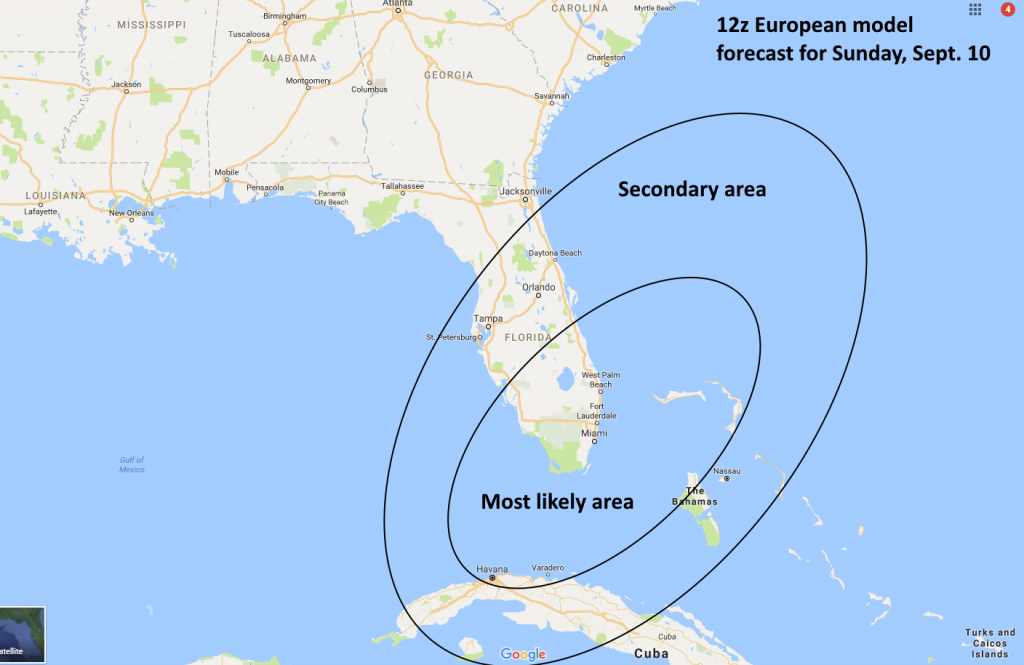 If I lived in Florida or the US East Coast I'd be pretty wary about this storm. But because it is so far out from making a US landfall—if it even does come into the United States—I am not prepared to rule out anywhere from Laredo to Maine. For now our advice remains the same: Watch Irma if you want, but don't worry about the storm. The odds seem pretty low that Irma will come to Texas, and if it does we'll have plenty of time for warnings. Plenty. of. time. 
Yellow blob near Africa
Can you tell that we're in the heart of the Atlantic hurricane season? Yet another storm is likely to form over the next week or so in the deep tropics (it would become Jose). Our best guess is that this will become a "fish storm" and not affect any major landmasses. But we'll be watching this one, too, just in case.
Posted at 3:30pm CT on Thursday by Eric