Houston's fine weather will continue for the next several days—it's difficult to believe we're at the end of August—before some rain chances return. This post will discuss two potential tropical threats (neither of which we're particularly concerned about at this time) and the increasing likelihood of the region's first cool front next week.
Thursday through Sunday
Expect perfectly benign, sunny conditions, with highs of around 90 degrees, lows in the lower 70s, and light winds. The overnight lows are courtesy of drier air moving in on the backside of Harvey as it lifts into the Midwest over the next couple of days. Onshore winds resume by the weekend, and there's perhaps a slight chance of showers on Sunday, but nothing to be concerned about from a flooding standpoint.
According to TxDot and its continually updated map, more roads are opening around Houston as the bayous drain, but plenty of roads remains closed to the southwest and northeast of the city.
Labor Day and Tuesday
By late this weekend, a low pressure system may move into the southern Gulf of Mexico, and the National Hurricane Center says it has a 20 percent chance of developing into a tropical storm or depression over the next five days. Some people on social media have been expressing concern about this storm, but we remain pretty confident it won't be a significant threat to the hard-hit Texas coast. It's worth noting that the GFS model (which had been bringing a lot of rain into Houston next week) has now backed way off. See how far the ensemble run of the model keeps the low pressure system away from Texas.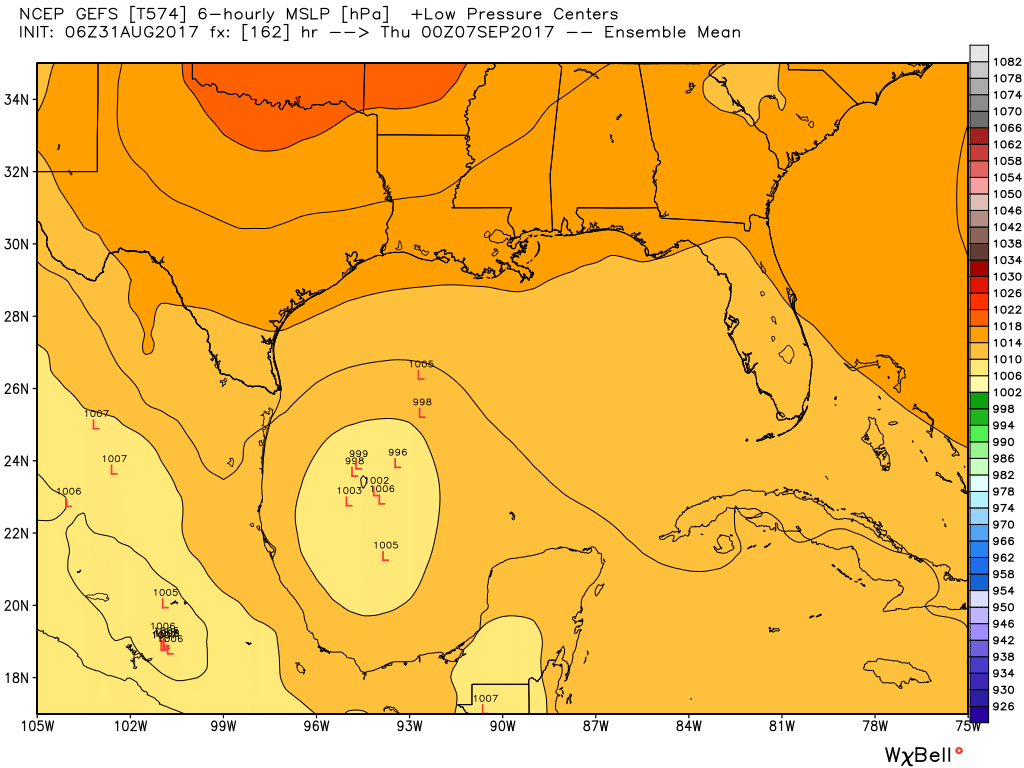 With that said, we do expect the return of some clouds and rain chances next week, beginning on Labor Day and probably running into Wednesday. Right now I'd say we're looking at anywhere from a few tenths of an inch of rain to about an inch, most likely. If this forecast changes, we'll of course let you know.

Cold front?
One of the reasons we don't think that tropical low will threaten Texas is because confidence is growing that the first fall cool front will make it through Houston next week. While this isn't a certainty, global models are consistently showing the front making it through around Wednesday or Thursday. I'd rate the probability of the front making in at about 80 percent, and that should lead to a few nights in the low 60s. Goodness knows, we've earned an early fall front this year.
Irma
As most of you know, Irma has formed in the deep Atlantic tropics, and it will soon become a hurricane. This seems likely to become a major hurricane as it moves westward across the Atlantic Ocean, but it's not clear where the system will go.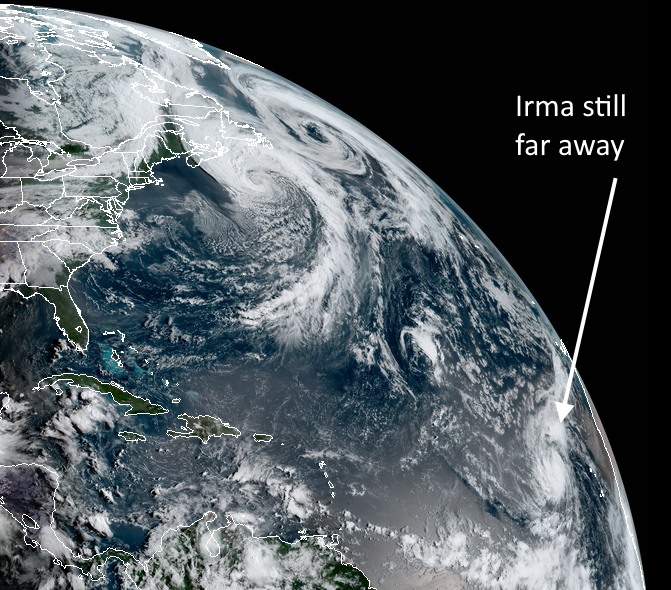 It is five or six days away from even reaching the Caribbean Sea, or skirting to the northwest. It is beyond the range of models to forecast storm movements beyond 7 or 8 days, so we can't know where it's ultimately going to go. Certainly the United States should be paying attention to this threat. That said, the odds of the storm plowing continually westward and ultimately reaching Texas are low. So while we're watching, we're not too concerned for our city. And neither should you be.
Posted at 8am CT on Thursday by Eric