It was nice to have a weekend where we didn't have to think (or, frankly, write) much about the weather, and rather to just enjoy it. Sunshine, warmth, and mild weather all were tremendously welcome after Houston's winter week from hell. Fortunately, there is more generally mild weather ahead and we really have no major concerns to highlight for you at this time.
Monday
A cold front pushed through Houston during the overnight hours, bringing down dewpoints and temperatures in its wake. Since this is not a particularly strong front, we still expect high temperatures today to rise to around 70 degrees, with mostly sunny skies. Winds will be moderate, out of the north at about 5 to 10 mph.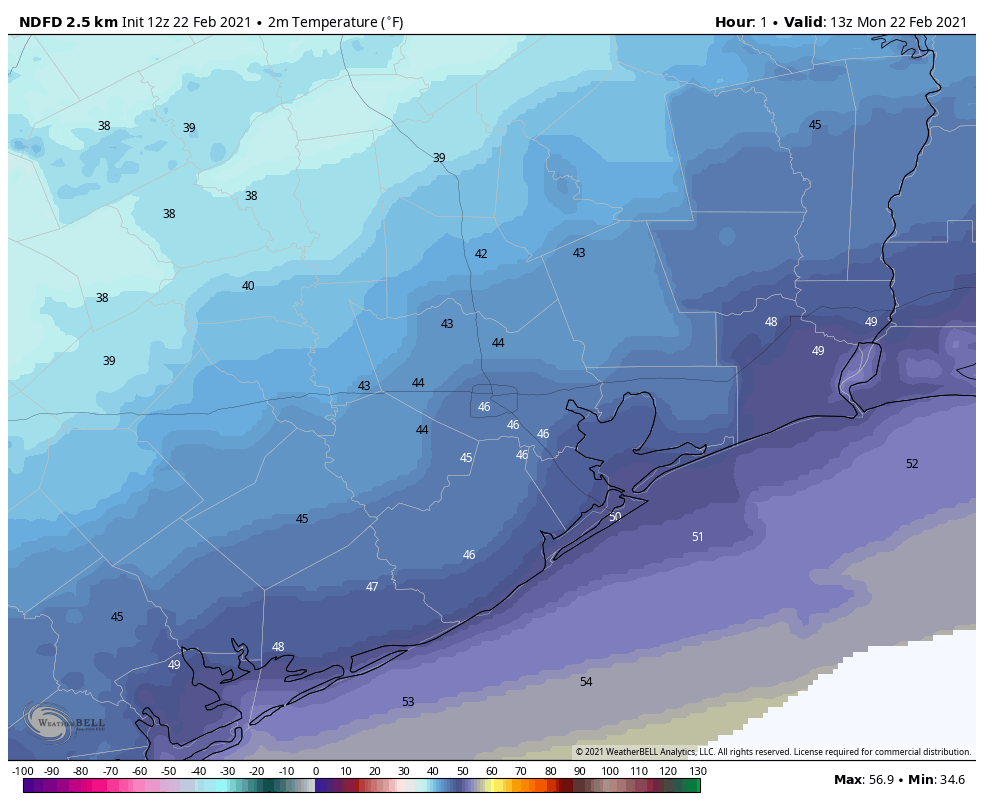 Tonight will be the coldest of the week, and perhaps for quite awhile across the region as we experience a warming trend going forward. Lows will drop to around 40 degrees in Houston, and perhaps a degree or two colder in outlying areas. No one should see a freeze.
Tuesday
This should be another absolutely splendid day, with highs of around 70, or a bit warmer, and a lot more sunshine. Later in the day winds will turn more southerly, and that will begin the process of bringing more humid air into the region. Lows Tuesday night will be a 10 degrees warmer than Monday night.
Wednesday
By Wednesday morning I suspect we'll start to see widespread sea fog developing as warmer air moves over colder bays and waterways. This could be a problem for several mornings through the weekend. Highs on Wednesday should reach the middle-70s despite increasing cloud cover, and lows in Houston may not drop below 60 degrees overnight.
Thursday and Friday
The end of the work week is somewhat uncertain given that the next cold front it scheduled to push toward Houston on Thursday, but stall somewhere. It might get all the way to Interstate 10, but I think the front will stall north of there. Accordingly, rain chances will be better along and north of I-10 on Thursday and Friday. Even then, accumulations should be only on the order of a quarter inch of rain. Depending on which side of the front you fall, highs will either be in the 60s (well inland) or upper 70s (most of Houston, probably). Nights in Houston will probably stay in the 60s.
Saturday and Sunday
Right now I don't see much of a pattern change for the weekend. I think most of the region will be pretty warm, in the 70s at least, without much of a cooldown overnight. Rain chances will be on the order of 20 to 30 percent, and for the most part I think we'll just see a lot of clouds.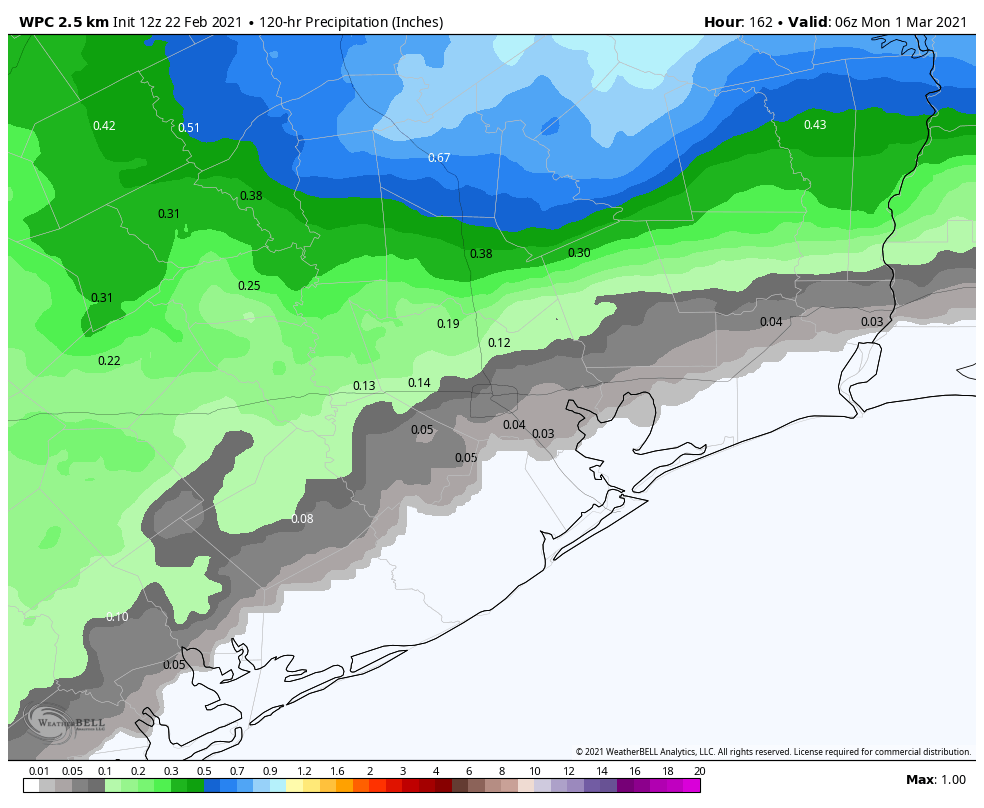 Is winter over?
I really don't want to tempt fate here, but the next 10 days or so do look pretty warm. If you're looking around the killing fields—I mean, your garden and landscaping—you may be wondering if its safe to plant. If you live south of Interstate 10, I would bet heavily against seeing another freeze this season. But for inland areas, it's just too early to offer such a guarantee.
And besides, it may be too early to determine whether some of your plants are truly dead. I like this advice from Texas A&M Agriculture Extension agent Larry Stein, who told the Houston Chronicle, "Obviously, we're going to have some kind of damage, but the extent of it won't be known for a while. We tell people to learn to like ugly. Basically, leave it ugly for a while … to give the plants time to recuperate and actually see the full extent of the damage."