If you're only interested in Houston weather, you can skip this post. We are not going to see much rain over the next 10 days, and temperatures will generally be pleasantly cool for early September. However, we've had a lot of requests from readers to continue coverage of Hurricane Irma, due to the significant threat it presents to the United States. (Already, with winds of 185-mph, the storm is the second-strongest in the Atlantic basin on record). So that's what we will provide here.
Having looked at the forecast model guidance that has come out during the last two hours, the we can have pretty high confidence in the hurricane's track through about Friday, when it will be in the vicinity of Turks and Caicos (a beautiful area, which I hope survives this storm). After that I want to highlight three possible scenarios, neither of which I have particularly high confidence in as so many unanswered questions remain: When does Irma find the western periphery of the Atlantic high pressure system and turn north? Does it turn northwest, due north, or northeast? And how much does the storm's center interact with Cuba? All of these questions will have profound effects.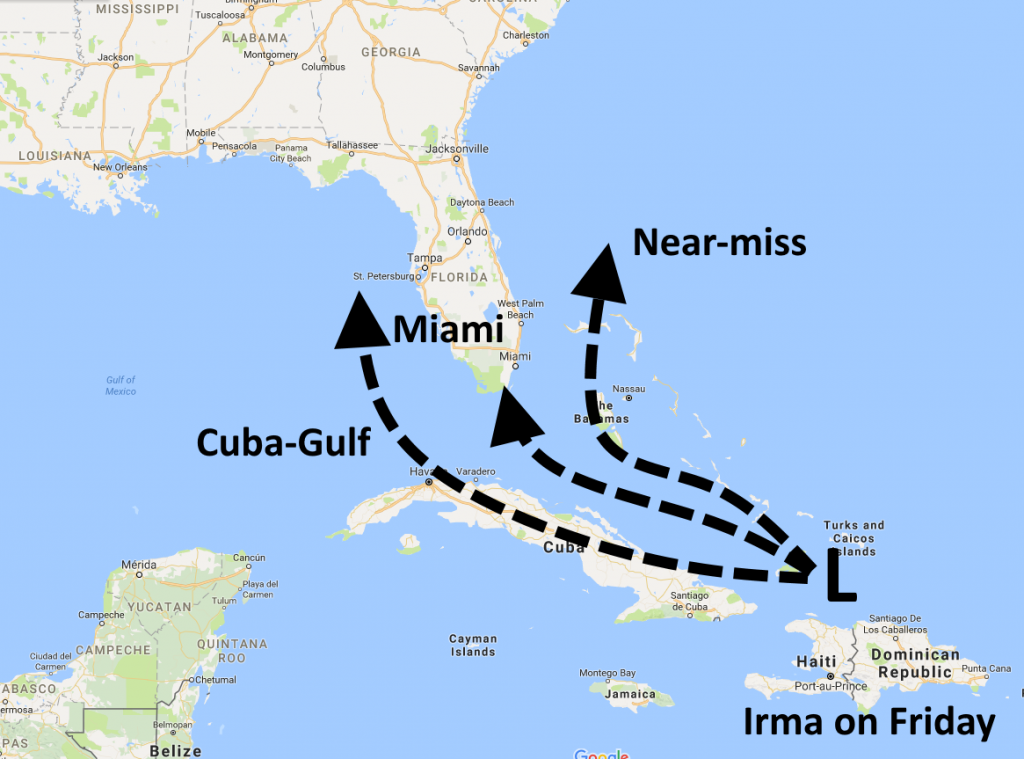 Cuba-Gulf (35 percent)
Under this scenario, Irma travels further west before turning north, and spends more time over Cuba. This is obviously very bad for Cuba, but also should weaken the storm as the island has some mountains with elevations above 1 mile. This would bring a weaker storm into the Eastern Gulf of Mexico, and thereafter the center might go anywhere from Pensacola to the Everglades in terms of a final landfall and move over much of Florida. If Irma were to spend more time over the Eastern Gulf (where water temperatures were unaffected by Hurricane Harvey) some restrengthening would be possible.
Miami (35 percent)
In terms of consequences this scenario is the most catastrophic. Here, Irma may remain over Cuba only briefly, or not at all, allowing for a very strong major hurricane to move into the Florida Keys, and then the Miami area. We might end up with a situation where the strongest winds and surge hit the lower Florida coast, from Miami to West Palm Beach, some of the most valuable real estate in the country. Very, very bad.
Near miss (30 percent)
In this case, the "near miss" refers to Florida, but not the Bahamas. A decent chunk of both the GFS and European model ensembles hold to this scenario, where Irma moves toward the Bahamas, but makes a northern turn before reaching Florida. In this case, the mainland United States would remain on the side of the hurricane with lesser winds and storm surge. For the state of Florida this scenario might still be bad for some areas, but the state would avoid a catastrophic blow.
We'll have an update on Houston's weather and a new look at Irma's forecast early on Wednesday morning.