The forecast for Houston is pretty straightforward: Houston will see a few more very hot days before a weak front arrives on Thursday to increase cloud cover and rain chances, and bring down temperatures a bit. Then, we are likely to see near-normal to below-normal temperatures into at least the middle of next week. Finally, the tropics may be waking up.
Tuesday
Here comes the heat. With high pressure continuing to build over the region we will see highs in the mid- to upper-90s across much of the Houston region today, with inland areas such as College Station and Huntsville likely hitting triple digits. Rain chances are, at best, about 10 percent with mostly sunny skies. Winds will be light, out of the south or southeast, at 5 to 10 mph.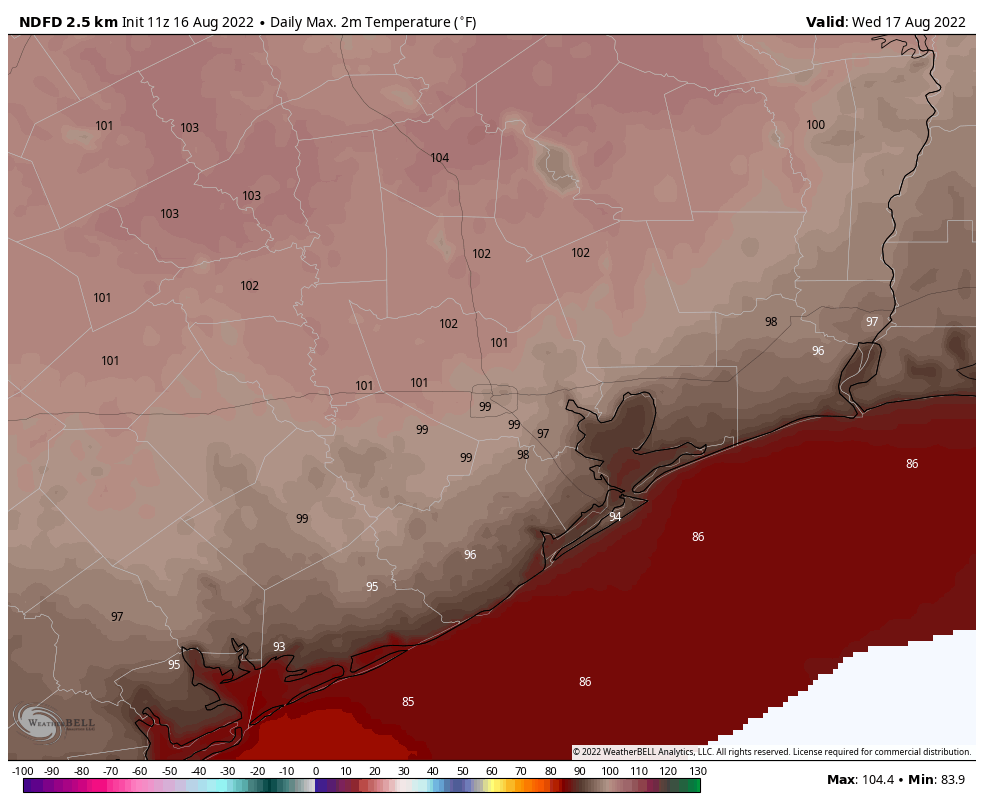 Wednesday and Thursday
The heat will peak on these days, with 100-degree temperatures possible across much of the region, except for the immediate coast. Sunny skies will prevail for much of that time, but things will begin to change later on Thursday as a weak front approaches the region. This is not a classical fall cold front, mind you, when there is a distinct wind shift followed by an influx of colder and drier air. We really don't get such fronts in August, as it's just too early. Rather, this front will mostly perturb the atmosphere, allowing for rising air and the formation of clouds. This will, in turn, help increase rain chances and start to hold down daily highs. But because the front is unlikely to push into Houston until Thursday afternoon or so, that day is still probably going to bring triple-digit-hot for most of the area. Rain chances start to tick up Thursday afternoon or evening, likely in the form of scattered showers.
Friday
This day will probably have the best chance of rain this week, above 50 percent for the region. The additional cloud cover should hold high temperatures in the low-90s for much of the area.
Saturday and Sunday
The aforementioned front is basically going to move down to the coast on Thursday, get hung up, and eventually dissipate. Nevertheless its remains should continue to help produce partly cloudy skies and decent rain chances on the order of 30 to 50 percent through the weekend. Accumulations across much of the area will vary from 0.25 to 2.0 inches, with the highest accumulations likely to the east of Houston. Highs will likely remain in the low 90s.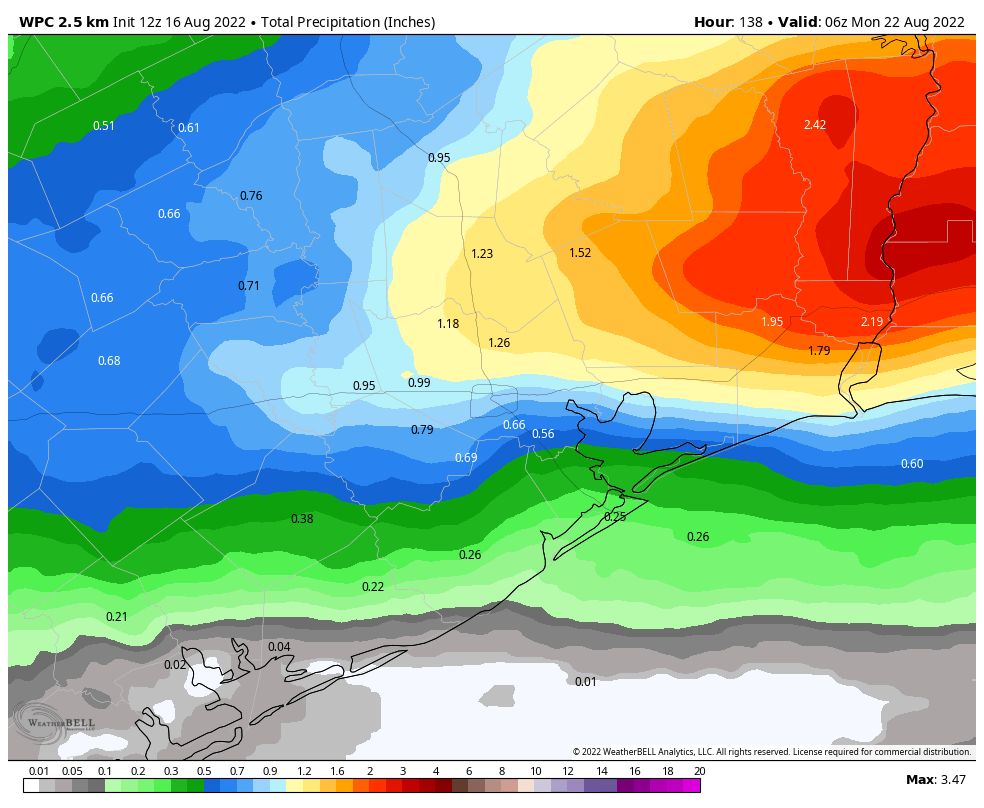 Next week
Our weather next week will be guided, to some extent, by tropical moisture streaming in from the Gulf of Mexico. Matt will have more in our weekly tropics update later this morning, but there is potential for a tropical wave currently in the Caribbean Sea to move into the Southern Gulf of Mexico toward the end of this week. There, it could start to develop into a tropical system. This is not something I think we probably need to be directly concerned about, but the system could influence our weather early next week with increased moisture and the potential for more rain showers. The bottom line is that we're now in the middle of August, and watching the tropics closely. More from Matt, soon.