It now appears less likely that a tropical blob in the southern Gulf of Mexico will develop into a tropical depression, but for our purposes that doesn't really matter—a large amount of moisture is headed up the Texas coast and this will bring heavy rainfall to parts of the area beginning as early as tonight through Thursday morning. High tides of 2 to 3 feet above normal are a secondary concern for coastal areas, but the biggest threat from this system is high hourly rainfall rates.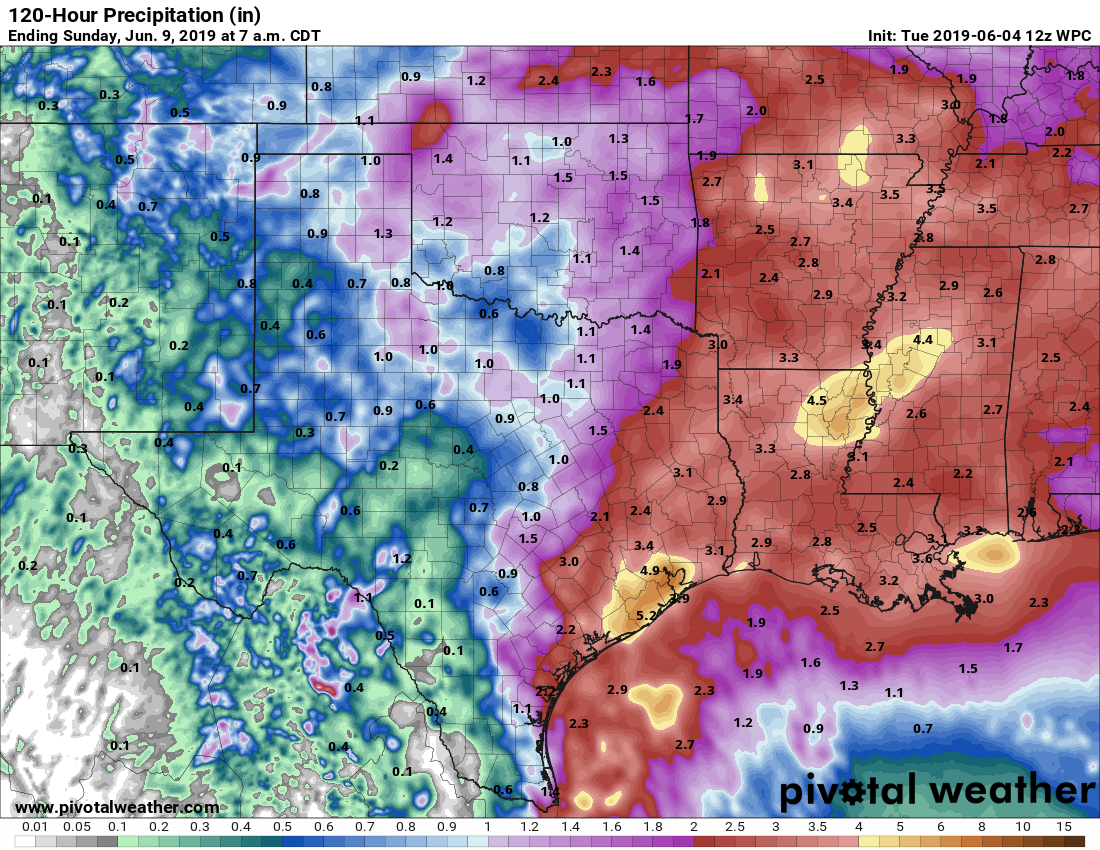 As with most tropical events in the region, this one is difficult to forecast. With such a moist atmosphere, there is the potential for a lot of rain, but with this system the heaviest rains could remain offshore. In issuing a flash flood watch for Houston, the National Weather Service is predicting widespread totals of 2 to 4 inches, with isolated areas seeing 6 inches or more (most likely somewhere near Galveston Bay). This seems about right. Due to the potential for high hourly rainfall rates, which can quickly flood streets, we are predicting this will be a Stage 2 flood event on the Space City Weather flood scale for Houston. This essentially means that while we anticipate the potential for significant street flooding—turn around, don't drown—we do not think there will be much structure flooding.
In terms of timing, there are some regional models that show heavy storms moving into Houston as early as 9 or 10pm tonight, but others delay the heavier rain until after sunrise on Wednesday. Basically, I think the simplest, most accurate forecast is to say the potential for heavy rainfall will begin after sunset on Tuesday night, and last through Thursday morning.
If there's good news, it's that the upper-level pattern supports pulling this very moist air mass away from the area on Thursday afternoon or evening, and replacing it with drier air—so this wet pattern is unlikely to linger. We'll stay on top of this through the entire event.

In terms of temperatures, expect highs in the mid-90s on Tuesday, with mostly sunny skies, before some clouds and the potential for storms arrives this evening. Wednesday should be in the mid-80s, and Thursday may reach 90 degrees if we see some afternoon sunshine.
Friday
A chance of showers may linger into Friday, but for the most part we expect mostly sunny skies with highs in the low 90s.
Saturday and Sunday
The weekend is going to be hot and steamy with highs in the mid- to upper-90s. There's an outside chance at 100 degree on Sunday, but I don't think we'll get there due to the wet grounds. Either way, this early June weekend is going to feel a lot like August normally does. Expect mostly sunny skies.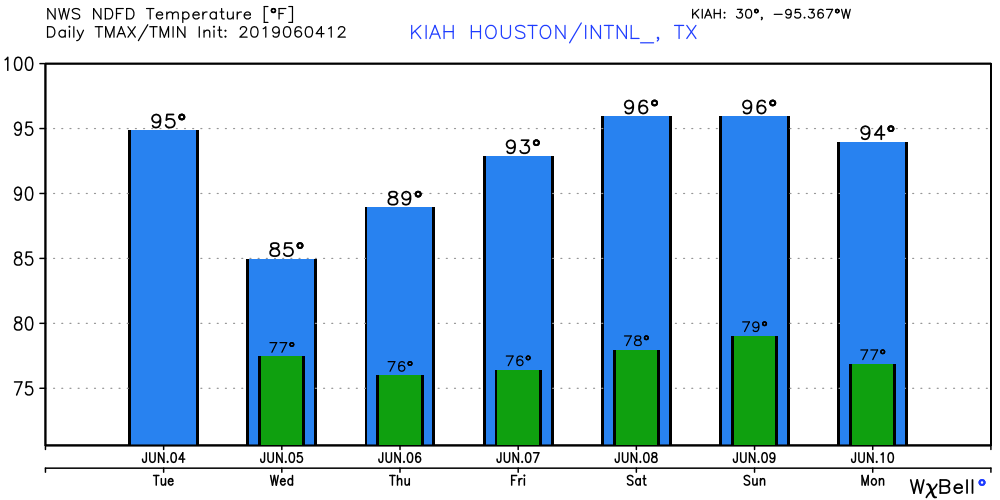 Next week
The forecast models keep flirting with a "cool" front approaching the region early next week, which will bring a chance of rain. It's hard to see that much cooler and drier air working its way all the way into Houston in June, but at that point I wouldn't rule out some nights in the low 70s. We'll see.