Good morning. Tropical Storm Nicholas has a better defined center of circulation this morning, and it has reformed north of where forecasters believed it to be earlier. This, combined with an expectation that Nicholas will now move a little bit more quickly once inland, have led to some changes in timing and rainfall amounts in the forecast. As a reminder, we're continuing to predict Stage 3 flood conditions for some parts of the greater Houston area through Wednesday. Some, but not all, of our region will see prolonged heavy rainfall beginning later tonight.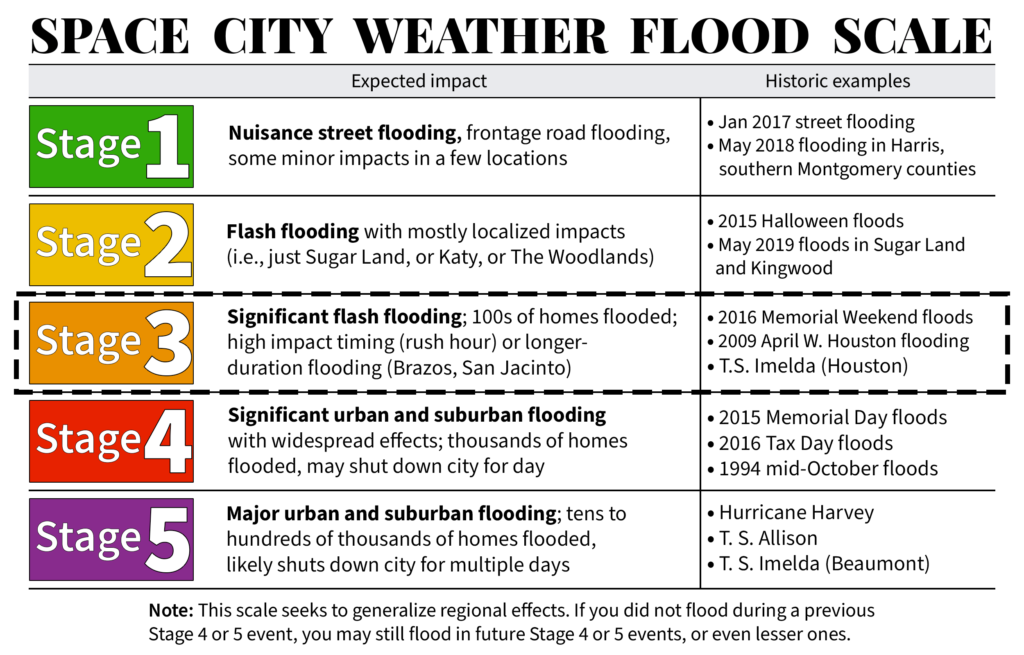 Storm status
Tropical Storm Nicholas has strengthened to have maximum sustained winds of 60 mph this morning, as of 4am CT, and is moving to the north-northwest. The storm will likely make landfall this evening between Corpus Christi and Matagorda Bay.
This will bring tropical storm force winds to the Matagorda Bay region on Monday afternoon, and these could spread up the coast to Galveston Island on Monday evening. Tropical storm force wind gusts will spread inland into portions of Harris, Fort Bend, and Colorado Counties late Monday or early Tuesday before beginning to weaken during the afternoon hours. These winds should not be great enough to produce widespread power outages in the Houston metro area, but some local problems are definitely possible.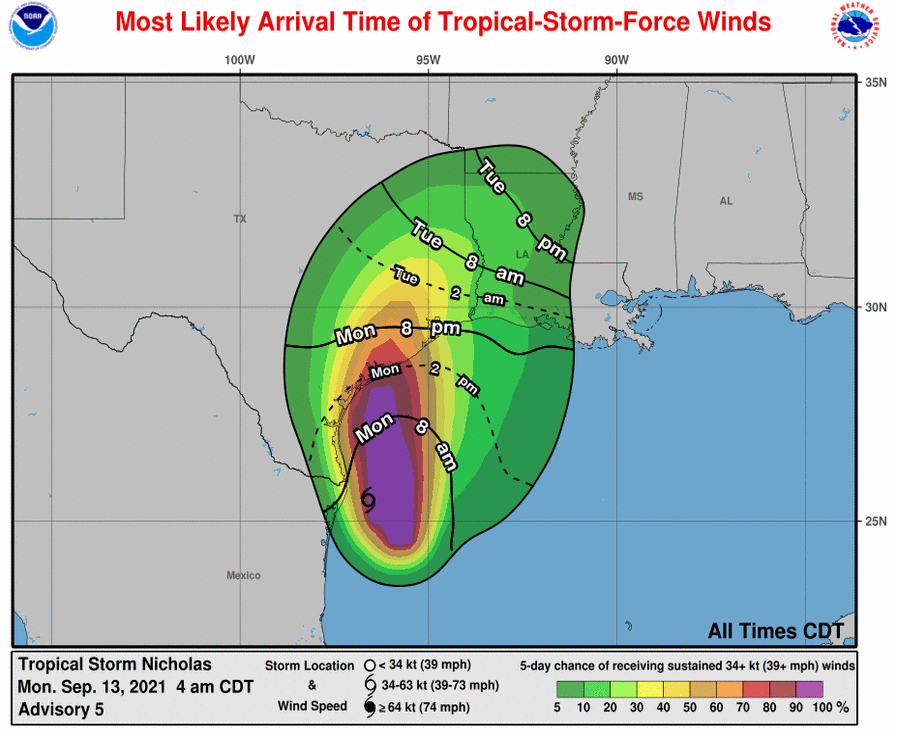 Storm surge values of 3 to 5 feet are possible from Port O'Connor to Sargent, and 2 to 4 feet from Sargent to Galveston to High Island. Some significant inundation is possible around Matagorda Bay.
For nearly all of us in the greater Houston metro area the biggest concern, by far, will be rainfall.
How wet will it get, and when?
The Houston region should see scattered to numerous showers on Monday, but the heavier rainfall that is most concerning to us should fall between a 36-hour period from Monday evening into Tuesday night, or Wednesday morning. So this is the time when you should plan for the most significant impacts.
The flood threat is very real, but it is slightly mitigated by the fact that Nicholas is now expected to continue moving to the northeast after it reaches Houston, and seems less likely to slow down. This should, hopefully, bring down rain totals somewhat. To that end, the map below represents an average expectation of the rainfall your location will get from Nicholas. For much of our region, these should be mostly manageable totals.
However, it is important to note that we are most concerned about locally higher amounts, which are likely during a tropical system that produces training thunderstorms with extremely high rainfall rates. Therefore, some locations may see as much as 10 to 20 inches of rainfall from Monday evening through Wednesday morning. While these bullseyes are more likely near the coast, they are definitely possible as far inland as Harris, Montgomery, or Waller counties.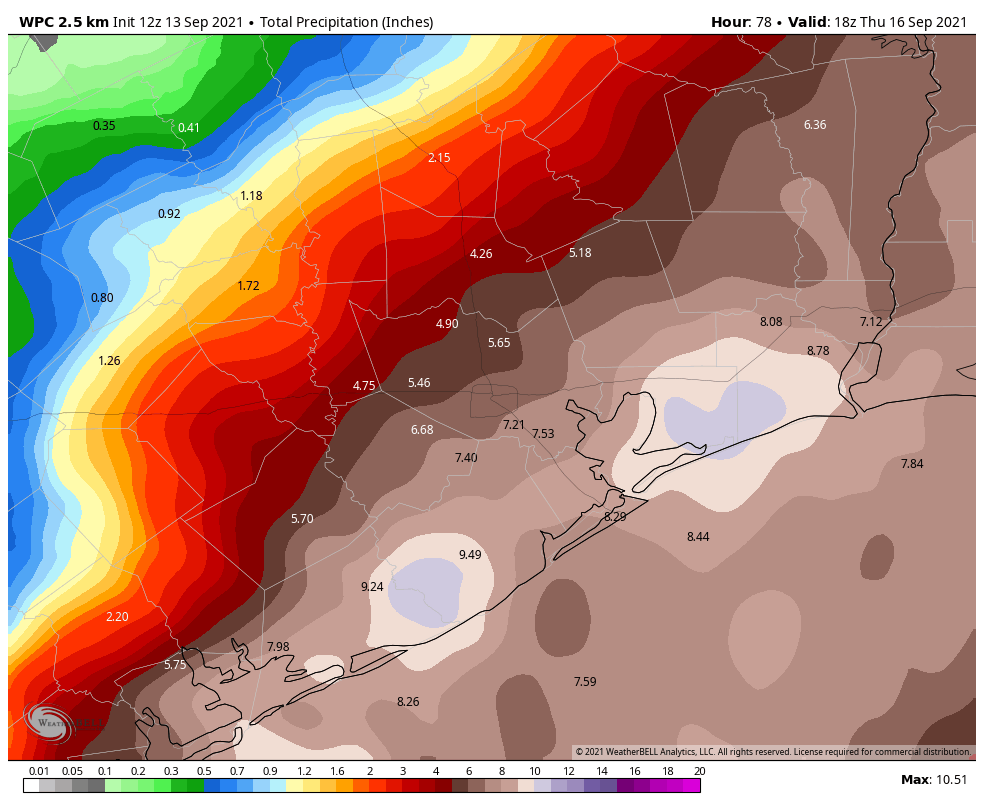 Please note that we have issued a Stage 3 flood alert, on the Space City Weather scale, in expectation of these bullseyes.
Conclusions
Nicholas will soon be here. While conditions across the region should be OK for much of today, they may deteriorate fairly quickly this evening or after midnight. In our next post we will try to provide a firmer time for the onset of heavier rain in the metro area—whether that's 8 pm, midnight, or later. Our next post will come no later than 10:30 am CT.