This post will attempt to set expectations for the timing of Nicholas' rains and winds later today, tonight, and on Tuesday for the greater Houston metro area. Given that there remain some questions about the storm's precise track and movement speed, these remain estimates, rather than set-in-stone predictions. But we recognize that this information is important for planning purposes, and so we're giving it our best shot. Thank you for understanding that this is an, uhhh, fluid situation.
The center of Nicholas has been wobbling somewhat this morning, but the National Hurricane Center says the storm is still moving generally northward, and should approach the Texas coast this evening near Matagorda Bay. The storm retains 60 mph winds, and is being hampered by a bit of dry air and wind shear. However, this shear may relax enough to allow Nicholas to strengthen into a Category 1 hurricane before landfall. It will be close. The storm then should move almost directly overhead the Houston area on Tuesday. This post discusses what to expect from this track.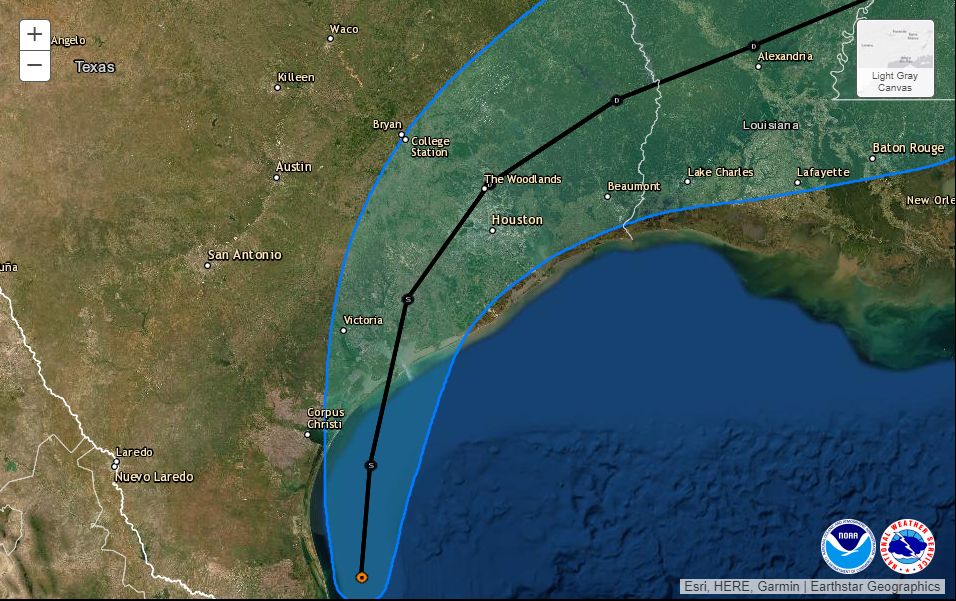 Monday day time
So far, as expected, showers and thunderstorms have been manageable today due to their fairly rapid motion. We should continue to see fast-moving showers traveling from the southeast to northwest throughout the daytime hours. Some of these could be briefly severe, but we don't anticipate any significant flooding. Winds may also pick up this afternoon, but are unlikely to gust above 30 mph from the east-southeast.
Monday night and Tuesday morning
Based upon our latest data, the period of greatest impact now seems likely to occur between sunset on Monday and about noon on Tuesday. If you want to be perfectly safe, the best plan is to remain off the roads in the Houston area from around 6 pm CT Monday through the middle of Tuesday. However, we realize that this may not be possible for everyone.
In terms of winds, we expect things to start getting breezy by around 10 pm to midnight, particularly along Galveston Island, where gusts may briefly reach hurricane strength. In Harris County, sustained winds may reach 30 to 40 mph, with gusts in the 50s to 60s, especially by midnight or shortly after. This may well lead to some power outages, especially south and west of Houston. I inquired to CenterPoint about their expectations for power losses tonight, but have not heard back. Past experience with such winds suggests there will be isolated to scattered outages due to debris and tree branches that get blown into lines. A storm surge of 2 to 4 feet is likely along the upper Texas coast.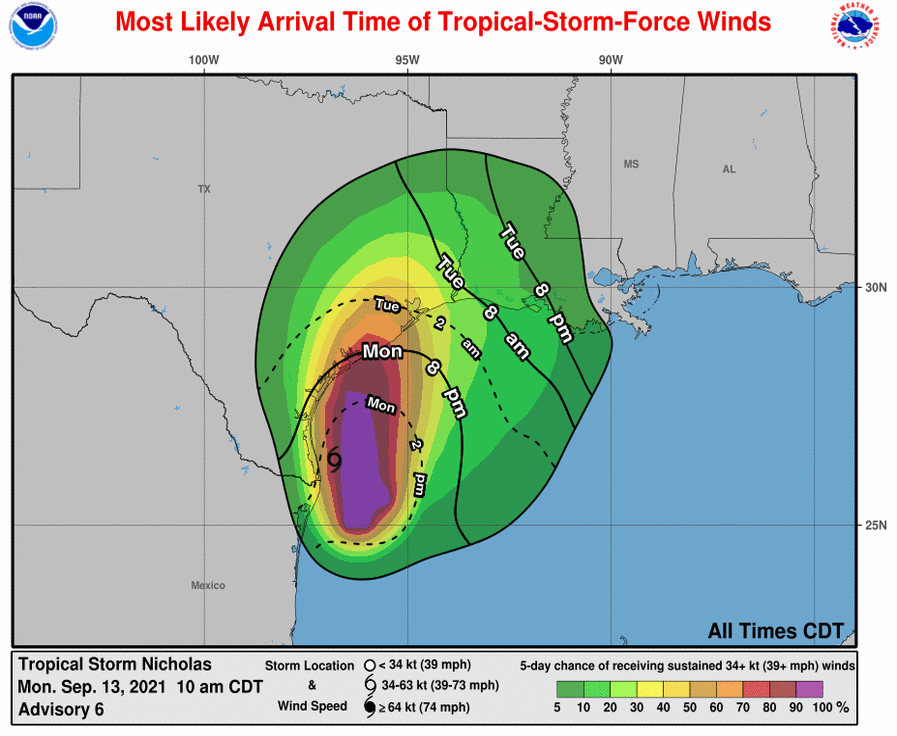 With regard to rainfall, the heaviest storms associated with the core of Nicholas are likely to approach the southern part of the region, including areas such as Lake Jackson, by around 9 pm. The storms should then move near the central part of the metro area, including the I-10 and I-45 south corridors, around midnight or shortly thereafter. As the core of Nicholas moves near the area, the rains should be just ahead of it, possibly exiting Houston by Tuesday morning, or around Noon.
How much rain is going to fall?
This, as ever, is the difficult question. Our highest resolution models continue to indicate the possibility of very intense rainfall rates of 3 to 5 inches per hour, which will quickly back up streets and bayous. It is not advisable to be out and about when these kinds of storms hit—especially because it will be dark, and driving in these conditions is dangerous.
The good news is that it still appears as though Nicholas will keep moving as it tracks through Houston on Tuesday, and away from the region on Tuesday night. This should help to limit overall rainfall totals for most to 5 to 15 inches of rainfall, with a few isolated areas seeing 15 inches or more. Rains totals will be greatest for coastal counties and the next inland tier, which includes Harris and Fort Bend counties.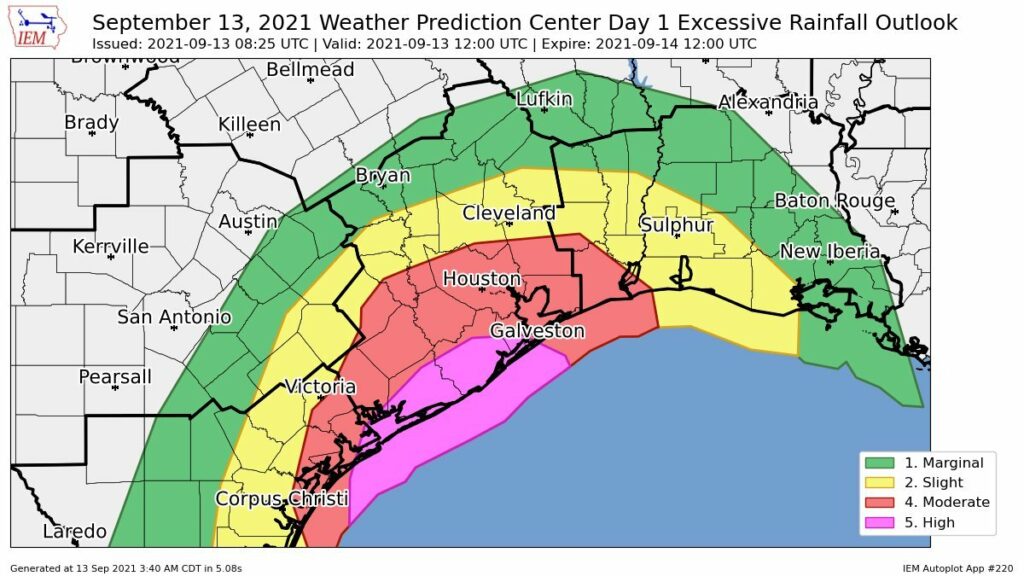 What about air travel? Schools? The Harry Styles concert?
We'd love to be able to give you concrete answers on these questions, but we don't have them. I think airline flights from after about 6 pm today through Noon on Tuesday are a big question mark, and I'd probably at least expect some delays.
Area schools should be closed on Tuesday, period.
As for Harry Styles, man, I don't know. My daughter has been waiting months for this concert and right now there's a chance the really heavy rains will hold off until after the show is over. But there's also a reasonable chance its cats and dogs as the show is letting out of the Toyota Center. If they don't cancel the concert, I'll hope to be able to provide some better guidance later this afternoon. The safe thing is not to go, of course.
Our next post will come by 2 pm CT.
Get our latest updates, immediately
As a reminder, to receive instant notifications of our new posts, you can download our free app on Android and Apple devices.