Sorry for the delay: Groceries and kids and life get in the way sometimes! Eric and I spoke earlier this evening and agreed that we have enough evidence right now to upgrade to Stage 3 on the SCW Flood Scale.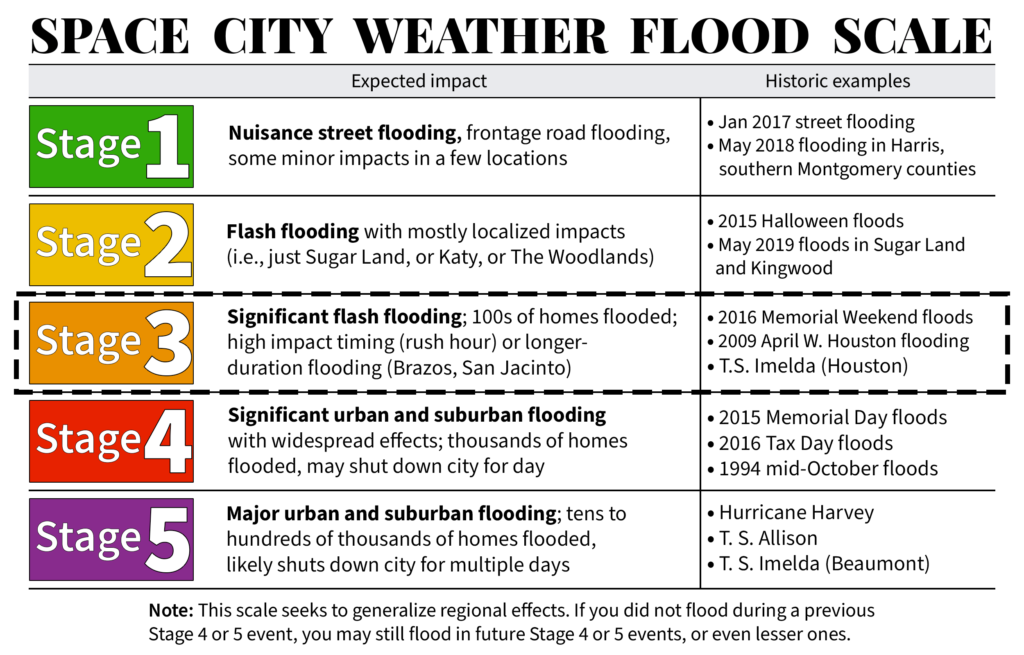 As we note on the SCW Flood Scale page, a stage 3 event:
Our third stage is probably the most difficult stage to define. These are storms that may be quite memorable for parts of the Houston area but not for the entire area. These are basically larger, more damaging versions of Stage 2 events. You could expect perhaps hundreds of homes flooding in multiple neighborhoods during Stage 3 events.
In this situation, we believe we have enough evidence in model data to support a decent risk for a stage 3 event somewhere in our area or region. We currently believe the highest odds of this type of level being achieved is to the south and east of Houston proper, but the frustrating reality is that flash flooding could occur virtually anywhere in the Houston area. We aren't much closer this evening than we were earlier today to defining exactly where the highest totals will occur. But we do have some other clarity perhaps.
Tonight & Monday
The rain we see tonight and Monday will be the appetizer to the main event, which should occur on Monday night into Tuesday and possibly Wednesday in our area. Expect scattered to numerous thunderstorms developing overnight and Monday morning along coastal sections, spreading inland tomorrow. Rain amounts by Monday evening will generally be on the order of 1 to 3 inches in Houston proper, lower amounts north of I-10 perhaps and higher amounts possible south of I-10 to the coast. Matagorda County may get into the core of the storm later tomorrow, which could bring additional rain totals in excess of 6 inches there. But for the most part, the rains tomorrow, though locally heavy and with localized flash flooding possible should be manageable.
Tuesday and beyond
I won't dwell too much on Nicholas's forecast in terms of tropical impacts, as we discussed that a bit in earlier posts and the flooding threat is of more concern for us. But the track and intensity forecast for Nicholas have remained fairly consistent, though with some risk that it could briefly attain hurricane status before landfall.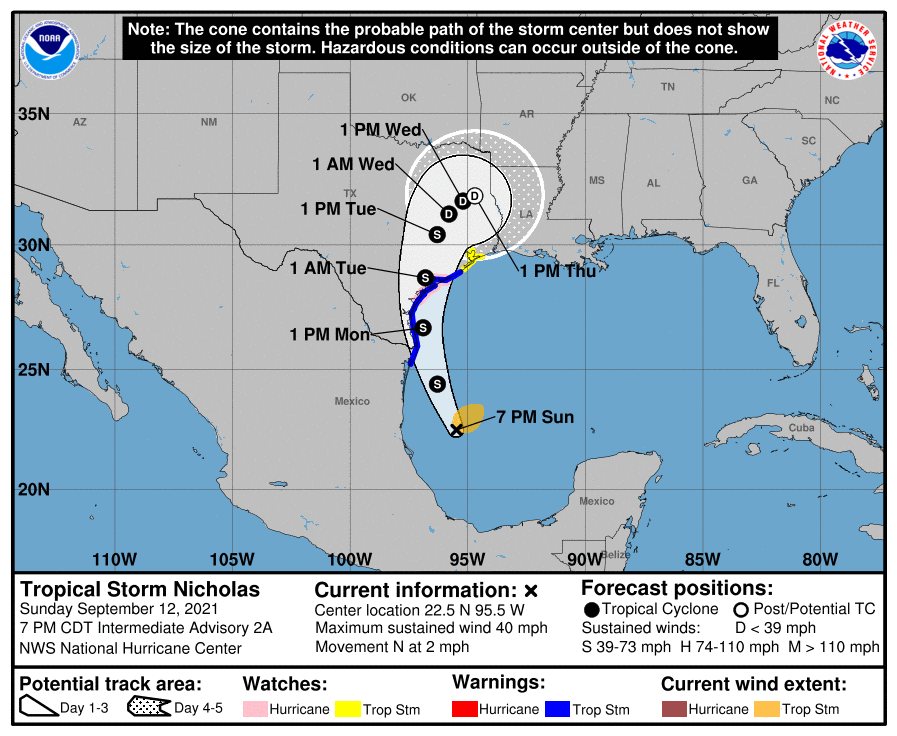 Onto the rain forecast. Many of you may have seen the European model today which printed a *lot* of rain for parts of the area. And while that certainly was a bit scary to see, it's important to note that this model is an outlier, both in terms of track of Nicholas and in terms of the physical amount of rain it's showing. While we aren't discounting that model, I think it's important to focus on the official forecast. Once you get up north of 15 inches of rain possible, it's a serious flooding event potentially; we don't need to make it scarier with outliers that show that. I have more issues with where the European model places the heavy rain (in and west of Houston) than how much it shows. With a track likely east of that specific model, I do believe the odds of the highest rain totals are highest east and south of Houston proper, similar to the official NWS rainfall forecast, which also increased today.
As of this evening, the outlook shows basically 5 to 10 inches of rain in the Houston metro area, with 10 to 15 inches in Galveston and Brazoria Counties. That seems reasonable right now, with the one caveat that higher amounts are likely depending on the exact track and speed of Nicholas as it comes through our area. A slow moving but steady outcome like most tropical models and the GFS model show would spread the rain out a bit more, keeping those higher totals somewhat in check. But a very slow, meandering outcome as the European model shows would potentially increase the max totals in spots. We want to see how the Euro goes overnight to see if it trends back to the consensus of tropical models and the GFS, which would further boost our confidence in worrying most about areas south and east of Houston. Regardless, rain will fall at the rate of 2 to 4 inches an hour at times. That can add up quickly.
A personal comment to close with here: This is an extremely difficult forecast because small changes in track outcomes will have big changes in impacts felt across a major metro area. If you live anywhere in the Houston metro area, north, south, east, or west, you should be preparing as if travel will be difficult to perhaps impossible on Monday night, Tuesday, and possibly Wednesday. We will hope for the best possible outcome here, but because of the uncertainty, you need to be ready. Folks east of Houston, particularly in Beaumont, Port Arthur, and Lake Charles: This bullseye could easily shift your way as well, so you need to be paying attention and prepared too.
Eric will have the latest in the morning on the flood threat, as well as tropical impacts from Nicholas, which will be minor in Galveston to moderate in Matagorda.