Storms have pulsed up overnight north of the Houston area, particularly in the Lake Livingston area, close to where a stationary front is located over Texas. This front will eventually slog its way down to Houston and off the coast, but in the meantime our region will see intermittent rainfall, some of which could be heavy. We do not have significant flooding concerns. Lovely late spring weather will move in later on Wednesday, after the front moves offshore.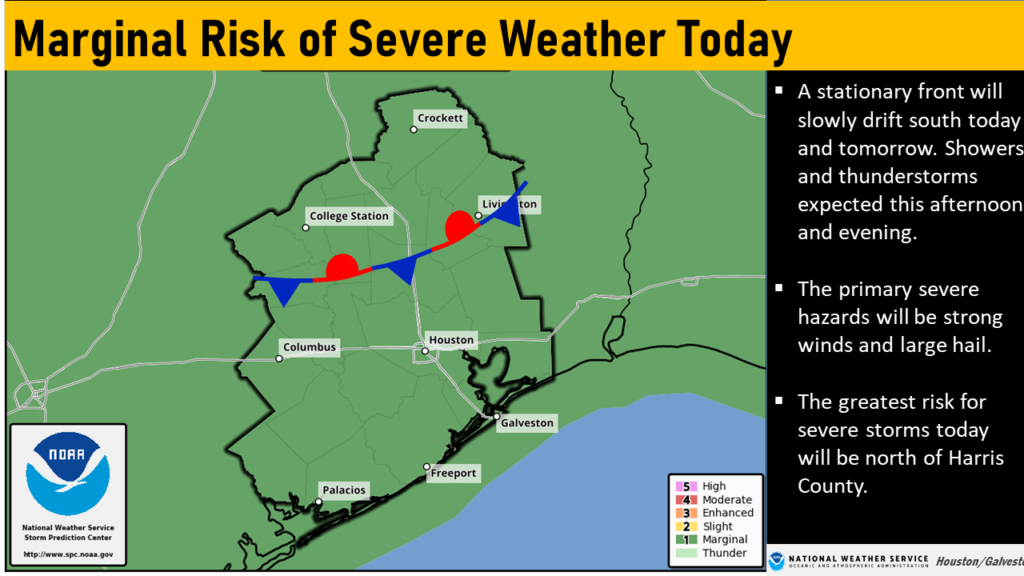 Tuesday
It's very warm this morning, with lows only getting down to about 80 degrees for some locations in Houston. As the front slowly moves south, I think we'll see decent rain chances across the area north of Interstate 10, but showers will likely remain mostly scattered until tonight. This will leave us with a mostly cloudy day, therefore, and highs in the upper 80s. Winds out of the southeast may gust up to 25 mph.
Tuesday night and Wednesday
This is a difficult rainfall forecast, because I think some areas will see no rainfall over the next two days, while some isolated parts of the Houston metro area pick up 5 inches, or more. Most areas will probably see about 1 inch. As a general rule, I'd expect the potential for heavy rainfall to be greatest north of Interstate 10 through about midnight, and shift more toward the coast on Wednesday morning.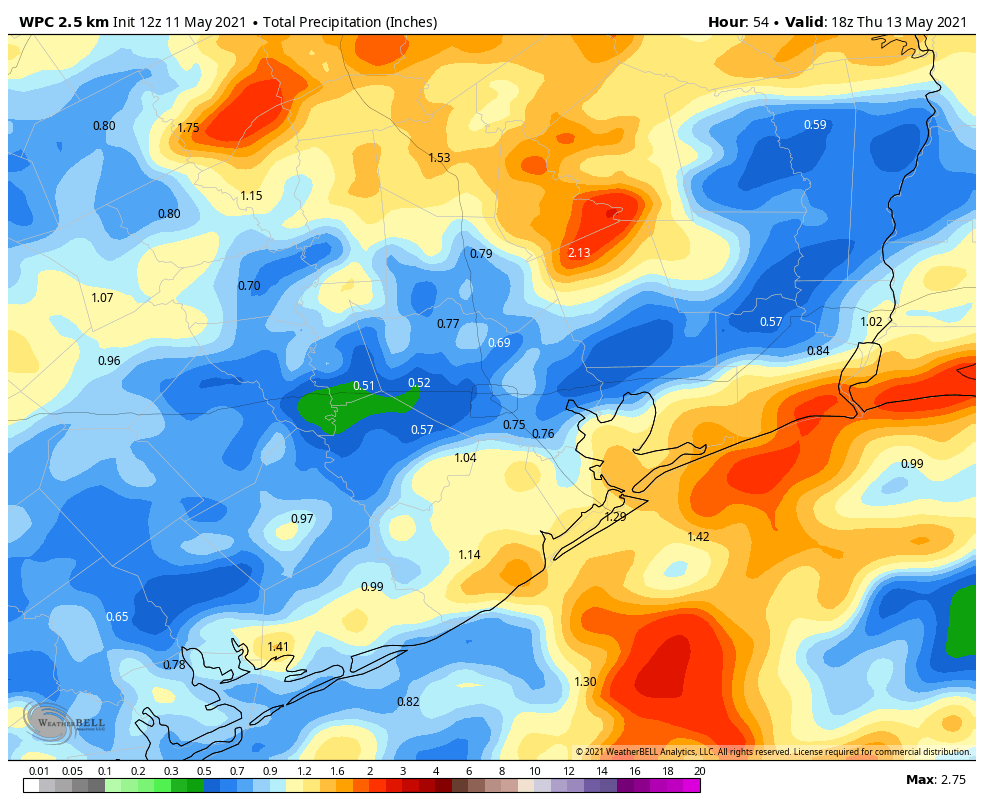 The potential for heavy rain should end during the afternoon hours on Wednesday, and any lingering showers should end by late afternoon. Daytime highs likely will climb only into the 70s, and lows will drop into the upper 50s to low 60s Wednesday night. While not exactly cool, this (and Thursday night) may nonetheless be the coolest weather Houston sees until September, at least.
Thursday and Friday
Houston will see splendid weather to end the work week, with highs in the upper 70s to 80 degrees, drier air, and partly to mostly sunny skies. Lows will drop to around 60 degrees on Thursday night, and into the mid-60s on Friday night.
Saturday, Sunday, and beyond
Saturday should be a pretty nice day, with partly sunny skies and highs in the low 80s. While I can't entirely rule out some spotty showers, right now I think we'll stay dry. A disturbance will bring a healthy chance of showers to the region on Sunday and Sunday night, but I'm not too confident about the details. Highs will return to the mid-80s, and I think we'll see a mix of sunshine and clouds when it's not raining. Much of next week looks fairly wet, with healthy rain chances most days. Again, details to come on that.