This week has not been oppressively hot and humid, but it still has been rather toasty for the end of September. That's not going to change anytime soon unfortunately.
Today
The amount of moisture available in the atmosphere today will be a good bit more than what was available yesterday, which means we should see at least a smattering of some showers and storms pop up through the day. Radar already shows some showers this morning south of Houston toward Lake Jackson and Angleton.
Based on this and weather modeling, the highest rain chances today should be south and west of Houston, though everyone has at least a chance of a shower. Outside of that, it will be partly sunny and continued hot. Look for high temperatures near 90 degrees.
Weekend
Moisture levels will slowly drop this weekend, but with onshore flow continuing, we have to at least mention a passing shower or storm Saturday and Sunday afternoons. If you've got outdoor plans this weekend, you should be able to go forward with them without much issue. You may encounter a brief downpour but probably nothing worse. Daytime highs will likely be up around 90 again. Nighttime lows, which have actually not been too bad (in the low-70s) this week will likely creep back into at least the mid-70s inland and warmer at the coast.

Next week
While we could see a spotty shower or storm next week, our thinking right now is that things will be mainly dry and hot through Thursday. We should expect days near 90 and nights near 75 degrees. Extended summer seems to be in control.
Front?
Right now, we don't see strong signs of a true autumn cold front over the next 7 to 10 days unfortunately. We have held on to some hope that perhaps next weekend a front could make inroads into Texas finally, and there are still a couple models showing it. But the reality is that those are not terribly reliable. In looking at typically more reliable European ensemble data, roughly 75% of the 51 "members" of this ensemble show a cold front by about October 8th.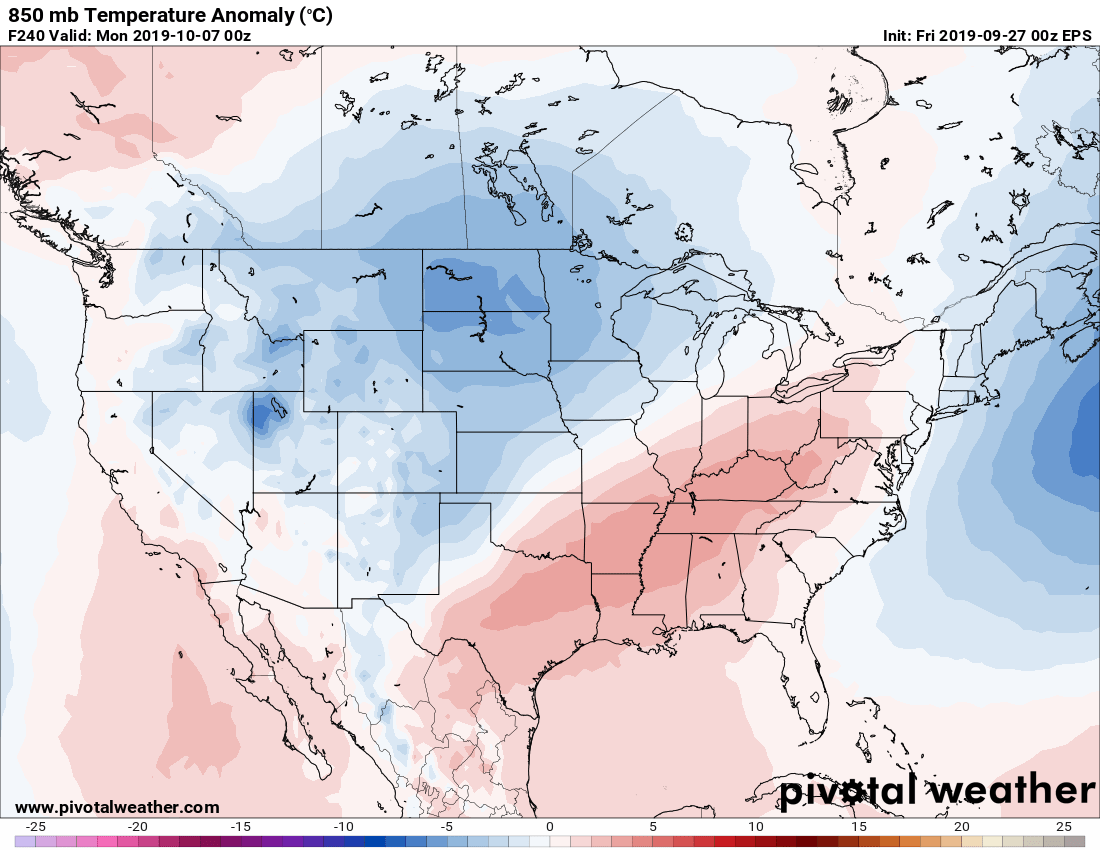 We continue to see some bouncing back and forth within modeling, but if I were assigning odds on which date we will see our first true front (low of 65° or cooler), here is how I would do so:
Through October 4th: < 1%
October 5-7: 15%
October 8-10: 40%
October 11-13: 35%
October 14+: ~10%
That adds up to 100. I think the most likely range for that cold front is October 8-13 right now. Sadly, if you had asked me two days ago, I probably would have given you 30 percent or higher on October 5-7, so the trends have not been in the right direction this week. Hopefully this can advance forward in the days ahead.
Tropics
Tropical Storm Karen is expected to fall apart east of Florida over by Sunday night.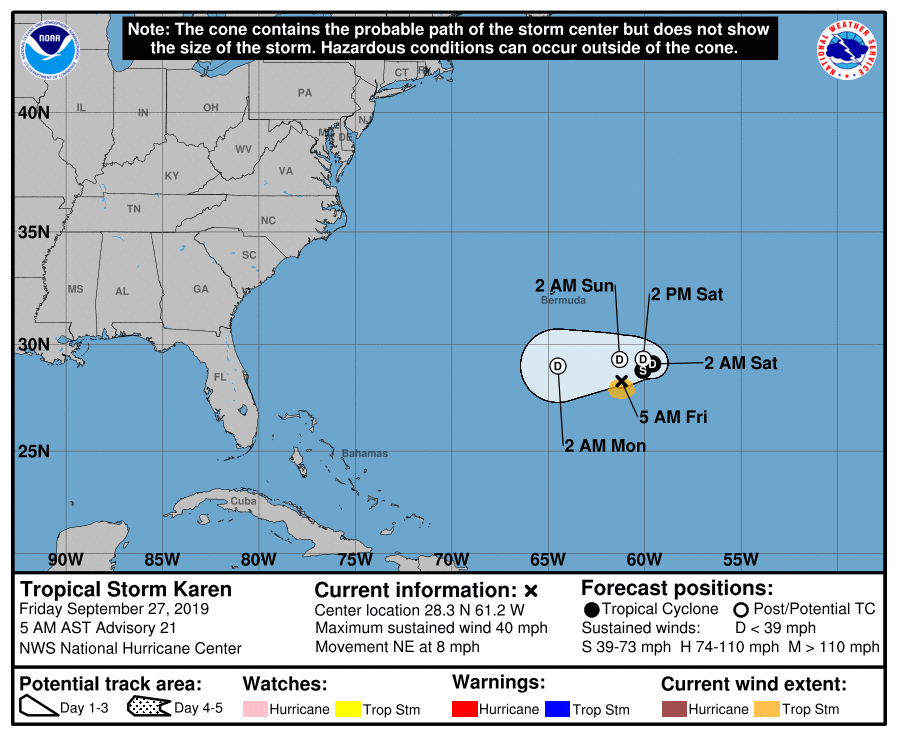 There are no systems of note behind Karen for us to watch at this time, and we are inside the window where risk of tropical activity on the Texas coast historically plummets. We would like to see that first cold front to be sure, but at the least, there is nothing at all in modeling right now that sets off any alarm bells for Texas.