Good morning. Houston's summer-lite weather will continue for most of this week, with warm days and nights. Rain chances will be low for most of the week, given the presence of high pressure. We're still waiting for that first cool front. As you can see from our cold front graphic below, anything after October 7th would set a record for the latest first fall front since the official monitoring station was moved to Houston's Intercontinental Airport in 1969. A front appears to be in the cards "soon," perhaps even by that date. More on that below.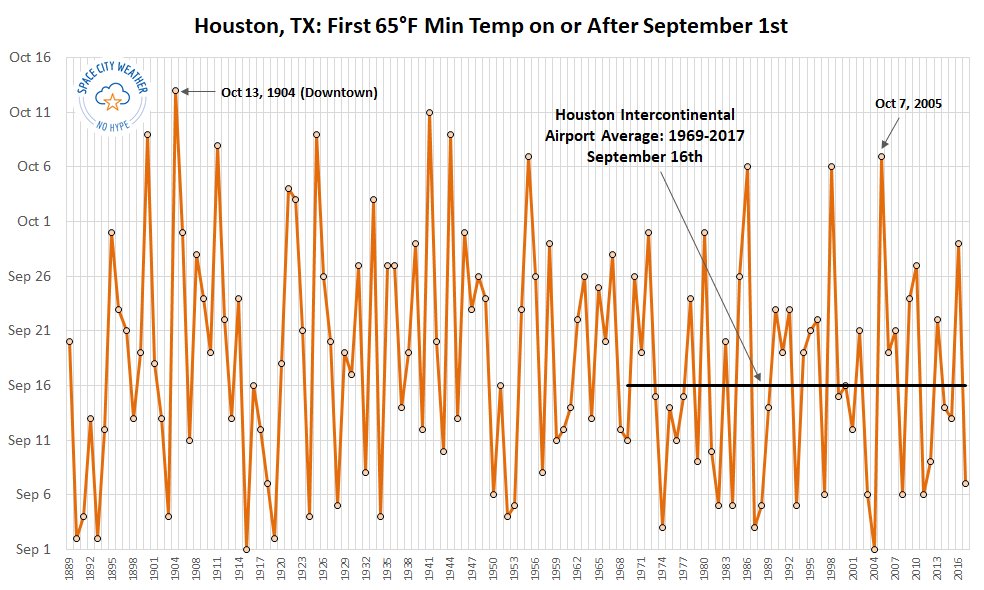 Monday
Atmospheric moisture levels are fairly high over the Coastal Bend area of Texas this morning, so areas near and around Matagorda Bay could see some rain storms today. But most of the Houston metro area, including Harris and surrounding counties, should remain dry today. Expect partly sunny skies, with high temperatures in the low 90s.
Tuesday and Wednesday
More of the same, as high pressure over the southern United States expands eastward a little bit. We can't entirely rule out some streamer showers, but again these should be mostly dry (which is not to say not humid) days. Highs around 90 degrees for most, with warmer temperatures possible for well inland areas.

Thursday and Friday
Toward the end of the week, the high pressure ridge may break down some. A front will approach from the northwest, and there is some question about how far it will work its way into the area. For now the smart money is probably on the front not making it, but we'll have to see. If that's the case, we can probably expect our days with highs of around 90 degrees to continue, although rain chances may rise up a bit as high pressure eases off.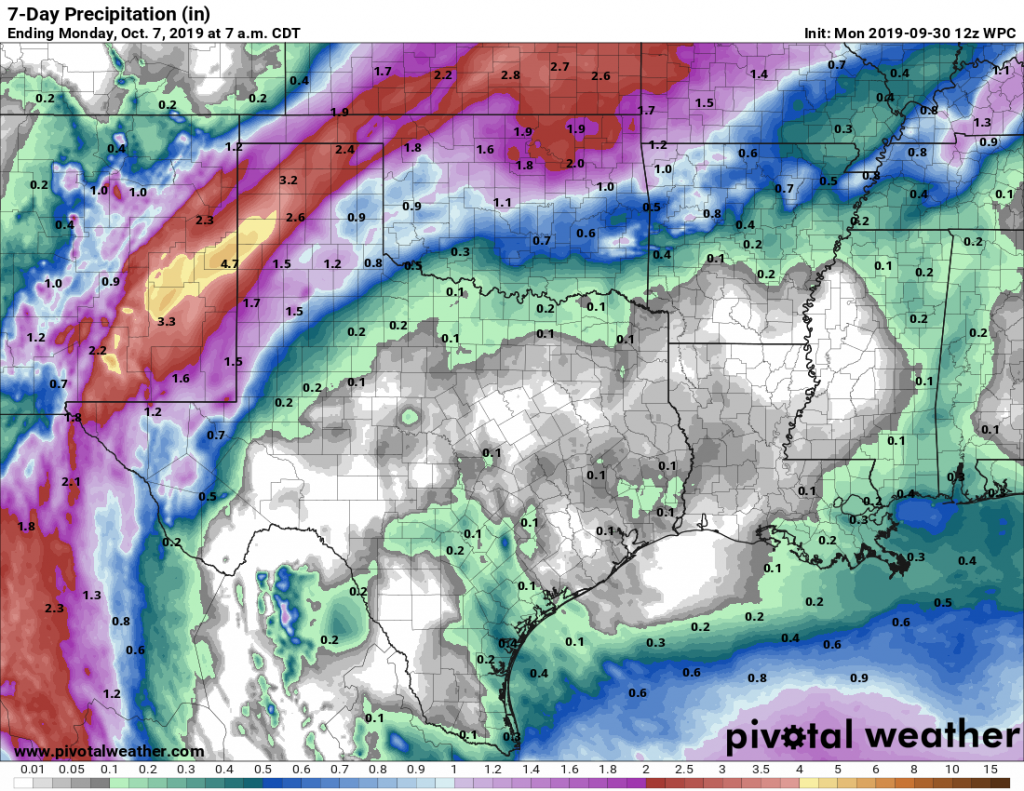 Saturday and Sunday
The weekend forecast is in some flux, due both to whatever happens with the dying front at the end of the week, and the potential for a stronger cold front late on Monday-ish. For now, let's go with highs near 90 degrees, and mostly sunny skies.
Cold front
As mentioned, odds favor the region's first real cold front moving into Houston around next Monday. But confidence in this remains less-than-supreme, given how long we've waited, and the flakiness of some of the models.
Tropics
Aside from Hurricane Lorenzo in the central Atlantic Ocean, there is little activity in the tropics. The only thing we're remotely watching is the potential for a tropical disturbance near the Yucatan Peninsula and Cuba later this week. However, given the time of year and atmospheric pattern, this is not something that we would anticipate tracking toward Texas.