Houston saw some blips of sunshine Sunday, which is a good thing because most of this week looks cloudy. Our region will also remain quite warm, with high temperatures of around 80 degrees, until a front arrives later this week. Not only should this front help cool the region down; the combination of moderately stronger winds and rainfall should help to control some of the very high oak pollen levels in the air that may have stuffed you up in recent days.
Monday
Houston remains trapped under a pattern—most predominantly high pressure over the Gulf of Mexico—that is essentially drawing a current of air from the southwest into the region. This explains our moist, warm air. And today will be no different, with mostly cloudy skies, highs near 80 degrees, and light winds at the surface of about 5 to 10 mph from the south. We can't rule out a slight chance of afternoon showers, but most of the region will stay dry. Overnight lows will only fall into the upper 60s.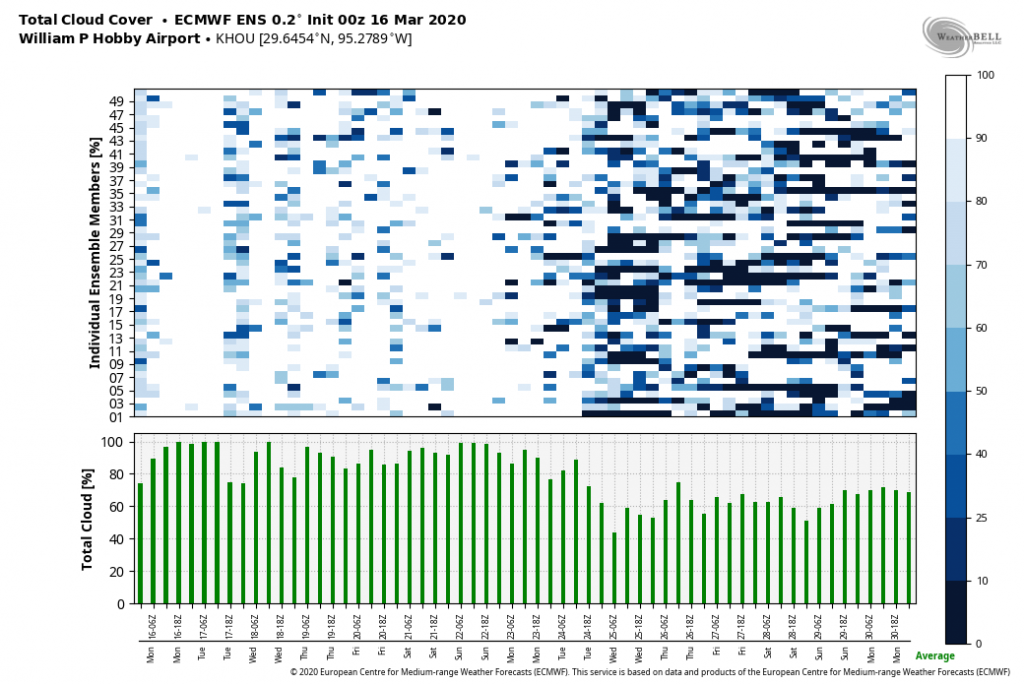 Tuesday
A kink in the atmosphere may nudge up rain chances on Tuesday, but I still think most of the area will just see mostly cloudy skies, rather than rainfall. Highs will likely reach the low 80s.

Wednesday and Thursday
This pattern does not change a whole lot on Wednesday and Thursday, with some modest rain chances, mostly cloudy skies, and highs of around 80 degrees.
Friday, Saturday, and Sunday
The pattern begins to change on Friday as a cold front pushes down into the region from northwest to southeast. In terms of timing, I'd guess the front reaches northwest areas during the afternoon, downtown Houston perhaps around sunset, and the coast during the late evening hours. We are probably looking at highs in the 60s, and lows in the 50s for the weekend, after the front passes.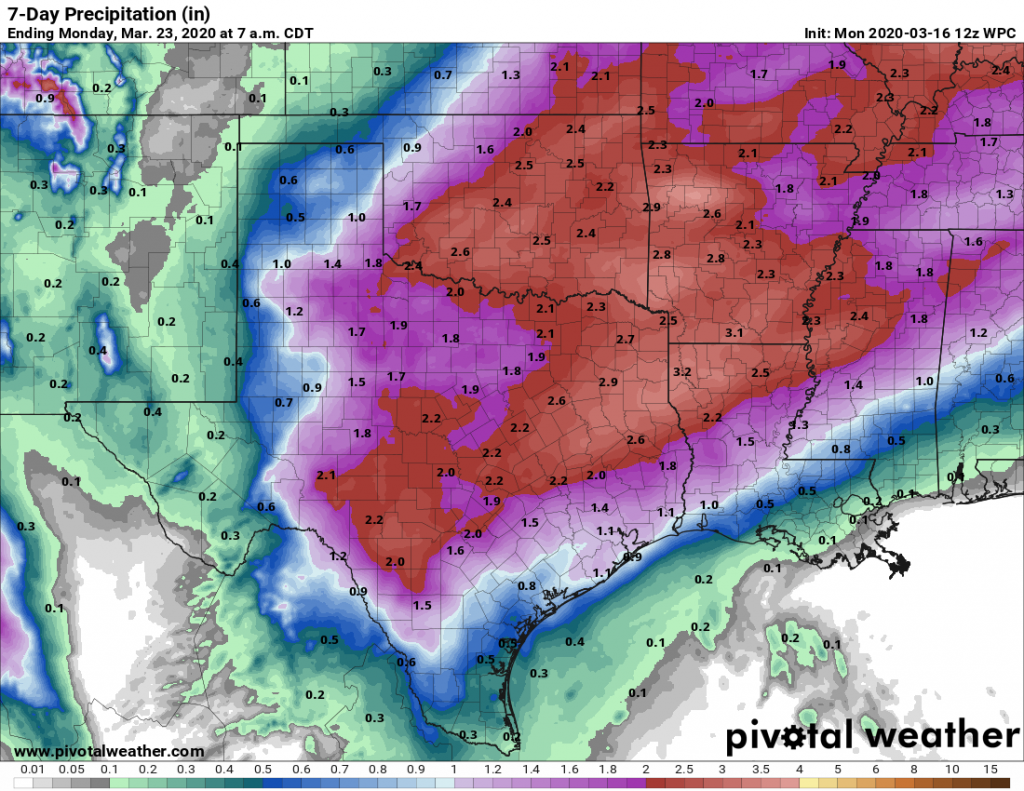 As this will be a shallow front, it appears as though warm air will ride up over the cooler air at the surface. This means that instead of seeing clear skies we're likely to see clouds, and a healthy chance of rain throughout the weekend. I don't have great details for you, but I'd estimate that most of Houston sees 0.5 to 1.5 inches of rain through Sunday.
Next week
Most of the model guidance shows temperatures snapping back to around 80 degrees by Tuesday of next week with hopefully some sunshine along with it.