Good morning. Houston has experienced very warm (for November) temperatures this week, but that will come to an end with a cool front's passage later this afternoon and evening. This front will lead to a wet and gray weekend, with temperatures in the vicinity of 60 degrees into the middle of next week. After all the sunshine it will be a bit dreary, I must say, but there are two good things to say about the pattern change. One, temperatures will feel more like November. And two, much of the region could really use the rainfall.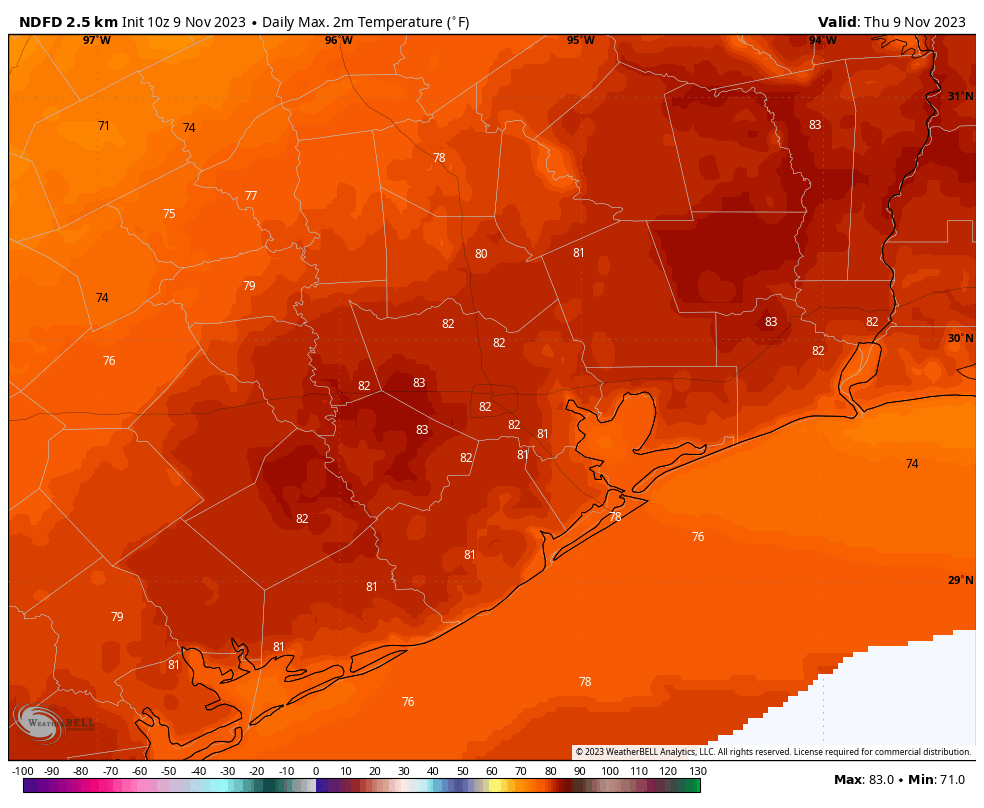 Thursday
Temperatures today are likely to climb into the low-80s ahead of the frontal passage, but mostly cloudy skies should limit them from going much higher. There may be some very scattered showers today ahead of the front, but the better rain chances will come late this afternoon, evening, and overnight as the front slogs through. This will not be a classic front that blasts into Houston out of the north with colder and drier air immediately, rather the cooler air will percolate into the region gradually overnight and on Friday. So don't expect an immediate change in the air mass. Lows tonight will drop into the mid-60s.
As for rain, most of the area will see between 0.25 and 1 inch overnight and into Friday morning, with the usual potential for some areas to see higher bullseyes. So don't expect anything extreme in terms of rainfall, but nearly all of us should at least see a bit of a soaking.
Friday
This will be a gray, damp, and chilly day. Rain chances are about 60 percent, with high temperatures gradually dropping during the daytime as the air mass changes. Highs will be in the low 60s for most of the day, with lows falling into the 50s overnight.
Saturday and Sunday
The weekend will bring more of the same. The cold front is going to move into the Gulf of Mexico and then should more or less stall. This will help funnel disturbances into the area this weekend that should support high rain chances, particularly on Saturday, and particularly closer to the coast. These will generally be on-again, off-again showers, so if you have outdoor plans this weekend they're in serious doubt, especially for locations south of Interstate 10. Skies should be mostly cloudy regardless, with highs of around 60 degrees, and lows in the upper 50s. I don't have any serious flooding concerns, but we probably are looking at accumulations in some locations of 2 to 4 inches by the end of the weekend.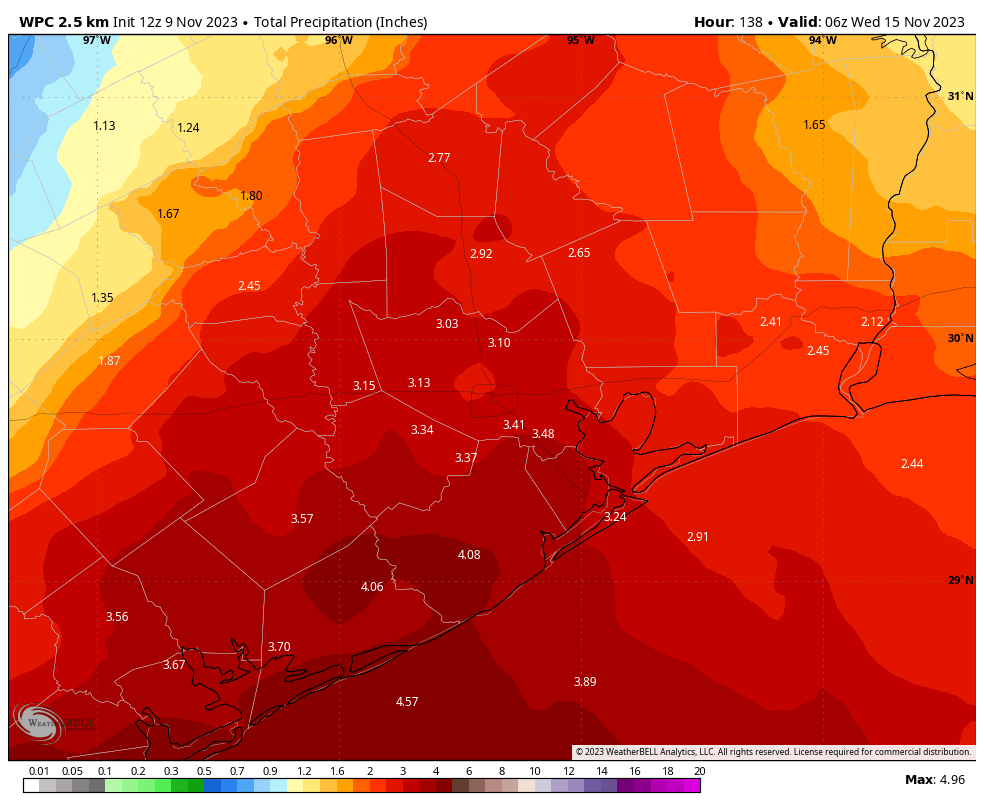 Next week
Rain chances slacken a bit early next week, but I'd still peg them at 50 percent or so daily through Tuesday for areas closer to the coast (lesser inland). This will help keep a limit on highs as well, likely in the low- to mid-60s. We probably will start to warm up some headed into next weekend, perhaps into the mid- to upper-70s. I don't have a lot of confidence after that, which means that at this point I don't have much intelligible to say about the Thanksgiving forecast. It's still two weeks away, after all, and only a turkey would try to make such a prediction.