Houston will see four days of warm temperatures, with highs around 80 degrees, and mostly cloudy skies before a front arrives some time on Thursday or Thursday night to cool things down for the weekend. We won't see much sunshine before about Sunday, however.
Monday
Presidents' Day, which honors all people who have served as President of the United States, will see overcast skies as the onshore flow strengthens. Winds at the surface may gust up to 20 mph from the south, and these increasing moisture levels will help to drive up rain chances today. However, due to a capping inversion in the atmosphere, any rains should remain light, mostly in the form of a misty precipitation. Overall accumulations should be very slight. Lows tonight will only fall into the mid- to upper-60s.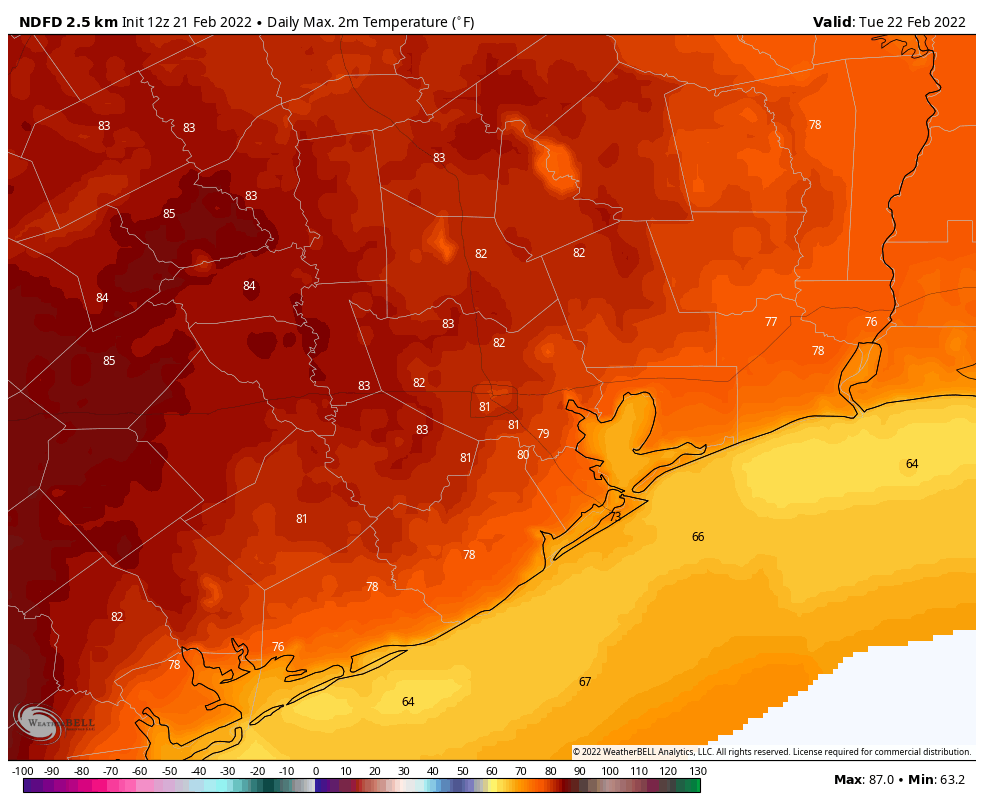 Tuesday and Wednesday
These days will bring more of the same: Highs near 80 degrees, mostly cloudy skies, and southerly to southeasterly winds. Chances for light or misty precipitation remain on both days. Nights will be quite warm. A cold front will march southward toward the region on Wednesday, but it's going to stall somewhere near or over the metro area. This stall will probably occur inland of Highway 59/Interstate 69, but how far inland? What side of the front you're on will affect your weather, in terms of knocking down temperatures and humidity. The front should back some to the north on Wednesday night.
Thursday
For most of the region, outside of areas like College Station far inland, this will be another warm day before a second front arrives and pushes all the way through Houston later during the day or Thursday night. I think there will be some scattered showers with this front, but nothing too organized. Depending on the timing of this front, lows will drop into the upper 30s to lower 40s on Thursday night in Houston.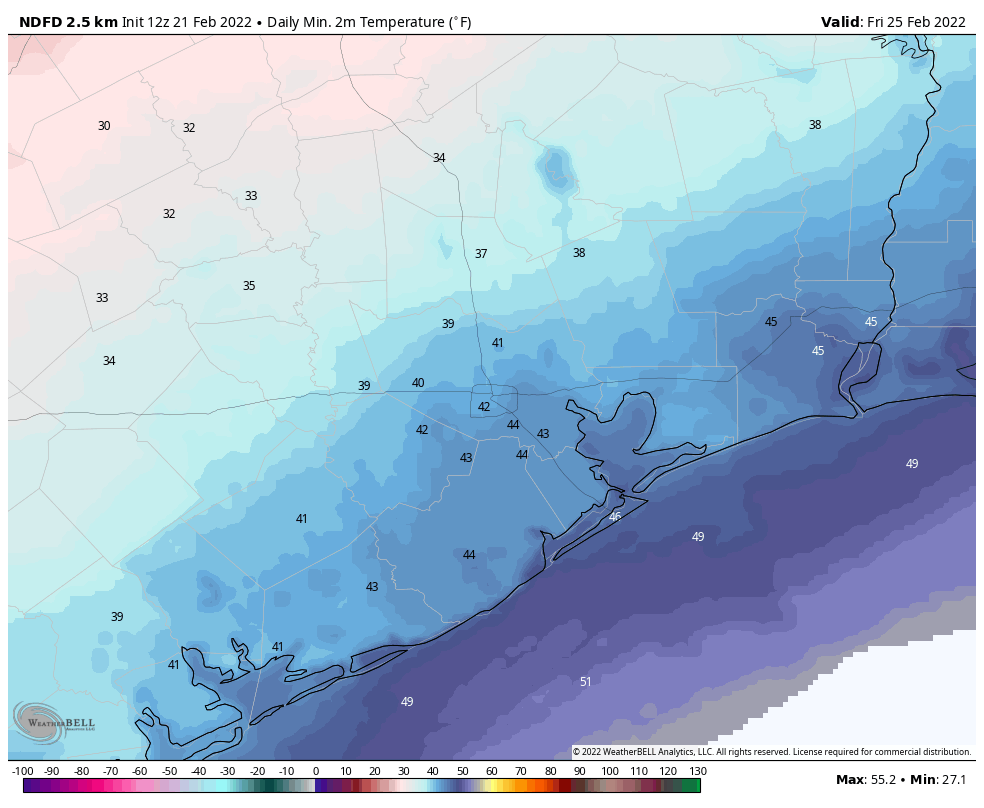 Friday, Saturday, and Sunday
Friday will be chilly in the wake of the front, with highs somewhere in the 50s, and a brisk northerly wind. Clouds and chances for light precipitation will linger on Friday and Saturday as the mid- and upper-levels of the atmosphere remain somewhat disturbed. Skies may not really clear out until Sunday, when high pressure stabilizes the atmosphere. Highs will likely remain in the low 60s through the first half of next week, with lows in the upper 30s to low 40s. So we're expecting a cold spell, but probably not a frigid one.