Good morning. It's a muggy start to the morning, with near 100 percent humidity across much of the area this morning and low temperatures in the low 70s.
TODAY and WEDNESDAY
Although there's some moisture in the atmosphere, a capping inversion should preclude any shower activity over the Houston metro area. We're going to see partly sunny skies, and temperatures for both today and Wednesday will likely rise into the mid- to upper 80s. Probably the most defining feature of the day will be winds. Although we won't see the extreme gusts we saw Monday morning in parts of Houston, we should see gusts above 15 to 20mph on both days.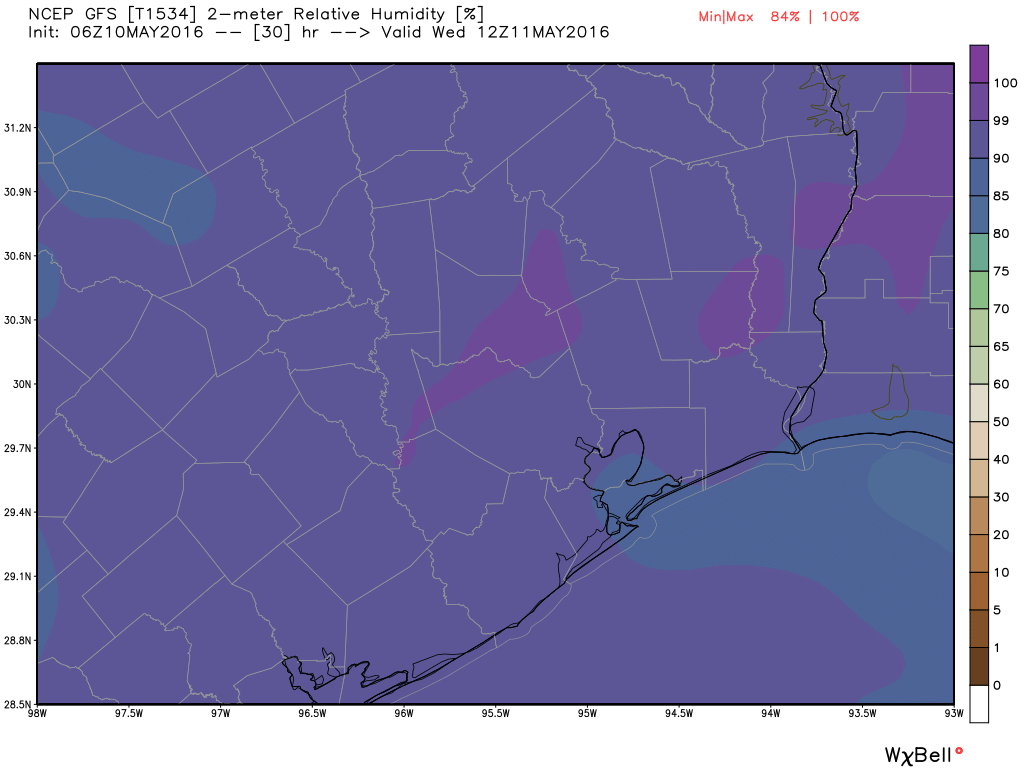 THURSDAY
Thursday will also be partly sunny, but we'll see a chance of showers and thunderstorms later during the day and the overnight hours as a weak cool front approaches the area and then moves on through. I'm not expecting more than a few tenths of an inch of rain with the front—if that—and to be frank after several warmer days we'll want at least that much by then. Some areas won't see any rain at all. The threat of any severe weather along with the front seems to be fairly low.
FRIDAY 
After the front moves through we'll see a continued chance of showers Friday morning, and then clearing conditions for Friday, with highs in the mid-80s.
SATURDAY and SUNDAY
The weekend actually looks pretty darn nice for mid-May. We're likely to see highs in the mid-80s, partly sunny skies and lows in the mid- to upper-60s. It won't exactly be cool, but the air should be a smidgen drier. I'll take it.
Some rain chances may return late Sunday and Monday.