We continue to enjoy fairly quiet weather across the region in the wake of Hurricane Nicholas. Today will be no exception, though things get a bit more unsettled this weekend. But the drumbeat regarding our first legitimate autumn cold front is growing louder today. For now at least, it would seem that some very nice weather is on the horizon for the back half of next week. More on that below.
Today
Friday will probably be similar to Thursday in a lot of ways with clouds and sunshine sharing the sky. Yesterday saw upper-70s at Bush Airport compared to mid-80s at Hobby. Today should probably see 90 or better in a lot of locations, provided the sun is out a good bit. Otherwise, look for mid to upper-80s, still warmer than Thursday.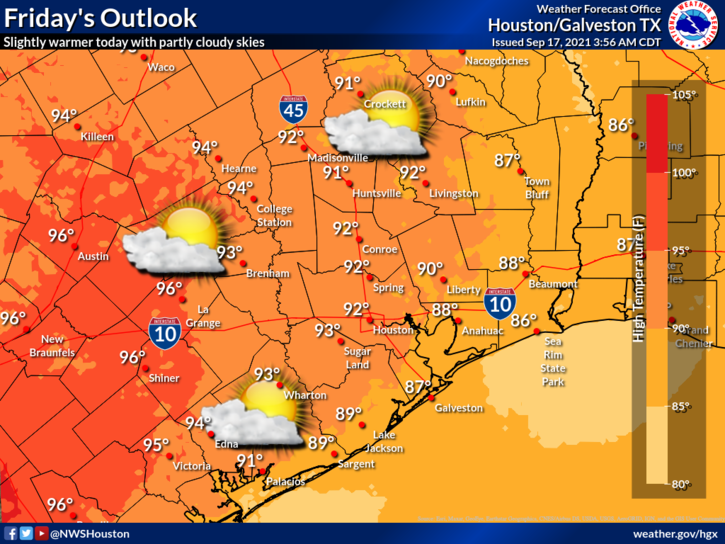 Rain chances are quite slim to none today.
Saturday & Sunday
We sort of settle back into more of a typical late summer pattern this weekend, as Eric's been noting the last couple days. The coverage of showers and storms expected has wobbled a bit lately, but it looks like we'll have decent coverage of showers tomorrow and maybe a bit less coverage on Sunday. We'll have a good bit of humidity and highs in the upper-80s to low-90s depending on cloud cover. Morning lows should be in the 70s.
Early next week
Monday looks pretty good right now with just a chance of a shower or storm but otherwise partly to mostly sunny. Look for morning 70s and afternoon 90s. Tuesday looks similar, though with perhaps a slight nudge up in rain chances.
Cold front update!
On to what should be the good news. Both the GFS & European models are in agreement on a cold front coming into the area on Wednesday. They differ on exact timing and how strong it will be, but they both show it distinctly in their forecasts and ensembles for the most part. Here are the low temperature charts from the 51 Euro ensemble members and the 31 GFS ensemble members. I've boxed in the period for next week.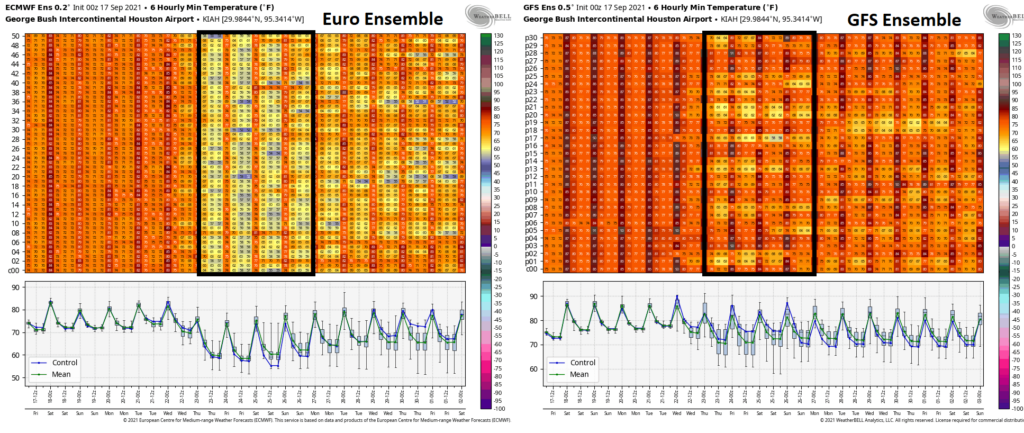 The Euro is at nearly 100 percent agreement on a pretty potent cold front reaching the area, closer to Wednesday morning. The GFS, however looks to be at more like 50 to 55 percent agreement, with most ensemble members not quite as cool as the Euro. But, when you look closer at the GFS, it does bring a strong front south; it just manages to whiff to our east, bringing most cool air into Louisiana, rather than Texas. That same chart above and to the right shows more like 90 percent agreement in a front when you look at it for Lake Charles, which seems a bit odd to me.
I would say there's a bit of uncertainty right now on the finer details, like whether it's 60 to 65 or 65 to 70 in the mornings late next week (though I will say that it's quite tantalizing to see several European ensemble members in the 50s). In terms of getting the front through Houston, that's looking like an increasingly likely proposition. Assuming that's the case, expect a period of showers or thunderstorms Tuesday night or Wednesday, followed by mostly sunny conditions for the end of the week. Highs would be in the 80s with low humidity. And again, we'll see about how cool morning lows go.
Tropics
The Atlantic remains active with two areas still holding at a 70 percent chance of development over the next 5 days. Both are expected to head out to sea.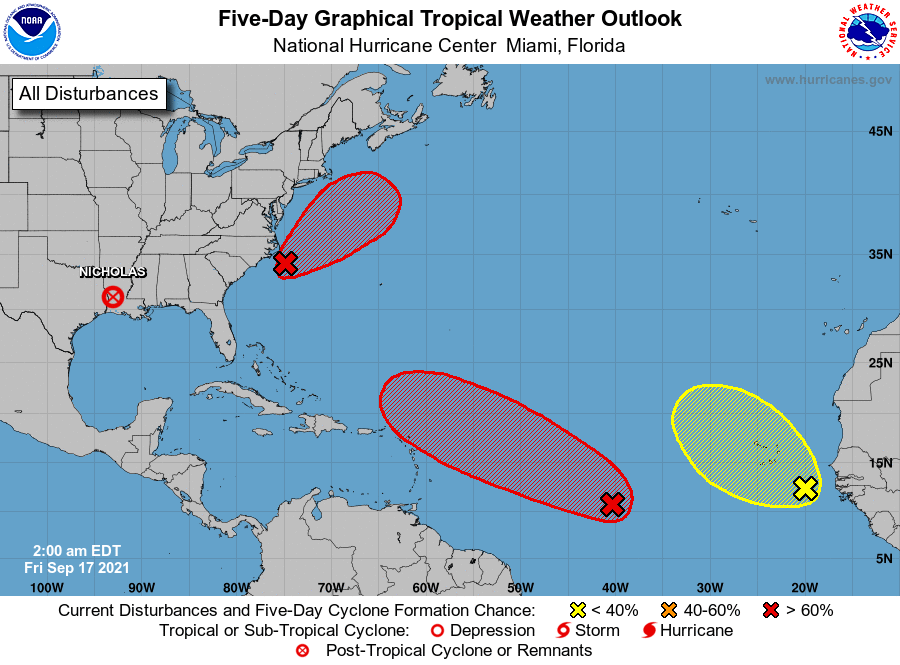 Some folks will continue to point to Invest 95L (the red area in the central Atlantic) as being concerning, but in order for it to come more west, it would have to remain a disheveled mess and would likely get ripped apart before it got far enough west to be concerning. Oh, and with a cold front likely to get well offshore next week, the western Gulf is protected through at least next weekend. In other words, you can rest easy. No concerns for us.
Have a great weekend!