It's a strange time a year. The historical peak of the Atlantic hurricane season came fewer than two weeks ago. Moreover, a little more than a week ago, Hurricane Nicholas struck the Texas coast and knocked out power for hundreds of thousands in the region. And today, Space City Weather is saying hurricane season is probably over for Texas? Really? Why yes. Yes we are.
There are a couple of reasons for this. Historically, the odds of a hurricane striking the state of Texas are about 1-in-50 after September 24. Our confidence is increased this year because, looking ahead at the next 10 days, the western Gulf of Mexico looks pretty quiet, especially north of the Bay of Campeche. This is the time of year when the jet streak starts a seasonal swing southward, and our region becomes more prone to cold fronts, which push any tropical systems in the Gulf of Mexico to the east. We've already seen one weak front about 12 days ago, a stronger one yesterday, and there's perhaps another front coming early in October.
All of this means that we're pretty confident that Texas is not going to get hit by another hurricane this year, even though the "Atlantic season" runs through November 30. We may very well still see tropical mischief, in the form of a depression or moisture that sparks some heavy rainfall. But the blowy, storm-surge stuff—we're probably done with worrying about that for 2021. As always, we'll keep an eye on the tropics. But you don't have to if you don't want to.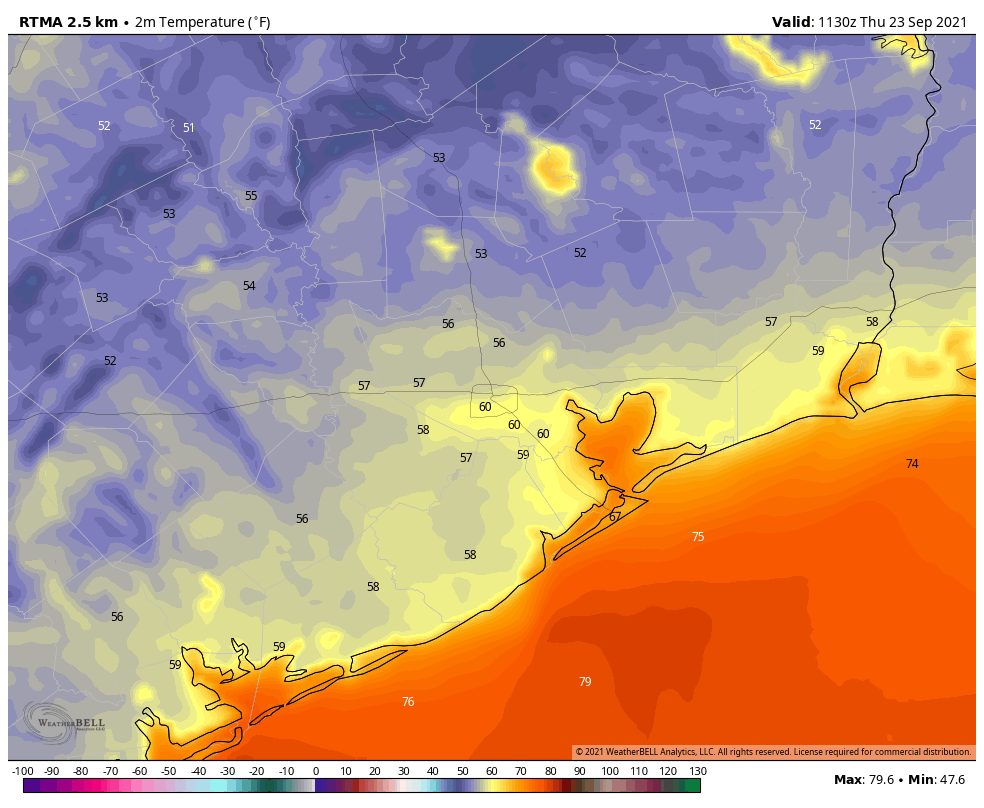 Thursday
There's not a whole lot to say about our weather other than it's gorgeous. Lows this morning range from the 50s inland to about 70 right along the coast. Today will bring more dry air, with light easterly winds, sunny skies, and highs in the mid-80s. Lows tonight will drop into the low 60s.
Friday and Saturday
Expect more of the same. Highs in the 80s. Sunny skies. Mostly dry air.
Sunday
The second half of the weekend should see continued sunny skies, but dewpoints are going start climbing, and so while temperatures remain in the 80s it will start to feel a touch more humid. Lows Sunday night will be notably warmer, likely only dropping to around 70 in Houston.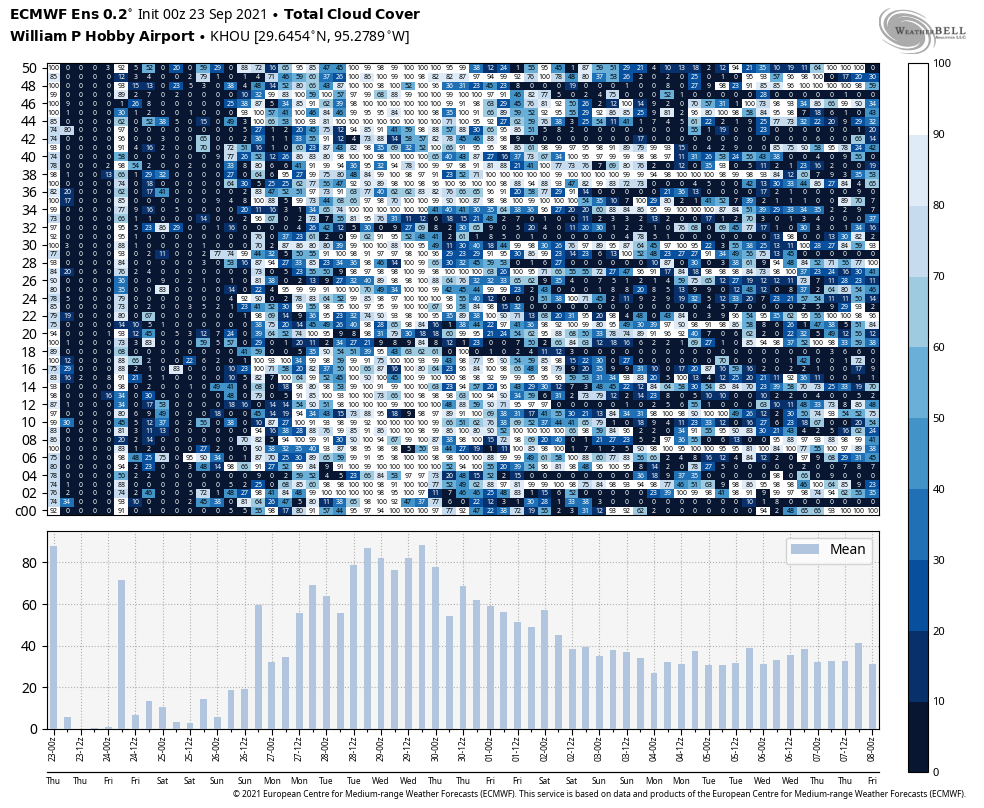 Next week
Much of next week will be something of a return to summer-lite weather, with highs near 90 degrees, lows in the low 70s, and lots of clouds. As the influence of high pressure lessens, we'll open back up to moisture from the Gulf of Mexico, and rain chances will increase to perhaps 50 or 60 percent each day. As a rough guess I'd say much of the metro area sees 1 to 3 inches of rain total, or thereabouts. But it's still too early for any precision. The models are starting to hint at a front in the Friday or Saturday range of next week, but there are certainly no guarantees.