Houston's abnormally warm weather will continue for a couple of more days before cooler air arrives toward the end of this week. How warm was Monday? Consider the following:
Galveston tied its record high for March 11, reaching 78 degrees
Houston had its warmest day of 2019, reaching 84 degrees.
On average, it is about 10 days early for a high temperature that warm in Houston
A cold front on Wednesday will bring about a significant change in our weather, leading us back into cooler, early spring-like weather, and also finally bringing some sustained sunny skies.
Tuesday
Fog is again a problem, and once it clears after mid-morning, we'll be left with mostly cloudy skies. Some very light, scattered showers are possible today, but for the most part it should just be warm, with highs near 80 degrees, and humid. If we get a few breaks in the clouds, highs will likely crest 80 degrees in those areas.
Rodeo weather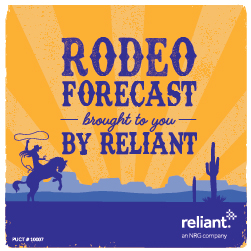 Temperatures going into the show will be in the mid-70s, with light rain chances. Not much will change afterward, with temperatures falling only a few degrees and southern winds perhaps picking up to around 15 mph. These gusts may be noticeable on your walk back to your car or the metro.
Wednesday
Houston's weather will turn more dynamic as the aforementioned cold front combines with a saturated atmosphere to produce showers and likely some thunderstorms for Houston and surrounding areas. Rain chances are highest from around 6am to noon, as the system moves through from west to east. Forecast models aren't indicating anything too extreme, with most areas likely seeing one-half inch of rain, give or take. Can't rule out some higher totals, however. Rain chances will linger into the evening, with highs near 80 degrees.

Thursday
Some truly cooler weather will have to wait until the cold front proper finally pushes through, and drier air moves in behind it. The end result should be a nice day Thursday, with clearing skies, and highs in the low- to mid-70s. Overnight lows will drop into the 40s for inland areas, and lower 50s for the coast.
Friday and Saturday
The end of the week looks really nice, with mostly sunny skies, and rain chances down around 10 percent. The influx of cooler air should push daytime temperatures down into the 60s, and lows into the 40s. Enjoy the chilly nights, because with April and May on the horizon, they won't be with us for too long.
Sunday and beyond
Sunday should be another cooler day, with at least partly sunny skies. But after this point the forecast diverges, with the potential for a warm-up into next week with a strong humidity return, or some reinforcing cooler air that keeps most of next week on the cooler side, with nights generally in the 40s. We'll see.