Temperatures have run 10 to 15 degrees above normal this week for the Houston area, and we'll experience one more warm day before we cool back down to more spring-like weather for awhile. The good news is that, after a long string of cloudy weather, we'll also see a nice stretch of sunshine.
Wednesday
Houston may see some effects from a powerful upper-level low pressure system that is barreling across the plains states today. Fortunately for us, we're on the southern periphery of this system, which means that we're likely to see only a broken line of showers and perhaps some thunderstorms move through the area, likely between about noon and 3pm this afternoon. Any storms should not last long as the system moves from west to east. We can't rule out some briefly strong winds or hail, which will be slightly more likely for areas north of Houston than to the south of the city. Highs today should be in the mid-70s.
Rodeo weather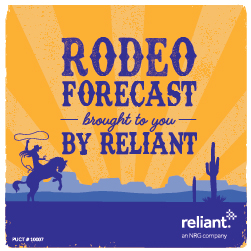 Rain chances should end by the early evening, meaning that our weather should be dry heading into the show. There might even be some clearing skies for a bit, with temperatures in the 70s. Relative humidity will be high, with some southerly winds at about 15mph, so it will still be one of those hair days. Temperatures won't have dropped much after the concert.
Thursday
A cold front finally drags into Houston on Thursday, likely before noon. It is possible that we'll see some brief showers with the front, but they should end fairly quickly. Drier air will follow fairly soon, allowing for clearing skies during the afternoon hours, and mostly sunny skies. Is anyone ready to actually see a sunset?

Friday, Saturday, and Sunday
These will be cooler days, with highs of around 60 degrees and partly to mostly sunny skies. Areas immediately along the coast may see a few passing showers due to some disturbed weather offshore, but overall chances are fairly low. Lows should generally be in the mid- to upper-40s overnight. Overall, the weekend looks really nice for outdoor activities as long as you're not planning anything that needs too much heat.
Next week
At this point, our weather is mostly stead-eddie for the foreseeable future. Next week looks to be fairly rain-free, with highs in the 60s and 70s, and spring-like nights. In short, it looks pretty darn nice.