The temperatures may not feel too much like the holiday season outside right now, but we are only a little more than two weeks away from Christmas Day. One of the best aspects of this season in Houston is the increasing number of light shows to help mark the holidays.
Our partner, Reliant, has presented the Galaxy Lights display at Space Center Houston for several years now, and it's something I always enjoy experiencing with my family. This year, Reliant is also presenting Lightscape at the Houston Botanic Garden, which is where we held our Fall Day event in September. This is just the second year for Lightscape, which is set in the natural landscape of the garden near downtown Houston. They're both great! If you're thinking about going, here are a few thoughts from my trip to Galaxy Lights and Matt's trip to Lightscape to help you plan your visit this year.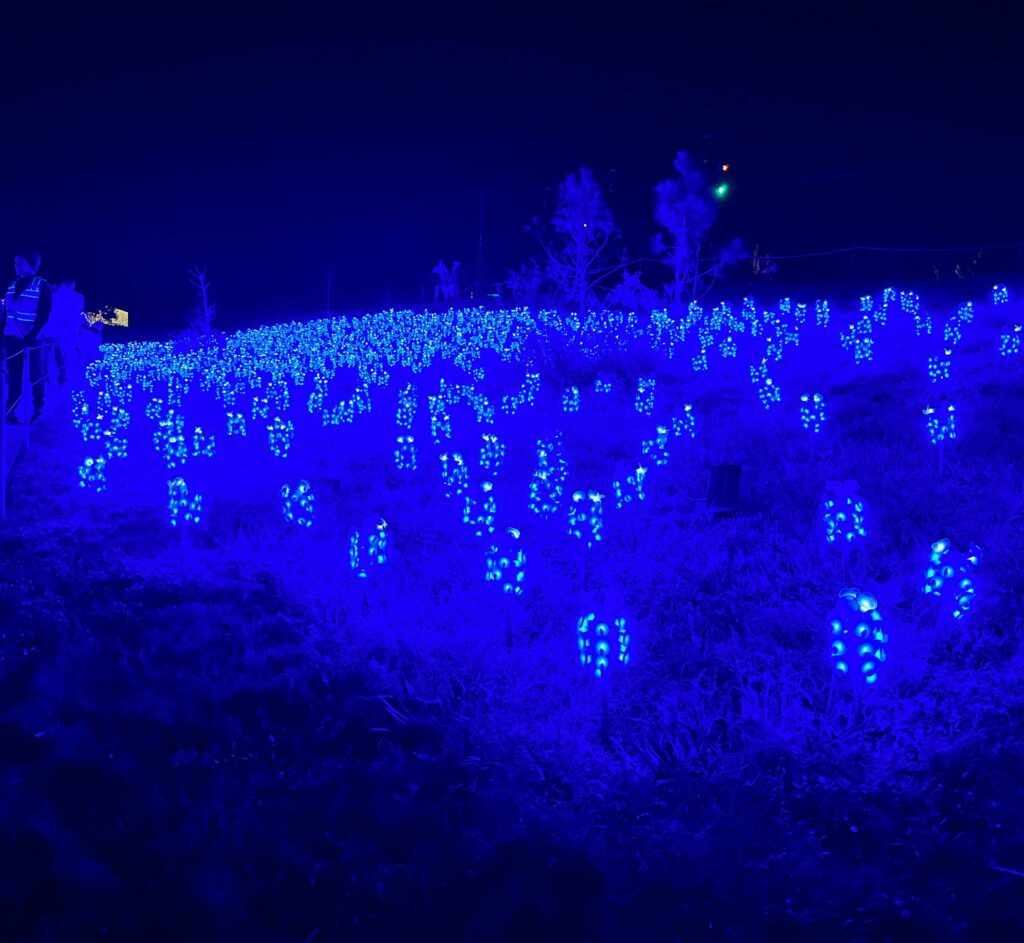 Galaxy Lights, presented by Reliant
I visited this display, interwoven inside and outside of Space Center Houston in Clear Lake. The light displays are as brilliant as ever. Galaxy Lights, presented by Reliant, showcases a crystal fireworks show, which is one of just two in the world, a high-tech kinetic light display inside the museum, and several areas to walk through outside—one of which they describe as the "Deep Space Backyard." There are plenty of pathways to meander down, and enjoy the sights, as well as interactive play areas for kids. All told, it can take about 90 minutes to fully take it in.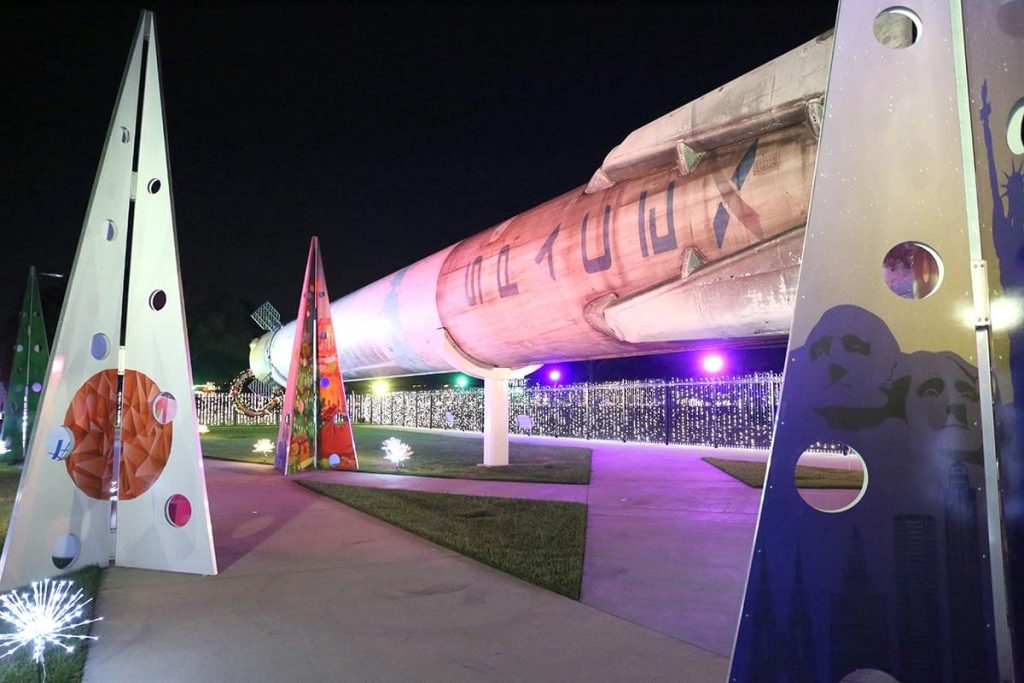 My favorite part of the walkthrough is the previously flown Falcon 9 rocket, built and launched by SpaceX for NASA. It is beautifully lit up at night, and this display also features tributes to the other partners on the International Space Station. The Galaxy Lights event is open now through January 1, from 6 to 10 pm. It will be closed on December 24 and 25. Tickets should be purchased online, ahead of your visit. Use code ReliantGL22 for $5 off per ticket for weeknight visits.
Lightscape
Matt visited Lightscape presented by Reliant at the Houston Botanic Garden, which he described as an airy, pleasant experience with a focus on art and light. Visitors walk a path through the garden that is lined with immersive installations, such as a stunning bluebonnet field that is exclusive to Texas and the staple "Winter Cathedral." There's fun near the end as well, where you can build your own s'mores!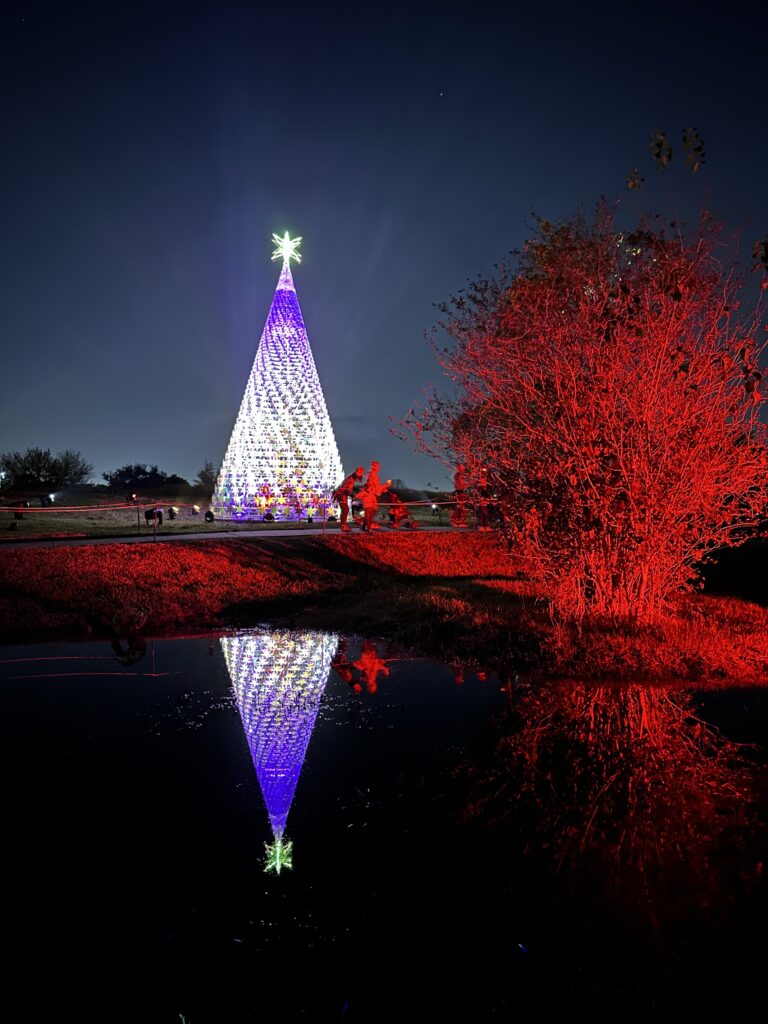 While the Lightscape is a newer addition to Houston's holiday light scene, it has quickly made a name for itself among the best holiday displays. The event opens at 5:30 pm each day, with the last timed entry at 8:30 pm, and the garden closing at 10 pm. The full experience takes about 45 minutes. Lightscape is open on select nights through January 1. You should purchase tickets online ahead of your visit. Use code SCWLIGHTS22 for $5 off per ticket for weeknight visits.
Weather
Since both shows are mostly outdoors, an important consideration for your visit is weather conditions, and we'll have you covered at Space City Weather. If warmer conditions are your preference—shorts weather, if you will—then we recommend you visit by Monday night. After that it looks like Houston will see more seasonal conditions for this time of year, when you'll probably want a sweater for the evening. Fortunately, rain chances look low for most nights for the foreseeable future.
Happy Holidays, everyone!