We managed our 4th straight 80 degree day yesterday in Houston, a feat last achieved in December of 2021. So, yay. I suppose. Congrats to those of you who like warm weather year-round. It's your moment right now. Enjoy it because changes are coming next week, and we almost certainly have an end in sight to this warm pattern.
Today
We expect a mostly similar day today to how recent days have been: Clouds, sun, fog in spots, especially near the coast, and highs around 80 or so. If Houston hits 80° again today, it will be only the fourth time we have had five consecutive 80 degree days in December, all of them coming since 1998.
But today will also feature at least a chance of a few passing showers this afternoon. Most folks won't see much of anything, but a few isolated pockets of rain are likely around the area.
Saturday & Sunday
We'll have another warm night, with lows in the 60s and areas of fog, especially close to the coast. So Saturday may start a bit dreary, then perk up some. Highs will be in the 70s to near 80. Shower chances will once again arrive by late afternoon. Those chances will actually continue well into the evening or overnight hours. Lingering showers will be around on Sunday morning before things should subside a bit later in the day.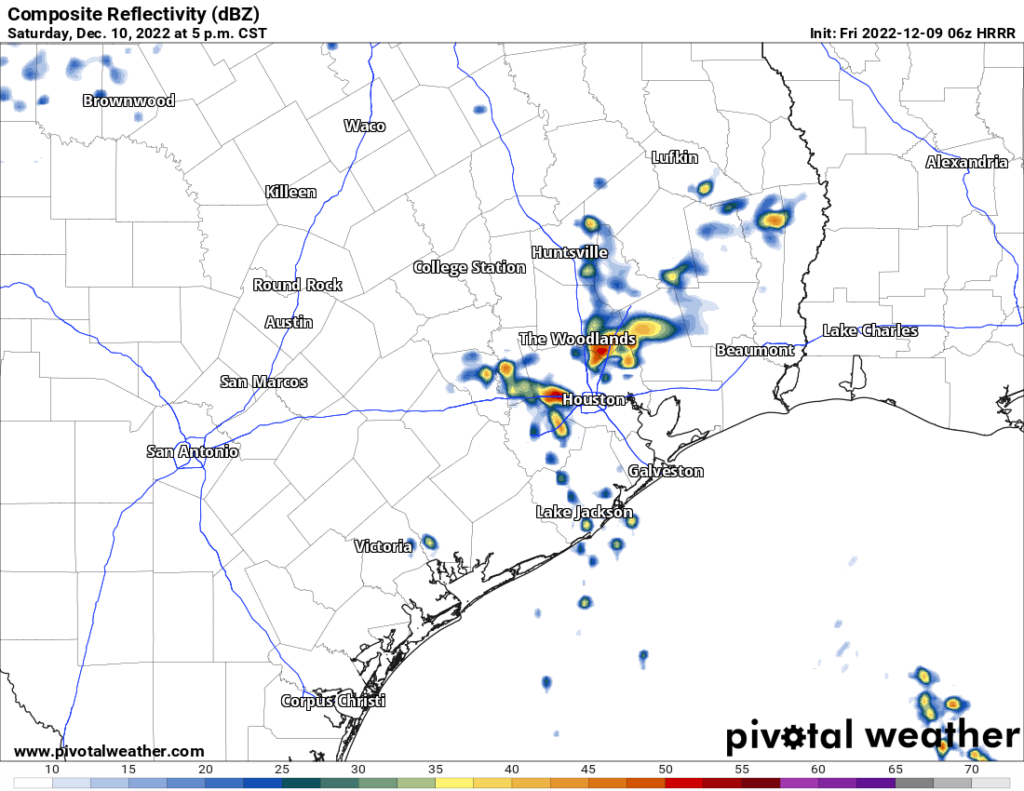 Again, not everyone will see rain, but some will see a fair bit of it Saturday evening through Sunday morning. Some isolated stronger thunderstorms are also possible. We'll do lows in the 60s again Saturday night into Sunday morning, followed up by highs in the 70s on Sunday. It's possible that on Sunday folks northwest of Houston see temperatures drop into the 60s for a time as the cold front will make one failed attempt at pushing through. For Houston and points south and east, the front making it through on Sunday is unlikely at this time.
Monday & Tuesday
We will start next week on a mostly calm note, with clouds, sun, fog, and an isolated shower for Monday. We may actually turn a bit warmer, more humid, and noticeably breezy on Monday as well, as a strong storm system begins to organize in the lee of the Rockies. A typical warm pattern setup.
That storm really cranks on Tuesday over the Plains which should drag a cold front through Houston on Tuesday night. Tuesday will be our last real warm day, with morning lows perhaps near 70 and daytime highs again near 80 degrees. Expect at least a few showers or storms with the front on Tuesday evening, but it's too soon to say how robust that will look just yet.
Beyond Tuesday
At this point we are not expecting any real meaningful weather heading toward late next week. In fact, it looks pretty nice for pre-Christmas weather. We should see a decent amount of sunshine, highs in the 50s to near 60 and lows in the 30s or 40s. We may get a windy day in here Thursday or Friday with a reinforcing shot of colder air.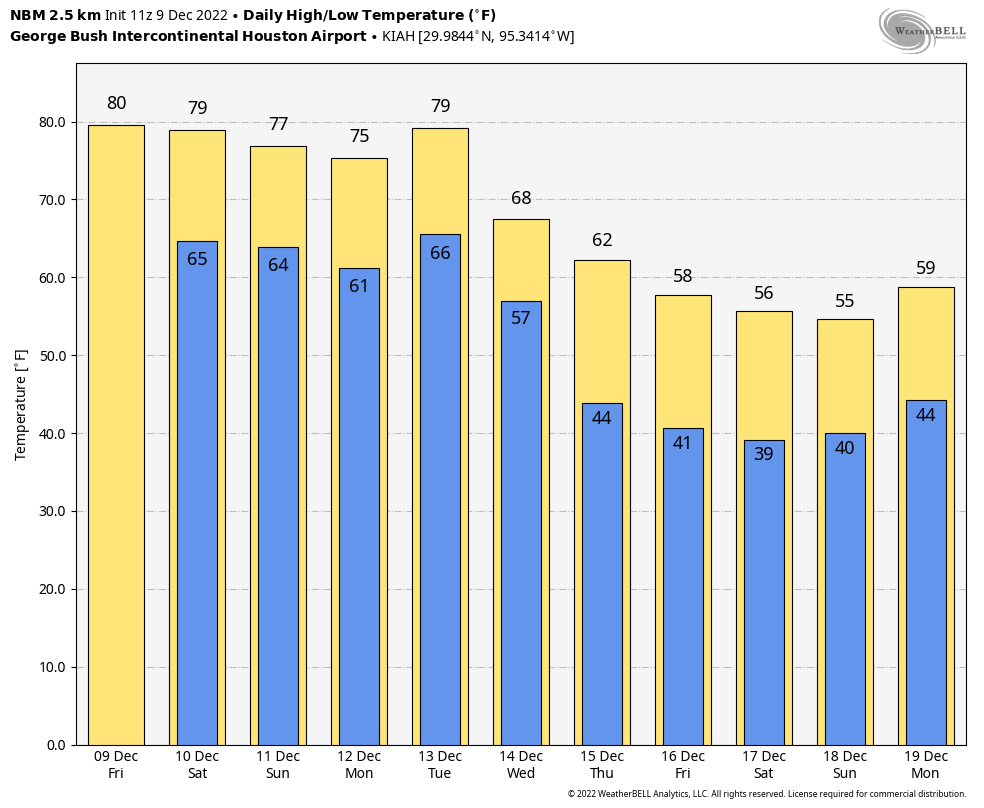 Heading toward Christmas week there is a lot of uncertainty within weather modeling. We will probably get some kind of warm up for early on the week of Christmas, followed by a drop in temps later in the week. But details and exact timing and intensity are very uncertain at this time. Suffice to say, it would be wise to keep both spring and winter attire at the ready heading into the week of the 19th.