The winds finally died down shortly before midnight on Sunday. Peak gusts for inland areas—to the north and west of US 59—were generally 40 to 45 mph, while peak gusts closer to the coast generally ranged from 45 to 50 mph. But now, as our weather settles down into a more winter-like pattern, here's a look back at the warmth this month, and ahead at cooler weather.
Warmth
The first eight days of January were quite cold, with an Arctic blast that drove overnight temperatures into the low- to mid-20s for three nights. But since then the region has been anomalously warm. Accordingly, the average temperature for the month through three weeks has been 60.9 degrees, which ranks 7th on the list of all-time warmest Januaries for Houston—so far. I think we may finish just outside the top 10 given a cooler last week of the month.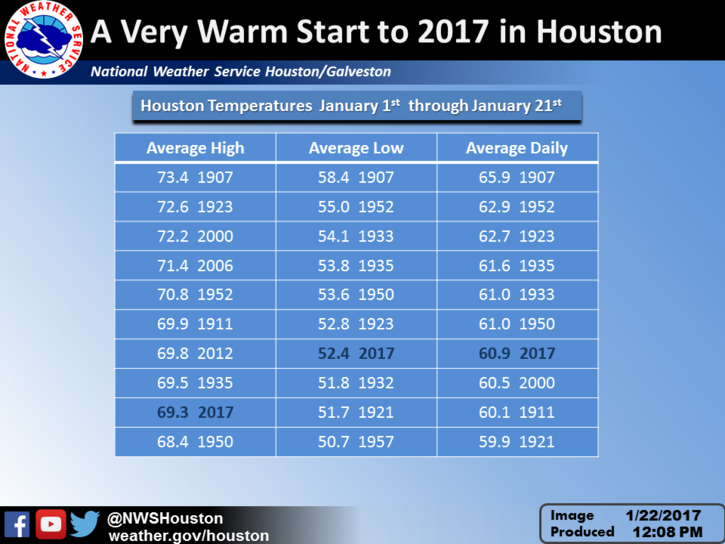 Another measure of warmth is the number of 80-degree days, a marker for truly abnormal, daily heat during winter. Houston has recorded nine 80-degree days so far in December and January. According to the National Weather Service the record for total number of 80-degree days in "winter," defined here as December through February, is 17, which has happened three times (1995-96, 1956-57, & 1910-11). It's certainly not out of the question that we pick up seven or eight 80-degree days in February, so we'll see. But for the rest of January I see the opportunity to add one more.
(Space City Weather is sponsored by Westbury Christian School for this month)
Today
After a cool start in the upper 40s to lower 50s, sunny skies will allow temperatures to warm up to about 70 degrees. A light northwesterly wind will keep humidity down. It should be a splendid day—too bad many of us are heading back to work.
Tuesday
The warmth comes roaring back, as a warm flow out of the southwest resumes into Texas. Humidity levels will rise some, and this will be our last chance at an 80-degree day this month. Will we get our 10th 80-degree day of the winter? Survey says: Probably. But this time the winter heat won't last.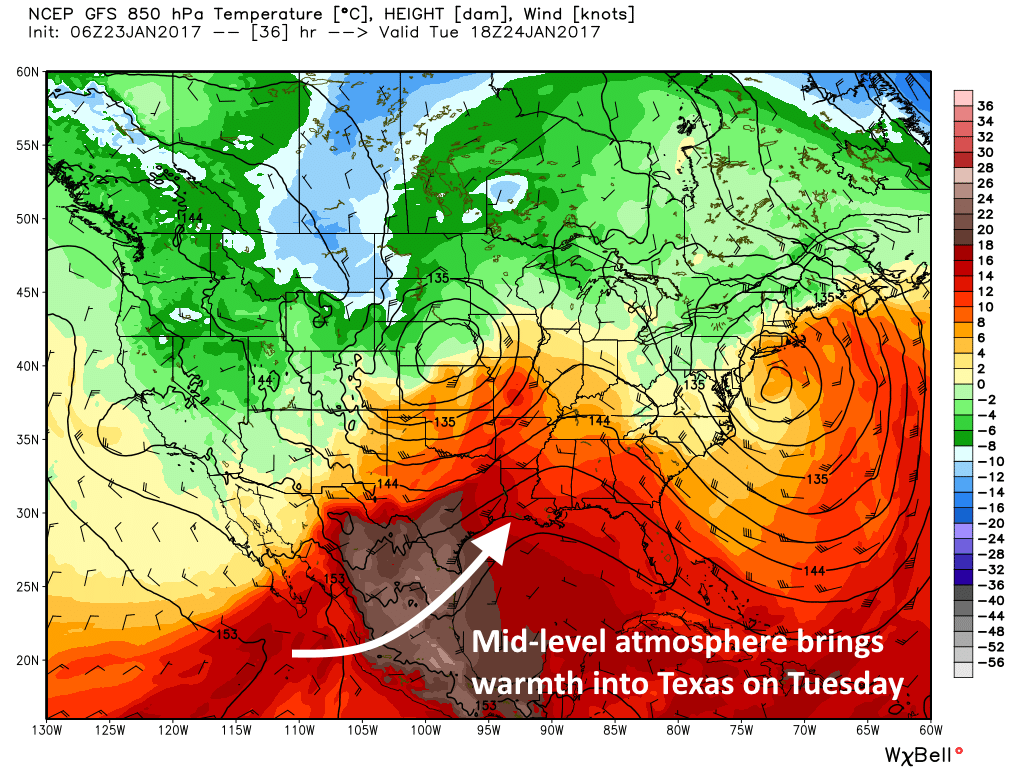 Wednesday
A cold front arrives late Tuesday night or early Wednesday morning. And while there's a chance of showers with the front, I expect the passage to be dry. This front will not arrive with winds like those that accompanied this weekend's front. However it should be more lasting. Highs will peak at around 70 degrees before falling off.
Thursday through the weekend
Houston will finally experience a period of prolonged colder weather, aided by another front or two. After Wednesday we'll probably not see highs of 70 degrees or warmer until February. Most days will see highs in the low- to mid-60s, overnight lows in the low- to mid-40s, with mostly sunny skies. You know, it will feel like winter normally feels!
As for Super Bowl week, it will start off cool, but right now there's not great certainty for whether it will warm up (highs in the 70s), or remain quite a bit cooler for Super Bowl weekend. For now I'd bet on warmer, but we'll have a more thorough outlook for you later this afternoon.
Note: If you're interested in sponsoring Space City Weather for a month in 2017, please click here.