Houston will host Super Bowl LI on Sunday, February 5th, at 5:30pm CT. Here's an early look ahead at the forecast for Super Bowl week in Houston, and for the game itself.
Super Bowl week
We can have fairly high confidence that Sunday, Jan. 30th, Monday and probably Tuesday of Super Bowl week will have fairly chilly weather—for Houston. All available climate signals point toward highs of around 60 to 65 degrees, with lows of about 40 degrees.
The question then comes as to what happens from Wednesday through about Friday? Some of the guidance suggests fairly rapid warming, with high temperatures rebounding into the upper 70s. However other models bring another front through by Tuesday or Wednesday, to keep the colder weather going through most of Super Bowl week. I don't see any real clarity in the forecast at this point, I'm afraid.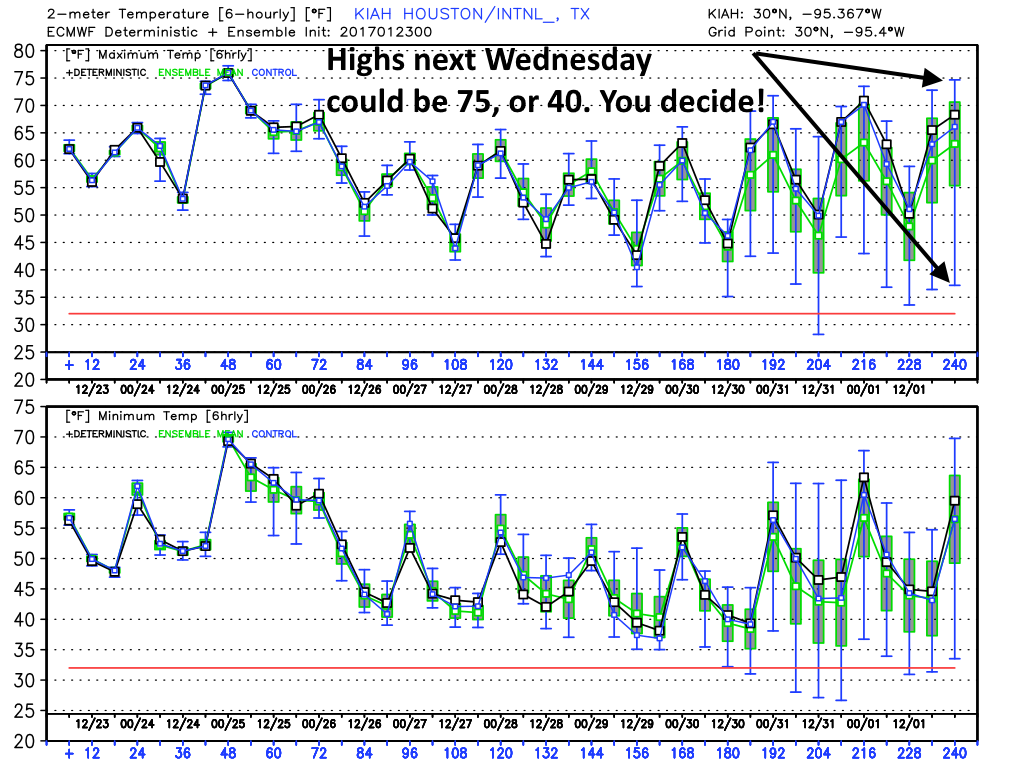 In terms of precipitation, I don't see any kind of a washout in the cards, but some light precipitation is possible toward the middle or end of next week.
Super Bowl weekend
And what of the big game? Regardless of the midweek front, the GFS ensembles are leaning toward a warmer game weekend, with a high temperature in the upper 60s to mid-70s on Saturday or Sunday.
In regard to the European model, many of the ensembles are suggesting a fairly strong cold front might move through sometime during the first week of February. If that happens before Sunday game time temperatures might be quite chilly, in the 40s or 50s. If it doesn't, we could be back to highs of around 80 degrees by Saturday, Jan. 4th and Super Bowl Sunday. One forecast we can have confidence in: The roof will be closed, regardless.
(Space City Weather is sponsored by Westbury Christian School for this month)