Until the remnants of Tropical Storm Harvey are no longer a threat to Texas, we'll be posting multiple times a day on this site to provide the best available information. Unfortunately, after looking at the latest model data we continue to be concerned about the potential for this tropical system to bring heavy rains to the Texas coast and some inland areas this weekend, and early next week.
As of Tuesday afternoon, the remnants of Harvey are crossing the Yucatan Peninsula, and it appears almost certain that the storm will re-form over the southern Gulf of Mexico during the next 24 to 48 hours.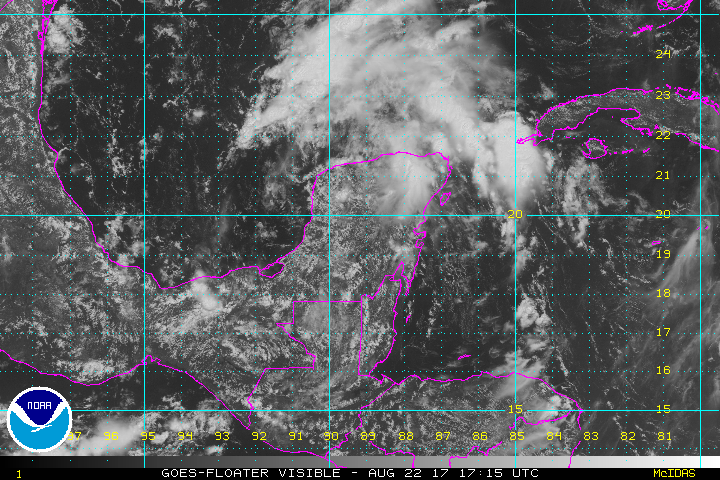 The forecast models suggest the storm will then move toward the northwest, and come ashore somewhere on Friday(ish) between Brownsville, at the southern end of Texas, and Freeport, which is just down the coast from Galveston. This afternoon, NOAA's G-IV Hurricane Hunter Jet will fly around the remnants of Harvey, and this should provide useful information that will improve forecast model output tonight, and especially on Wednesday. But frankly, our biggest concern is not where undead Harvey makes landfall (rain, not winds, are most likely the primary threat here), but rather what happens after the storm moves inland. This is because the upper-air pattern later this week and weekend is such that there will be little to steer the movement of the system, and therefore it may wobble around. When you have a tropical system near the warm, moist Gulf of Mexico, this is a bad thing because it means rainfall. Potentially a lot of rainfall.

A ramblin' man
For example, here's a plot I made of the tropical low locations forecast by the 12z GFS model, which brings a tropical storm near the Texas coast on Friday. And then, well, here you go: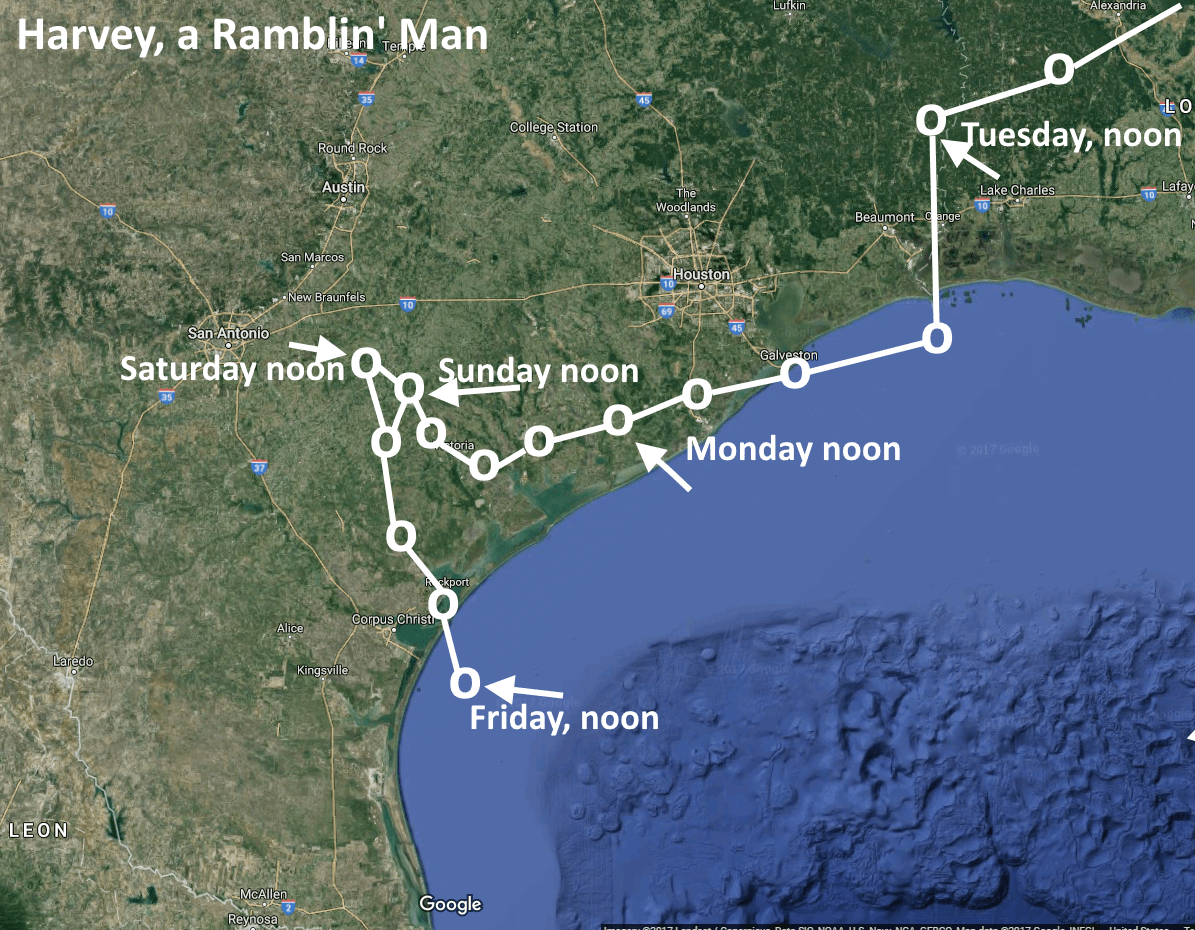 I post this not because you should take the track above as gospel—it is far from it. Rather, the model is illustrative of the fact that this is a tropical system that could very well move inland into Texas somewhere along the coast, more or less stall, and drop 10 to 15 inches of rain (or more) on someone's head over a two or three day period. Widespread areas may see 4 to 8 inches. I'm not saying this is a repeat of Tropical Storm Allison, as that would be irresponsible. But these kinds of slow moving systems are the ones that often produce widespread flooding.
The next question is, where will the heaviest rainfall occur? Frankly, there is no good answer to that right now. The data gathered by the Hurricane Hunter today will help, so hopefully by Wednesday we should have a slightly better idea. For example, a landfall near Brownsville would be a lot better for Houston than one near Corpus Christi.
What you should know now is that there is the potential for a major rainfall event in Texas this weekend, including possibly the Houston area. Most likely, this will occur sometime on Saturday, Sunday, or Monday. Secondarily, we will be concerned about storm surge and winds if Harvey becomes a strong tropical storm or modest hurricane, but those seem lesser threats at this time.
More, when we know it.