Good morning. The main news remains the potential for very cold weather in Houston during the coming seven to 10 days. While we still have questions about the details it is now time to begin considering preparations.
Also, it's worth noting that very cold weather in February is far from unprecedented. Back in 1899, the city of Houston recorded consecutive days with low temperatures of 6 degrees on February 12 and 13. That means only six degrees of separation from a low of zero degrees.
Tuesday
As expected, moderate to dense fog has developed across the region this morning, with muggy conditions in the 60s. This fog may not dissipate until 9am or so for some areas. A front will sag into Houston today, and stall around 30 to 50 miles from the coast. Effectively, this means if if you live inland of Interstate 69, highs today may generally be in the 50s, but if you live south and closer to the coast, highs will be in the low 70s. Some scattered showers will be possible area-wide today. Overnight lows will be similarly dependent upon the extent of the front.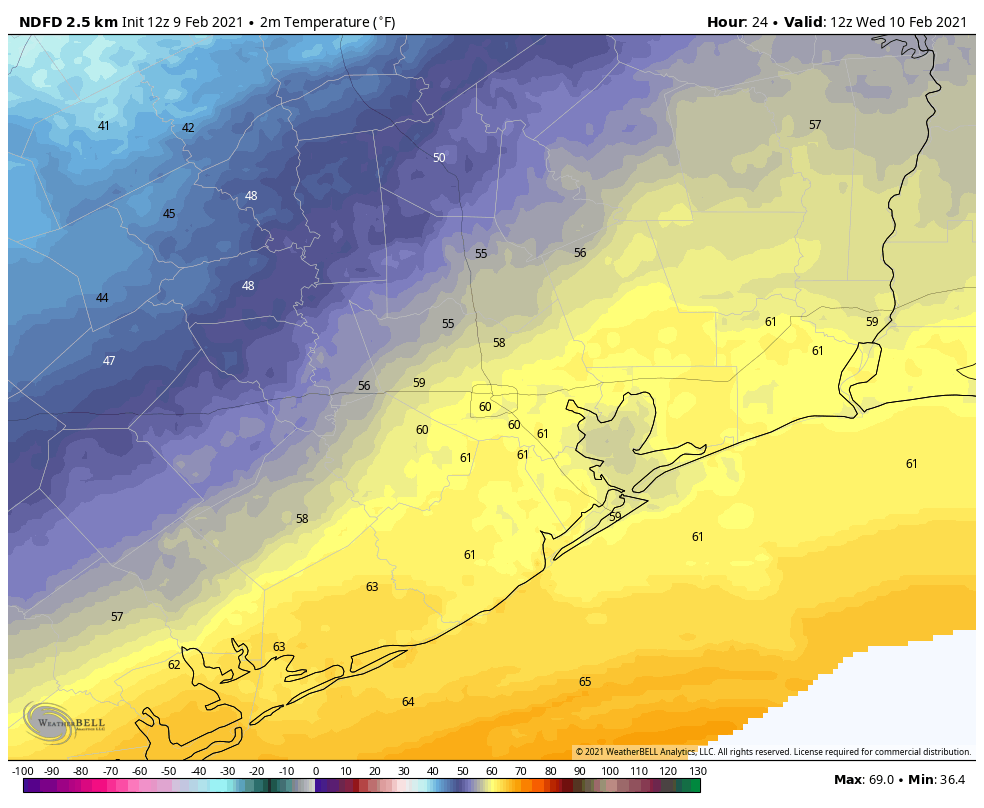 Wednesday
Conditions should be similar on Wednesday, with the front stalled out across Houston. Depending on where it's hung up, you may see highs in 50s with drier air, versus highs in the 60s with more humidity.  Rain chances will be a bit higher, with perhaps a 40 percent chance of light to moderate showers.
Thursday
One more day of divided temperatures, with warmer conditions along the coast, and cooler weather further inland. Rain chances will be that much higher as a stronger, Arctic front approaches, and pushes into Houston later on Thursday. Most areas should see between 0.5 to 1.5 inches of rainfall through Friday morning.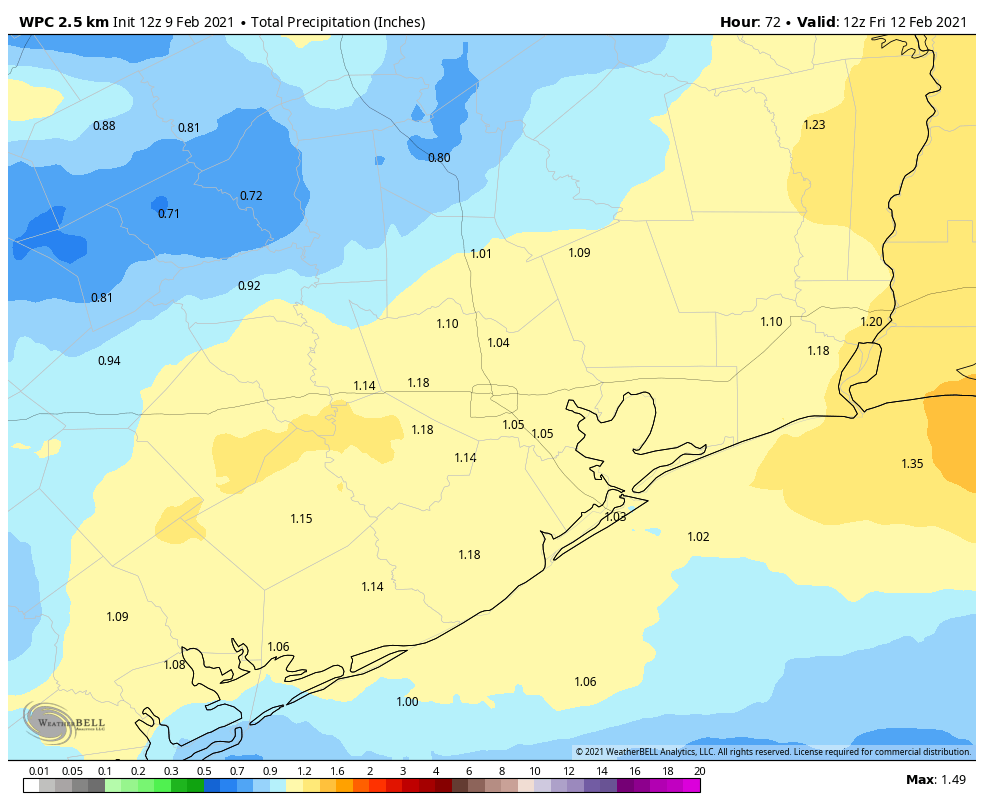 Friday
We'll see a much colder day on Friday, with highs perhaps in the low 50s and partly sunny skies. Lows Friday night will drop to around 40 degrees.
Saturday and Sunday
A reinforcing shot of Arctic air looks set to move into the coastal region on Saturday, and this is what will likely set the stage for much colder weather early next week. Highs on Saturday may remain in the 40s, with lows dropping into the 30s for Houston, and 20s for inland areas well inland on Saturday night. Sunday may struggle to get out of the 30s, with lows Sunday night again likely below freezing for much of the metro area. Happy Valentine's Day—this will not be the best of years for planning some sort of outdoor surprise!
Early next week
Quite frankly, we're still struggling with how cold conditions will get during the Sunday through Tuesday period of next week as the models are really all over the place. Some ensemble members of the GFS suggest temperatures could reach their nadir on Tuesday morning, in the teens even in the city of Houston. This probably is too cold, but a widespread and potentially hard freeze does seem likely. It is time now to consider preparations for plants and pets, and if temperatures drop below about 25 degrees, external pipes. Please note the details of this medium-range forecast remain uncertain, and therefore will change. And when it comes to low temperatures like these, small changes matter.