Our confidence in the forecast for an upcoming outbreak of cold weather, in terms of timing and intensity, is increasing although many questions remain. We think the worst conditions should come next Monday and Tuesday, when there's a healthy chance of wintry precipitation and a widespread, hard freeze.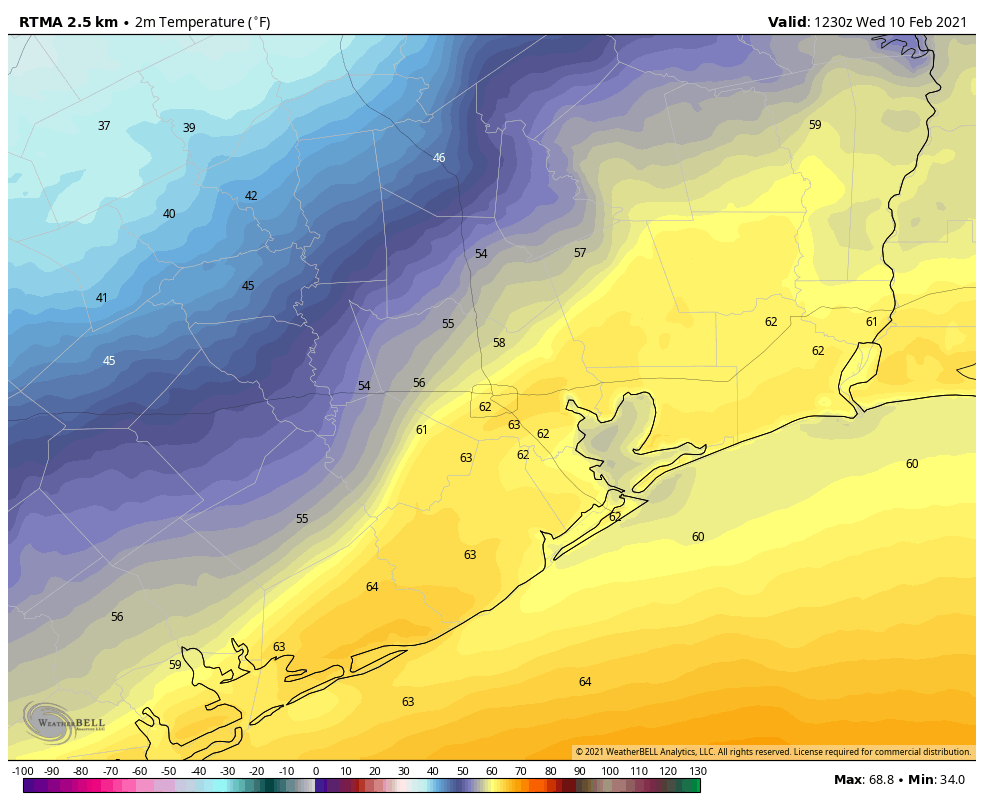 Wednesday
At present, a thin layer of colder air at the surface has pushed into northern parts of the metro area. As a result, temperatures this morning are in the low 50s in parts of Montgomery County, while much of Houston and coastal areas are about 10 degrees warmer. Because of this more moist airmass near the coast, fairly dense sea fog has developed and will persist for a couple of hours after sunrise. After the fog lifts, skies will be mostly cloudy for the remainder of the day, with about a 30 to 40 percent chance of scattered showers. Highs will depend upon which side of the cold front you lie, but generally, temperatures should be in the 60s today, and 50s tonight in Houston. Scattered light rain chances will persist tonight.
Thursday and Friday
The front should more completely push through the Houston area on Thursday morning, by or before sunrise, and move off the coast. This is the beginning of a big change in Houston weather, and it will start with healthy rain chances for much of Thursday, Thursday night, and Friday morning. Most models are trending wetter, and at this point it would not surprise me to see 1 to 2 inches during the period, with higher isolated totals. Highs Thursday will be in the 50s, lows Thursday night generally in the 40s, and highs in the upper 40s on Friday with mostly cloudy skies after the rains end.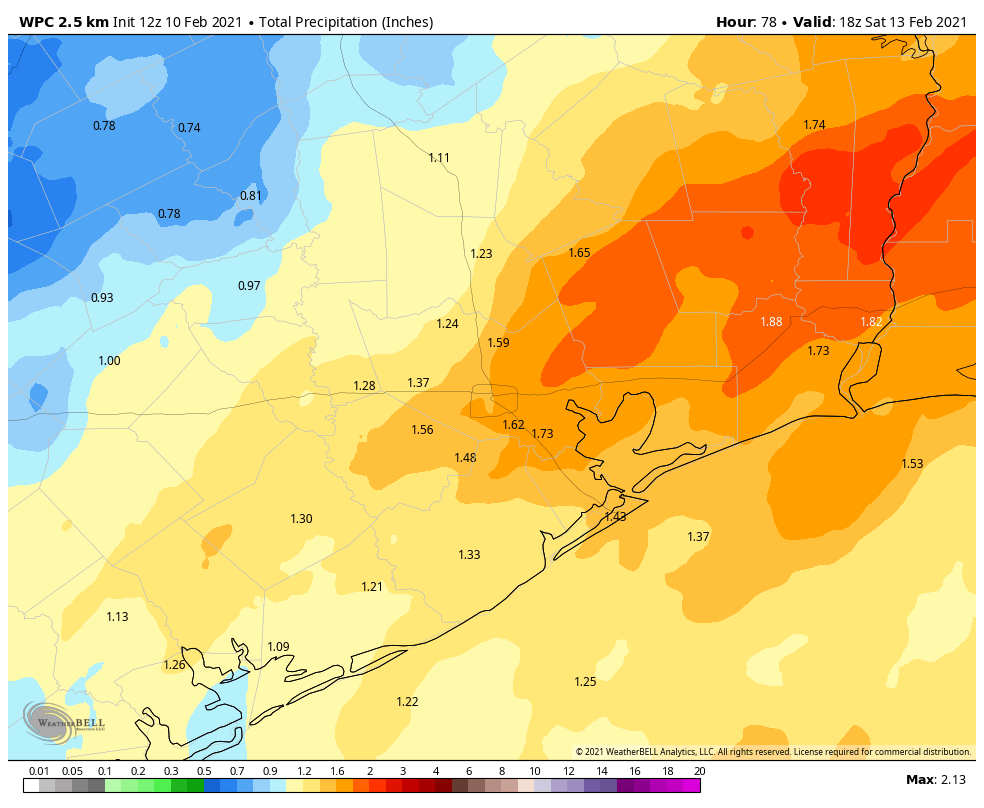 Saturday
Well, it's not much, but Saturday looks to be the "pick" of the weekend, with partly sunny skies and high temperatures that may reach about 50 degrees. A reinforcing shot of colder air should arrive on Saturday, setting the stage for near freezing temperatures in Houston during the overnight hours.
Sunday, Monday, and Tuesday
This is the period of the forecast where we expect the coldest weather to occur, and a potential for sleet, freezing rain, or possibly snow. There are, frankly, a lot of atmospheric ingredients at play including the amount of cold air moving into the region, and the evolution of an upper level low pressure system that should bring precipitation into the forecast.
For now, Sunday looks partly to mostly sunny and cold, with highs perhaps in the low 40s or thereabouts. Sunday night will likely see a widespread freeze across Houston, with increasing precipitation chances overnight.
Monday should see the best chance of precipitation. But what form will it take? For areas north of Houston and west of Katy, high temperatures on Monday may struggle to get out of the low 30s. So there's going to be a rather healthy chance of sleet, freezing rain, or possibly snow. I expect this may well be the case in Houston as well, we just don't have extremely high confidence in temperatures at this point. Bottom line: Monday has the potential to be a real mess on the roads, and school closures are possible if your district isn't already shut due to President's Day. Obviously we'll be tracking all of this for you in the coming days as best we can.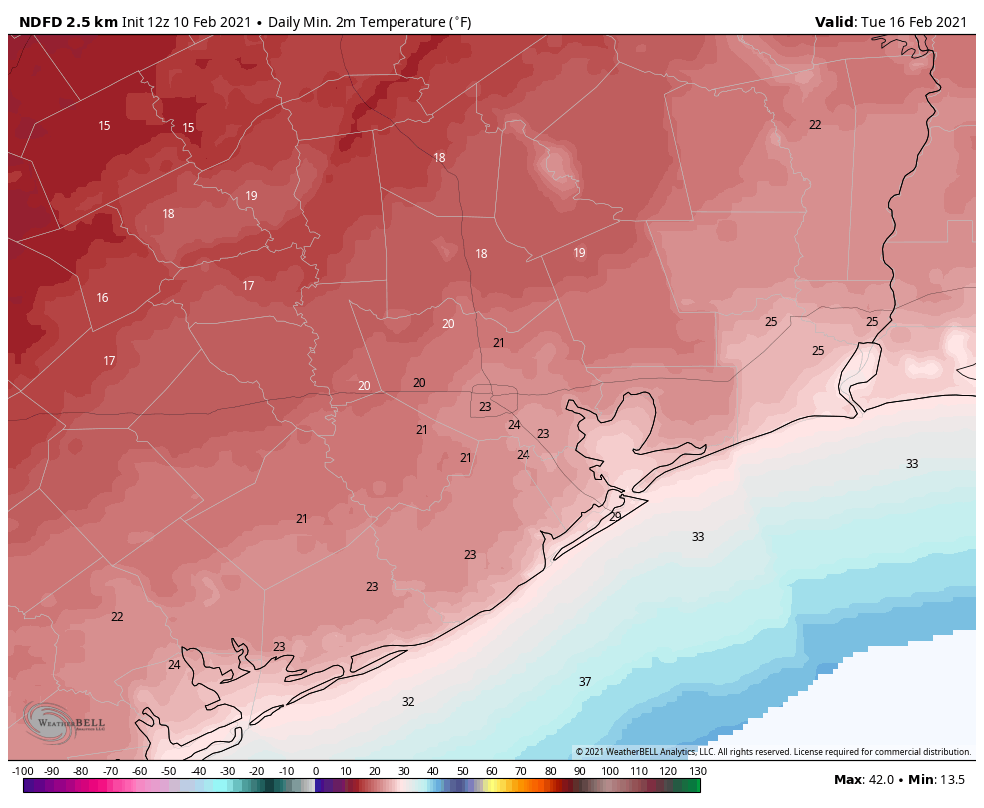 Finally, Tuesday looks to see the coldest weather. With the potential for some clearing skies on Monday night and early Tuesday, we could see temperatures plunge on Tuesday morning. I'm not ruling out temperatures in the teens for outlying areas, and potentially even in Houston itself. More likely lows will be in the 20s, and that will be cold enough to worry about exposed pipes. My best guess for Houston right now is a low between 20 and 25 degrees, with colder conditions inland, and still a freeze right along the coast.
Temperatures should begin to recover by Wednesday.